May 8, 2021

July 2014 | Vol. XIII - No. 7

---
2014 Holiday Preview: Dolls, Plush & Puppets, Infant & Toddler, Electronics and Play Houses
This article is sponsored by: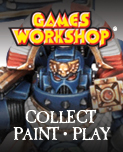 See June Holiday Preview
See May Holiday Preview

Summer vacation may be in full swing, but in retailers' minds winter break is right around the corner!

It's time to start thinking of your 4th quarter ordering, so we've put together a selection of high-quality dolls, plush & puppet toys, infant & toddler toys, electronics and play houses that could make great gifts this holiday season.

Take a look at the products below and see if any could be hot holiday toys for your store.



Following are some of the newest products from GAMES WORKSHOP, the generous sponsor of the preceding article:
Sisters of the Thorn/Wild Riders by GAMES WORKSHOP



The Sisters of the Thorn are Queen of the Forest's handmaidens - a sisterhood pledged to sorcery and subtlety. Their counterparts, the Wild Riders are fey and dangerous creatures who serve as the King of the Forest's personal guard. They are all borne into battle on graceful magical elks, which are as reckless and aggressive as their riders. This multi-part plastic boxed set contains all the components to build five Sisters of the Thorn or Wild Riders. 5/6/2014 (MSRP: $37.00; Age: 12 and Up)



Space Marine Tactical Squad by GAMES WORKSHOP



The Space Marines are the knight defenders of humanity in the far future. These fearless and noble guardians keep watch against the dangers of the galaxy from their fleets of fortress-like space ships. They are clad in mighty armor and bear the finest equipment the Imperium of Humanity can produce. This multi-part plastic box set contains all the components to build ten Space Marines with many additional parts for individual customization. 5/6/2014 (MSRP: $40.00; Age: 12 and Up)



Dark Vengeance by GAMES WORKSHOP



Dark Vengeance is one of the most incredible box sets produced by Games Workshop! Inside, you'll be faced with 48 miniatures that form two detailed armies - Dark Angels and the Chaos Space Marines - and everything two players need to field their own Warhammer 40,000 forces. As if these models weren't enough, Dark Vengeance comes with a full-color 168-page mini Warhammer 40,000 Rulebook; a complete Assembly Guide; a quick-play reference guide; an army roster sheet; dice, templates, and a Quick Start booklet. 5/6/2014 (MSRP: $99.00; Age: 12 and Up)



---
---


Copyright © 2021 TDmonthly®, a division of TOYDIRECTORY.com®, Inc.