December 11, 2023

October 2014 | Vol. XIII - No. 10

---
Two Top Retailers Win Chance to Be TDmonthly Reviewers
Toys Will Be Used to Create a Charitable Giveaway Event for the Holidays
TDmonthly is excited to announce the winners of our Retailer Reviewer Contest. Two top toy-store owners have won the chance to receive samples from our toy-company partners and review them in the November and December Holiday Issues of TDmonthly Magazine. There were 30 applicants for the position, but entries from our old favorite Children's World in Sarasota, Florida and "newcomer" (to us!) the 12-year-old Toys for Thought in Lakewood, New Jersey stood out.

"I'm very excited!" Harold Herskowitz, Toys for Thought's owner, told TDmonthly. "I have one of the largest (and most colorful!) independent toy store in the US, but nobody knows about it, outside of Lakewood!" (Read Harold's reviews here)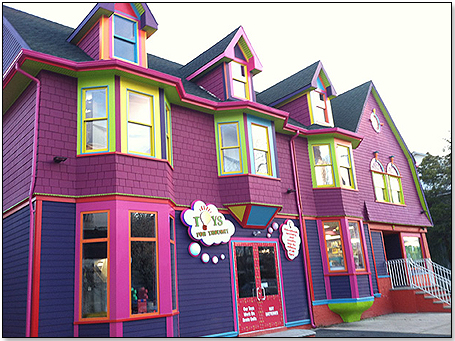 (Note to toy-store owners: If you have a terrific store you think should be covered in TDmonthly, send us an email with your story and photos and/or videos to justina.toydirectory@gmail.com)

From Eyesore to ToyStore

Herskowitz founded Toys for Thought in 2002, after he rescued a dilapidated 1906 Victorian home that was being used as a crack house. Once the building was renovated and repainted, he devoted 2,000 square feet of the home to high-quality toys. The store was so successful that it's undergone further, more colorful upgrades and the play areas have expanded to fill all 11,000 square feet of the building.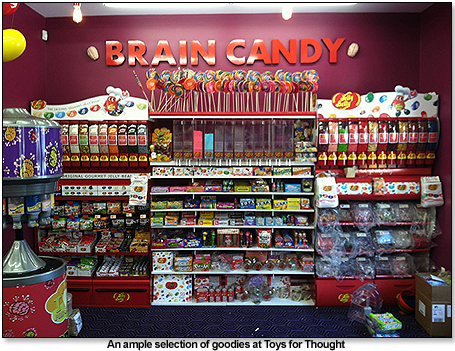 "We have a Lego room, we have an entire floor of puzzles and games, a room just for dolls, another for Hello Kitty, and a Brain Candy station at the front of the store," he said.

Harold is a pro at creating events in his store and getting the press to pay attention.

"Our yoyo event hosted by Yomega was well attended by over 1,000 people. We have events often. Usually active events involving juggling or art. We just had a color-our-store event with over 500 submissions," Harold told TDmonthly. "We have some TV ads coming up, and we just added a parking lot with 120 spots, so we can have outdoor events, too."

He'll be donating the reviewed toys to the Make A Wish Foundation and also creating an in-store giveaway event to thank his customers and draw more attention to specialty toys during the holidays.

Big TDmonthly Fan

Harold is a regular TDmonthly reader, and uses our Inquiry Basket at least once a month to contact toymakers. What does he appreciate most about TDmonthly?

"Great content!," he said. He also appreciates the email alerts on new toys and wouldn't mind getting even more of them.

Children's World Wins Again

Even before we knew who'd written this entry, we were won over:

"We just had our store's 50th birthday party in July, and it was amazing," wrote Tim Holliday, owner of Children's World and past TDmonthy Charity contest winner. "We had a local radio station on hand doing call-ins live on air about every 15 minutes. We also had a talk radio station come, and broadcast live for an hour, their "Parenting on Purpose" show, which was the first time they had ever done a live remote. It was so well received, they are coming back to our store on Neighborhood Toy Store Day to broadcast live again.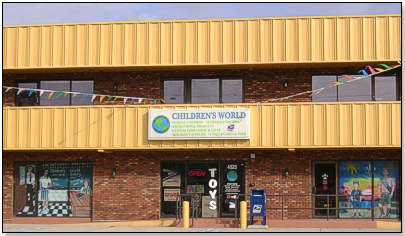 "We also had a local mommy magazine on site for most of the day," he continued. "And we had a greyhound (yes, the dog) group come and bring various dogs in and out for kids to meet and learn about these great animals who often have such terrible lives in racing. We gave away prizes, had contests for kids, and of course, cake (cupcakes) for everyone! We were covered on two TV stations, in three print publications, in two national trade magazines, and countless other places. We worked hard, but it was so worth it."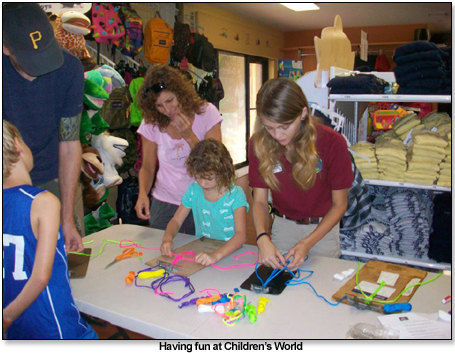 Who could resist an entry like that?

Tim plans to donate reviewed toys to his local Toys for Tots.

"In our area, which many people think of as being so affluent, Toys for Tots gave away toys to almost 10,000 kids last year," said Tim. "We publicize Toys for Tots to our customers by giving Toys for Tots a 50% match on what they donate (i.e., donate a $10 toy, we'll donate another $5 toy). Last year, we were the 2nd largest donation site, behind our local grocery store, which has 8 locations."

Get Involved ... and Get Noticed!
Toy companies who want to be part of the Holiday Toy Reviews and Giveaway Events and get guaranteed coverage from now, through the holidays and on into pre-Toy Fair time should contact alison2.toydirectory@gmail.com. Toy companies can also feel free to send samples on their own to the winning store, but no guarantees of review or coverage can be made.
---
---


Copyright © 2023 TDmonthly®, a division of TOYDIRECTORY.com®, Inc.