---
Specialty Toy Reviews from Toys for Thought and Children's World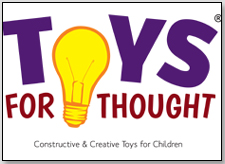 Harold Herskowitz is the owner of Toys for Thought, one of the largest independent toy stores in the USA and the recent winner of TDmonthly Magazine's Retailer Reviewer Contest.

Tim Holliday from Children's World in Sarasota, Fla., is a winner too.

Both stores will be reviewing new specialty toys for us for the next couple of months. Check out his reviews below, and see if any of the toys would be a good fit for your store.

Ludix by Piatnik





Bellz by Wiggles 3D

Another new favorite game of ours is called BELLZ. It comes from Wiggles3d, the makers of last year's great magnetic strategy game, Yikerz.

This new game is a magnetic skill challenge for up to 4 players that zips up in a compact carry all that doubles as the playing surface. The game comes with four colors of metal bells in all sizes, and a magnetic wand with two strengths. The goal of the game is for the player to pick up all the bells of the color he chooses . Your turn is over if you accidentally attract someone else's bell color along with yours. You can pick up more than one bell on your turn if they are stuck together. Take them off the plating surface and they are yours. First person to collect all his bells is the winner.

The game takes only a few minutes to get the hang of and everyone wants to keep playing again and again.

The 19.99 msrp is a great price ,and the magnetic fun is safe as there are no small magnets involved. It's packaged in a colorful pouch that hangs from a counter display. This game is already flying off the shelves in Canada and the first shipments to the States are sold out. Call Wiggles 3d and reserve yours today and you can boast to customers that you had the hottest toy of the year first.


Blurble by Bernard Games

Our new favorite party game is called Blurble. This game is as simple as it gets, or so it seems. A box filled with 250 cards of detailed drawings of everything imaginable is represented. Animals, household objects, foods and anything else you can think of is in the beautifully designed box of 250 or 500 cards in the deluxe version.

The instructions are simple. One person turns over the top card of a predetermined stack of cards. They are known as the "Blurbler". The Blurbler puts the card in front of the person to their left and the two players must say a word that begins with the same letter as the picture. If the Blurbler says the word first he takes that card and continues to the next player. If an opponent says the word first, They take the card and become the new Blurbler. It sounds easier than it is. While your mind is deciphering the drawing it becomes quite difficult to think of another word quickly. Hilarity will definitely ensue as the players stammer and blurble incoherent words before someone finally spits one out. There are some official rules that can be tweaked to your preference such as, no proper nouns or words less than three letters,no words can be repeated in a single game, etc. We found it more challenging to only allow words with four letters or more.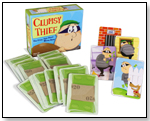 CLUMSY THIEF by Melon Rind Games

If you are looking for a card game that has all the ingredients to be the next runaway best selling hit, consider our latest find, Clumsy Thief.

Clumsy Thief is a cleverly disguised math game where players get money by making and stealing stacks from other players. The object is to add up stacks that equal 100 dollars, and have the most money when the game ends. There are 84 money cards, six Thief, and four jail cards.

We were extremely impressed by the eye catching and original artwork of this game. The attention to every small detail in the packaging was even more impressive, as even the inside filler is printed to fit the theme. More important is the game play itself. We had a blast making piles of money, stealing from each other, while trying to protect our own stash.

This game can be enjoyed by adults as well as children. The suggested age is 9 and up, but younger kids will be so motivated to get in on the fun that they will be learning their basic addition very quickly. It is one of those games where everyone plays at once and nobody knows who is winning until it is over. This game has it all. It is a fun, and attractively disguised educational game. Well worth the MSRP of 13.99 (we suggest 14.99), customers will be clamoring for it once they play it. We expect this game to become as big a seller as Spot it! or Perpetual Commotion.

Melon Rind Games is a small new company. They told us they have some new games coming up. We have a feeling they will be very busy keeping up with the orders for this game first.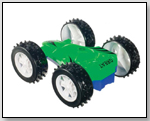 FLIP CAR by Toysmith

How much fun can a kid have for less than the price of a small pumpkin flavored latte?

The FLIP CAR from Toysmith is a friction-powered car that runs over obstacles and flips over to its other colored side when it hits a wall. The best part about this toy is that it requires no batteries, yet works like a motorized vehicle. The quality is unbelievable considering that a box of twelve costs only 18 dollars. We can't keep them in stock near the checkout area.

At only $2.99 most customers take more than one. The only drawback to this toy is that no matter how many boxes we order, we always run out very quickly.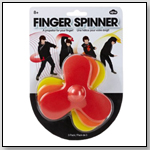 FINGER SPINNERS by NPW

It's a propeller for your finger! Finger Spinners is a propeller for your fingertips that keeps on spinning as long as you keep it moving!

This inexpensive toy has kids getting up and moving in order to see how long they can keep their propeller in motion. You get 3 spinners in an eye catching peggable blister pack. Cost is only 2 dollars with a $4.99 MSRP. Open a pack to show customers how it works and they will buy one for everyone they know. Finger Spinners is just another wonderful small toy that will set your store apart from all the toy store wannabes before the holidays. A small pick me up gift that will give kids (and adults) a reason to get up and move.
THIS BANNER IS AN AD:
---
---