November 23, 2020

May 2015 | Vol. XIV - No. 5


Top-10 Most-Wanted Travel Toys and Games
With additional reporting by Chris Lundy and Brenda Ruggiero

Summer vacation is almost here and families hitting the road are looking for toys that will occupy their kids and make the miles fly by in no time. We asked specialty retailers about their best-selling travel toys so you can help your customers plan for their next trip.

*No manufacturer paid to be included in this list. All products listed were designated by editorial staff without regard to the company's relationship with TOYDIRECTORY.com/TDmonthly Magazine.
Yes & Know® Mr. Mystery Books by LEE PUBLICATIONS



Be a super detective! Use your Invisible Ink pen to uncover the truth and solve the mysteries. Here are just some of the games you will find inside this book, decode the cryptograms, decipher Krazygrams, and nab the crook in jailbreak.
Each book includes 48 pages of fun and a special pen.
― Out of 39 retailers, four named activity books from Lee Publications as their top-selling travel item in March 2010, reporting sales averaging 24 per month.
― Kristen Dolle, manager of Playthings Toy Shoppe in Louisville, Ky. told TDmonthly in late Spring 2011 that Magic pen books by Lee Publications were a best-selling travel toy.
— In an April 2012 survey about best selling travel toys, Joe Berardoni, owner of Pun's Toys in Bryn Mawr, Pa., told TDmonthly: "As a category, Lee Publication's Yes & Know books continue to sell out during travel time due to their wide age range and low retail price."
— Want this? As of 05/06/2011, this product was available for purchase at Playthings Toy Shoppe. 4/9/2010 (MSRP: $3.99; Age: 3 and Up)



Super Scratch & Sketch by PETER PAUPER PRESS



This product includes 20 super-cool drawing and design projects, from hieroglyphics to superheroes to Van Gogh. It comes with punch-out, reusable stencils kids can use in their designs. "Easy-to-handle wire-o binding makes each book user friendly," Rasheen Hewlett, marketing assistant for Peter Pauper Press, told TDmonthly. It was a 2006 NAPPA Honors award winner. Launch date: 2003.
— Debbie Rogers, owner of Bear and Friends in Johnson City, Tenn., told TDmonthly in a January 2012 survey that they sell a dozen or so Scratch and Sketch books each month, making them a top selling arts and crafts item.
— In an April 2015 survey, two out of 10 retailers told TDmonthly that scratch art was a best-selling travel toy. 1/30/2009 (MSRP: $12.99; Age: 8 to 14)



Sardines by DJECO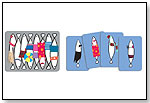 Players have a couple of seconds to observe the little sardines, memorize them and find them again in the box. For 2-4 players; game time is 15 minutes.
— Dean Smith, co-owner of Jazams in Pennington, N.J., told TDmonthly in a September 2011 survey that he sells 12-18 copies of Sardines each month. 9/15/2011 (MSRP: $16.99; Age: 5 and Up)



Boogie Board 8.5 LCD Writing Tablet by IMPROV ELECTRONICS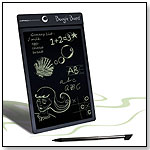 The original Boogie Board LCD eWriter that started a revolution. Ultra light (4oz.) and thin (1/8"). One just isn't enough. Get one for on the go, in the office and multiple places around the house. Almost anywhere you'd keep memo pads, sticky notes or scrap paper.
— Erika Evers, owner of Dancing Bear Toys in Hendersonville, N.C., told TDmonthly in an April 2012 survey that their best selling travel toy is the Boogie Board. They sell 6-7 each month.
— Chris Lowe, owner of Beanhead Toys in Sandy Springs, Ga., told TDmonthly in a late Summer 2012 survey that they sell 15 of this item each month, making it a bestselling novelty item.
— Greg Larson, owner of Larson's Toys and Games in Columbus, Ohio, told TDmonthly in a March 2013 survey that they sell 18 Boogie Boards each month, and up to 48 a month during 4th quarter.

Where to buy:
NORTH WEST

4/6/2012 (MSRP: $39.95)



Spot It! by BLUE ORANGE GAMES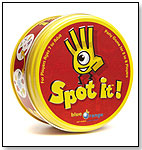 Spot It is a party game for two to eight players. It's played by laying a random assortment of cards on the table and all players racing to find one image that matches between two cards. This fast-paced game is designed to never be the same twice, and though it has very few rules to remember it requires a sharp eye to master. The set of 55 round cards transports in its own carry tin. Watch Spot It: Top-5 Video, Toy Fair 2010
— Spot It has been been a top seller for retailers surveyed by TDmonthly since early Spring 2010.
— In a March 2012 survey, 3 out of 12 retailers told TDmonthly that Spot It was their overall best selling product, and had been for more than a year.
— Dean Smith, Co-owner of JaZams in Princeton, N.J., told TDmonthly in a Summer 2011 survey that he sells 50-60 copies of Spot It each month.
Awards: 2010 TDmonthly Top Seller, Dr. Toy 100 Best Children's Products - 2010

Where to buy:
SOUTH
NORTH EAST
NORTH WEST (

Watch Video) 2/11/2010 (Age: 6 and Up)



Water WOW! Animals - ON the GO Travel Activity by MELISSA & DOUG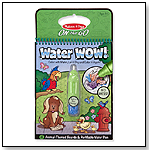 No-mess painting for kids! This exciting paint-with-water coloring book includes four reusable pages and a refillable water pen. Simply use the pen to color in each scene--details and vibrant color appear with every stroke! Then let the page dry to erase the pictures and fill it in again and again. This animal-themed book includes four scenes to color, and a search-and-find activity for each scene. The chunky-sized water pen is easy for kids to hold and stores neatly right in the front cover, so Water WOW books make ideal travel activity books and travel toys for kids!
— Joe Novak, owner of Kazoo Toys of Buckhead in Atlanta, Ga., told TDmonthly in an April 2015 survey that Water Wow from Melissa & Doug is one of their store's best-selling travel toys. 4/29/2015 (MSRP: $4.99; Age: 3 and Up)



Travel Bingo by MELISSA & DOUG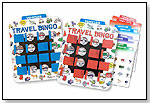 BINGO on the go. Choose an appropriate theme among the eight provided, slide a card into each game boards and pay attention to the passing scenery. Includes two game boards and four double-sided game cards. There are no loose pieces and everything stores conveniently in the board. Great for travel.
— Laura Turman, owner of One Two Kangaroo in Shepherdstown, W.Va., told TDmonthly in an April 2012 survey that Travel Bingo is her best selling travel toy.
— In a late Summer 2012 survey, Mike Castor, owner of Pentwater Toybox in Pentwater, Mich., told TDmonthly that they sold 71 travel bingo sets in the past three months.
— In an April 2013 survey, two out of 12 retailers told TDmonthly that Travel Bingo from Melissa & Doug is their bestselling travel toy. 4/6/2012 (MSRP: $19.99; Age: 4 and Up)



TENZI by CARMA GAMES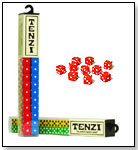 Everyone gets ten dice. Someone says "Go." Then everyone rolls and rolls as fast as they can until someone gets all their dice on the same number. It's a fun, fast frenzy. It's TENZI. It's "Super-simple to learn & super-fast to play," Steve Mark, executive Dice president of CARMA GAMES, LLC, told TDmonthly. Launch date: April 2011.
— In a February 2012 survey about games, Mary Porter Green, owner of The Curiosity Zone in Ashburn, Va., told TDmonthly that she sells 6+ copies of Tenzi each month.
— In a February 2013 survey, two out of 11 retailers told TDmonthly that Tenzi was their best selling game.
— Glisyn Lewis Jarrells, manager of Imaginations Toy & Furniture in Blacksburg, Va., told TDmonthly in a March 2013 survey that Tenzi is their overall best selling product. They sell around 15 copies of the game each month. (

Watch Video) 11/8/2011 (MSRP: $14.95; Age: 7 and Up)



Apples to Apples by MATTEL INC.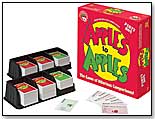 Apples to Apples is a wild, award-winning card and party game that provides instant fun for four to 10 players. It's as easy as "comparing apples to apples" ... players need only open the box and deal the cards to be ready to play. They then select the card from their hands that they think is best described by a card played by the judge. If the judge picks their card, they win that round. Everyone gets a chance to be the judge. Each round is filled with surprising and outrageous comparisons from a wide range of people, places, things and events. Fast moving and refreshing, Apples to Apples is perfect for any get-together with family and friends.
— "Sales have doubled every year," enthused Matt Mariani of Out of the Box Publishing in 2005. "We´re struggling to keep up to the demand." [Game previously available from Out of the Box.]
— Gwen Bowden, manager of Doodlehopper 4 Kids in Springfield, Va., told TDmonthly that she expected Apples to Apples to sell well during Christmas 2006.
― In early 2009, retailers reported sales of up to 40 per month of the Apples to Apples game.
― "We probably sell 25 a month," Mike DiAndrea, manager of Hardware Center in Paoli, Penn., told TDmonthly in early 2011. 4/22/2005 (MSRP: $29.99; Age: 12 and Up)



Travel Cribbage Board by WOOD EXPRESSIONS INC.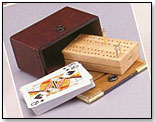 This nice wood board with metal pegs and cards folds in half and keeps the pieces inside.

— John Smith, the store minder of Chess Express in Ann Arbor, Mich., said its popularity "has to do with quality compared with how much it costs."
— At Games of Berkeley, supervisor Gabriel Dominique said they sell twice as many of their travel cribbage boards than they do of their other cribbage boards.
— The game is so popular that the American Cribbage Congress holds cribbage tournaments across the United States. 7/15/2005 (MSRP: $23; Age: 8 and Up)





---
---


Copyright © 2020 TDmonthly®, a division of TOYDIRECTORY.com®, Inc.