January 24, 2022

June 2015 | Vol. XIV - No. 6

---
Shop Talk: Our Favorite Toys of All Time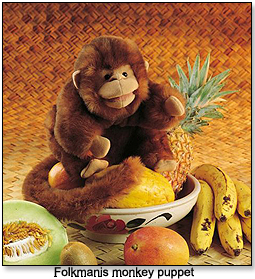 Thousands of new toys are released every year, but now and then one comes along that remains a favorite.

TDmonthly interviewed retailers about their all-time favorite toys. Some are still selling successfully, while others have gone the way of the Tamagotchi, but you can read about all of them below.

What's your favorite product you've ever sold in your store?

The Haba Ball Track Set is still our favorite toy. It's one of the most creative building toys that there is. Kids and adults are totally fascinated by it. It's one of those building toys that promotes creativity and it's a great engineering toy and science toy. It teaches so much. It teaches reverse engineering. It's the classic building toy, and I love it. We begged Haba to send us a display from Germany, and they finally did it. It's the focal point in our store, and kids run to it.
— Dean Smith, owner of Jazam Toys in Princeton, N.J.

The games Blokus and Rush Hour – they sell themselves because parents know the educational and play value – and they are truly wonderful games. We have both at my house and play them all the time.
— Mary Porter Green, owner of Curiostiy Zone in Ashburn, Va.

Fisher-Price Laugh and Learn Piggy Bank. It is a classic toy with different activities. It's fun and educational.
— Bebe Feimster, manager of Big Smile Toys/Hardware Center in Paoli, Pa.

My favorite thing this year has been the Pogo Jumper - a foam pogo stick for kids. It has foam and elastic and handlbars, and squeakers, so there isn't the danger that you would feel from a real pogo stick, but you still have the fun of the jumping action.
— Lisa Shinn, manager and buyer for Dancing Bear Toys in Frederick, Md.

I was a big fan of the Koosh line. I used to put in a 3 to 4,000 dollar order for that stuff. There were 10 to 12 skus that sold all day long. Particularly a sponge art set that was our best-selling art item. Then the company got incorporated into Hasbro and disappeared. I also love Carrera car sets and get really excited about selling them. Doesn't happen much, since it's pretty high end.
— Richard Gibson, owner of Learning Express of Newton in Newton, Mass.

My favorite is the Traxxas line. They're literally keeping my business open. They are radio controlled, waterproof, fully repairable, and have excellent customer service.
— Gregory Faith, owner of Inside Out Hobbies in Nashua, N.H.

My favorite was the Folkmanis monkey puppet. It was fun, it felt good, it was adorable, and my excitement for it was contagious.
— Teresa Derry, owner of Annie's Toy Chest in Cocoa, Fla.

Our favorite is the Butterfly Garden by Insect Lore. It's an activity for the family, and it's fun to watch.
— Deborah Thompson, owner of Shenanigans Toys in Peachtree City, Ga.

Wooden trains from Bri-O or Thomas are great. I just think when they're younger, this toy is a springboard for storytelling. It also helps with fine motor skills. When they get older, it becomes a full-blown building tool. I love the way it grows with them over time.
— Tye Steinbach from Thinker Toys in Portland, Ore.

We had a lot of fun selling BC Erasers. One of our strongest amounts of revenue was generated in that small footprint. Also, Kendama is "King of the castle" right now. We've probably sold 5,000 pieces this year.
— Casey Sartain, co-owner of Tutoring Toy in Salt Lake City, Utah




Ball Track Roll N Roll by HABA USA/HABERMAASS CORP.



While winding their way down the wooden track, the colored balls shake hands with wooden goblins, making little bells ring and clatter over the chatter track. It's nonstop rolling fun. It measures: L 47 x W 19 x H approx. 40 cm. It includes 2 balls of one color and 2 balls of two colors. The size of the balls (4.6 cm) makes this game suitable for toddlers. 11/7/2005 (MSRP: $90.00; Age: 2 and Up)



Blokus by MATTEL INC.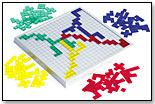 Europe´s 2002 game of the year, Blokus is a strategy game for the family. It's similar to the ancient Go Game — the board is a grid and players use their pieces to try to control as much territory as possible. The game pieces are in four, 21-piece sets of varying shapes. Each player chooses a color and works on expanding his territory on the board while blocking others from doing the same. Each new piece laid down must touch at least one other piece of the same color, but can only touch at corners, not along edges. The game ends when all players have been blocked from laying down more pieces. Points are deducted for pieces not played, and the player with the highest score at the end, wins. Blokus comes with a game board with 400 squares, 84 game pieces (red, green, blue and yellow), and instructions.
— In spring 2007, Sally Lesser, owner of Massachusetts' Henry Bear's Park, called Blokus a "consistent best-seller" at her three stores. It's also tops at Juggles in Wakefield, R.I., and Kazoodles in Vancouver, Wash. Six of 63 retailers named Blokus as their overall best seller in September 2008. Three of 52 retailers named Blokus as one of their overall top sellers in November 2008. Blokus is no longer distributed by Educational Insights as of 12/4/08.
― "No. 1 is Blokus," Linda Hanzelko, owner of Timmy's Toy Chest in Lake Mary, Fla., told TDmonthly when asked about best-selling games in early 2009. "It's an easy sell. It's one that people come back later and say 'You were right.'" In late 2009, Lori Hershman, owner of Evan's Toy Shoppe in Hamden, Ct., estimated sales of about 34 units monthly. Six of 38 retailers called it a best-selling game in Feb. 2010, selling from three to 150 units per month. 5/27/2005 (MSRP: $29.99; Age: 5 to 12)



Rush Hour by THINKFUN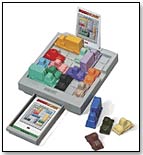 Voted one of Parent's Choice Foundation's "Best 25 Toys in 25 Years," Rush Hour puts players to the test, demanding thought and vision. As if the commute home isn't enough, in these 40 beginner-to-expert challenges, players must navigate a red car through a traffic jam and gridlock to successfully leave the game board. Challenge cards fit neatly into a pull-out tray beneath the game tray. Watch video
― "Logic games are selling very well, particularly (those from) ThinkFun," Amy Akin, manager of Giggles for Kids in Suwanee, Ga., told TDmonthly in early 2009.
― "We do really well with ThinkFun games — problem solving, like Rush Hour," added William Bingham, owner of Firefly Toy Shop in Milford, Pa. When asked about best-selling item for tween boys in October 2009, Fred Meyer, owner of Meyer's Toy World in Battle Creek, Mich., told TDmonthly, "Rush Hour is great. We sell hundreds." It was named a best-selling game by five of 38 retailers in Feb. 2010. During a summer 2010 survey of 40 retailers, two said Rush Hour from ThinkFun is their top-selling puzzle, citing sales of up to 60 pieces per month.
AWARDS: 2010 TDmonthly Top Seller 9/29/2005 (MSRP: $15.99; Age: 8 and Up)



Laugh & Learn Piggy Bank by FISHER-PRICE INC.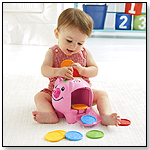 Count on plenty of learning fun and musical rewards with this delightful friend. Baby will learn about counting, colors, animals and sizes with songs, music, speech, and activities that respond to baby. There are 10 colorful coins to drop into the slot while counting along, comparing big and small, and discovering mommy and baby animals. Press the piggy's snout for musical responses, open the door for put-and-take play, and enjoy fun sing-along songs. Make learning more fun with the Laugh & Learn collection of toys. With rich music, sing-along songs, and lots of activities, they combine early academics and everyday experiences—for the way kids really learn! Requires 3 "AAA" alkaline batteries (included). 5/28/2015 (MSRP: $24.99; Age: 0 to 3)



Kidoozie Hop & Squeak Pogo Jumper by INTERNATIONAL ARRIVALS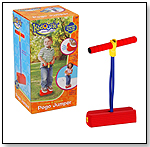 Jumping fun for everyone! Made from soft, durable foam and great for indoor and outdoor play This lovable foam pogo jumper squeaks with every hop! The bungee stretches to accommodate children of all heights and can support up to 250 pounds. Kids and adults alike will have a hopping good time on the Hop & Squeak Pogo Jumper. (From ages 3 to 100 depending on the functionality of your bones at that age. 5/28/2015 (Age: 3 to 10)



Marvel - The Avengers "Hero Team Chase" Race Set by CARRERA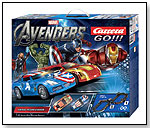 Inspired by the hit movie, the Carrera Go!!! Marvel - The Avengers Hero Team Chase Race Set lets kids ages eight years and up recreate the excitement of their favorite heroes at home. The starter set includes 15 easy-to-assemble bolt system track pieces, Captain America Stormer and Iron Man Tech Racer, and 2 turbo speed controllers for added racing boost. Each car features high-quality detailing and is fitted with double contact brushes for secure, powerful racing play. 12/11/2012 (MSRP: $79.99; Age: 8 and Up)



Traxxas Stampede XL-5 Ready-to-Run by TRAXXAS CORP.


The Traxxas Stampede XL-5 Ready-to-Run was named the "best electric monster truck for 2006." It offers a Titan 12-turn 550 motor that brings it to speeds of over 30 mph. It is a rugged, high-performance truck.
— This ready-to-fly helicopter was on the top 10 best-sellers' list for the HobbyTown USA franchise at the beginning of 2009, according to Director of Media Buying Mary Friesen. 1/29/2009 (MSRP: $179.95; Age: All Ages)



Butterfly Garden by INSECT LORE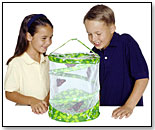 This net habitat (almost like a Chinese lantern) encloses caterpillars, food and the setting for a caterpillar's eventual metamorphosis. It requires mail-sent larvae. "The Butterfly Garden not only shows actual insect metamorphosis, but it does so in just three weeks' time. Many other animal habitats can take up to six months for any changes to occur. This makes it a perfect item for kids who have short attention spans and is an ideal science project for any classroom," John White, marketing director of Insect Lore, told TDmonthly.
— Fred Rosenberg of On the Park in Kingwood, Texas, named this as his No. 1 seller in May 2008, with sales of 50 to 60 units monthly. "I just can't keep them in stock right now," he told TDmonthly. "We have a display on our counter with the real butterflies so people can see it go through the process," said Kim Emigh, VP of e-commerce at Growing Tree Toys in State College, Pa.
— 25% of 64 retailers surveyed in August 2008 named this as their top-selling nature toy, reporting average sales of 12 per month. Five of 38 retailers named Insect Lore's butterfly habitats as best-selling science and nature products in late summer 2009. In an August 2010 survey, 21 percent of 43 specialty retailers said Insect Lore is a top-selling science and nature brand. Five retailers specifically cited Butterfly Garden as a best seller.
— As of 5/21/2012, the Butterfly Garden had spent more than 1,600 days in the top-100 best-selling toys and games at Amazon.com and has 4.4 out of 5 stars from 461 reviews.
AWARDS: 2010 TDmonthly Top Seller (

Watch Video) 7/18/2005 (MSRP: $19.99)



Brio® Classic Figure 8 Set by SCHYLLING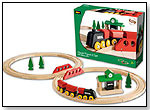 A classic starter set for the 2 year + child with all wooden details. Take the classic inspired engine out on an adventure along the tracks. Stop by at the all wooden station and continue along the tracks passing by trees and a crossing bridge. Lots of fun for the youngest drivers. Launch date: August 2012. 10/5/2012 (MSRP: $49.99; Age: 2 and Up)



Iwako Unicorn Erasers by BC INDUSTRIES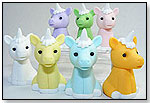 These unicorn erasers have removable puzzle parts so they can be taken apart and reassembled. The collection includes six pastel colors.
— In summer 2010, Margy Peine, owner of Tree House Toys in Cumberland, Md., told TDmonthly her store sells about 75 Japanese erasers per month.
— Thirteen percent of 38 specialty retailers named Japanese erasers a best-selling product in July 2010.
— Linda Laramy, owner of Crackerjacks in Easton, Md., told TDmonthly in an October 2011 survey that they don't sell many tween items other than collectible erasers, which they sell about 4 dozen of each month. 8/10/2010



Focus Marble Kendama – Purple/Yellow/Seafoam by SWEETS KENDAMAS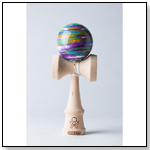 Marbles are back for a limited time! This tama features our classic marble paint style with a purple, yellow, and seafoam combo. Coated with our high-gloss Pro Clear. Every Sweets Kendama comes with an extra string, bead, instructional book and stickers.

3/27/2014 (MSRP: $29.99)



---
---


Copyright © 2022 TDmonthly®, a division of TOYDIRECTORY.com®, Inc.