October 18, 2017

July 2009 | Vol. VIII - No. 7


TDmonthly Goes Inside ... The Elegant Child, Beverly Hills
Even the Wrapping Is a Gift
Get the Flash Player to see this video.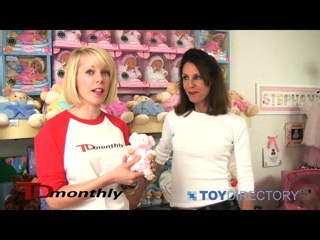 Teri Weiss bought The Elegant Child in Beverly Hills from her friend and employer more than 20 years ago, she told TDmonthly Magazine. Since that time, she's built her private showroom for baby gifts into an online sensation. Though her clients include Fortune 500 companies and celebrities, her one-of-a-kind gift baskets stand out among the hundreds of presents they receive. Some of the baskets are so beautiful, her clients tell her, they choose not to unwrap them.

In May, TDmonthly's video crew visited Teri in her showroom to find how what elements have made her business so successful and which toys enchant both her clients and the babies they're designed for. Please click on Teri's interview video (above), and then scroll down to see videos of items that are exclusive to The Elegant Child, plus more videos of some of Teri's top sellers.

(Click on each image below to watch video)

Plume Blue Rabbit by KALOO


This cuddly, wrinkly rabbit is designed in France and has a super-soft body. It is 4" tall and comes packaged in a hat box that can be used for storage. (

Watch Video) 10/21/2008 (MSRP: $39.99)



Doudou Fuschia Mouse by KALOO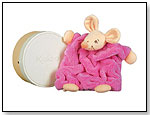 The Plume Collection Doudou Mouse is a handy little 9" blankie that little ones can carry with them everywhere. The ultrasoft cotton and microfiber mix are designed to provide comfort, and the ears and paws offer little fingers easy gripping and softness. The ears and paws can be soaked in water and frozen to offer a little relief from teething pain. The mouse is machine washable and comes in a round Kaloo keepsake box. "The quality is unsurpassed and the packaging distinguishes it from other soft toys," Leif Quraeshi, president of Kaloo North America, told TDmonthly. Launch date: 2007. (

Watch Video) 6/3/2009 (MSRP: $20.99; Age: 0 and Up)



Lilirose Small Rabbit Booties by KALOO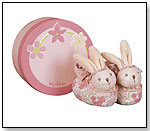 These booties are designed with incredible detail and a playful rattle to help young ones discover their little feet. They come in a round keepsake hat box for an extra bit of French flair. The booties are machine washable and dryable, and safe for years of lasting comfort. The face is computer embroidered, and a all Kaloo products meet or exceed European and American safety standards. "The cute little rattle within the bunny's head lets parents know baby is ready for a little play time," Leif Quraeshi, president of Kaloo North America, told TDmonthly. Launch date: 2007. (

Watch Video) 6/3/2009 (MSRP: $23.99; Age: 0 to 1)



Babipouce Pink Striped by COROLLE DOLLS



Babipouce Pink Striped is a tender snuggly doll for babies 12 months and up. Soft, washable Babipouce is lightweight and 12 inches tall, perfectly sized for tiny hands to grasp and explore. Corolle's collesction also includes African-American and Asian faces. (

Watch Video) 9/8/2005 (MSRP: $22.99)



Lilirose Chubby Rabbit Chair by KALOO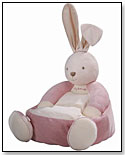 Kaloo's toddler-sized beanbag chairs come in three styles, including the 123 Maxi Patapouf Bear Chair, the Maxi Cat Chair, Lilirose Chubby Rabbit and the Sable Maxi Bear Chair. Each features bright colors and easy-to-care for soft fabrics that are machine washable and dryable. Their unique designs, including the animal's stubby ears and paws, also encourage learning skills that foster a child's creative expression, stimulate gross motor and sensory abilities and promote independent play. It's 20" by 20" by 17". (

Watch Video) 7/11/2006 (MSRP: $70.00; Age: 2 and Up)



Teddy Bears by GUND INC.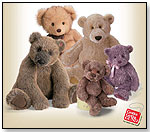 These floppy chenille-type bears are a great start to Baby's classic teddy collection. (

Watch Video) 6/2/2009 (MSRP: $10.00)



My Quiet Book by ALMAS DESIGNS



Kids will do more than just turn the pages with this cloth book: They'll button, zip, lace, buckle, snap items, and more. Between covers, there's page after page of activities to develop important motor skills. The book can be zipped up and carried about for car trips and overnights to Grandma's. (

Watch Video) 6/1/2009 (MSRP: $26.00)



Goldilocks Story Telling Flip Doll by ALMAS DESIGNS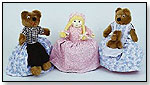 Creatively designed for story telling, pretend and imaginative play and overall interaction with family, our storytelling dolls (3 positions for each doll) have been very popular over the years. Curious Goldilocks flips in surprise to discover Papa Bear, Mama Bear, and Baby Bear. (

Watch Video) 6/1/2009 (MSRP: $18.00)



Sophie the Giraffe by CALISSON INC.



Suitable for babies 0 to 3 months and up, this teether and discovery toy features a contrasting spot pattern that offers visual stimulation, plus a squeaker for amusement. It is made of natural rubber from Hevea tree and colored with food paint. Sophie is distributed in the United States by Calisson.
— Retailers surveyed by TDmonthly have been naming Sophie the Giraffe as a best-seller since 2009.
― Nicole Boomhover, assistant manager of Learning Express in Cahaba Heights, Ala. told TDmonthly in late Spring 2011 that they sold between five and ten Sophies a month.
— In an April 2012 survey, three out of 11 retailers told TDmonthly that Sophie the Giraffe was their best selling infant & toddler product.
― "Sophie giraffe is a great baby product that we order over and over again," Diana Nelson, owner of Kazoo & Company in Denver, Co., told TDmonthly in June 2010. "I can't keep them on the shelf," agreed Keith Schumacker, general manager at Talbot's Toyland in San Mateo, Calif.
― During a March 2010 survey of 39 retailers, seven said Sophie the Giraffe is a top-selling toy for infants. Sales averaged 24 per month.
— Want this? As of 05/06/2011, this product was available for purchase at Learning Express of Cahaba Heights, Ala.
AWARDS: 2014 TDmonthly Magazine Top Toy Award, 2010 TDmonthly Top Seller (

Watch Video) 4/10/2009 (Age: 0 to 1)



Maryjane Pastels by TRUMPETTE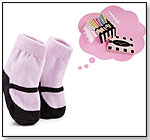 A set of six pastel maryjane socks comes in a gift box. (

Watch Video) 6/2/2009 (MSRP: $24.50; Age: 0 to 2)



Johnnies by TRUMPETTE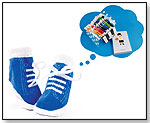 These sneaker-styled socks come in a gift box of 6 pairs. (

Watch Video) 6/2/2009 (MSRP: $24.50; Age: 0 to 2)



Sidwell by GUND INC.



Sidwell™ is a 17" light brown teddy with an embroidered nose, ultra suede paw pads and a beige chiffon neck bow. (

Watch Video) 6/2/2009




Products demonstrated by Cecily Gambrell and Teri Weiss. Direction and videography by Alison Marek. Editing by Trevin Matcek. Plush pig "microphone" by BESTEVER.





Copyright © 2017 TDmonthly®, a division of TOYDIRECTORY.com®, Inc.