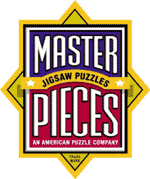 MasterPieces Puzzle Co., Inc.
MasterPieces continues to develop and offer popular puzzles and games with strong margins and high demand in the toy marketplace. New from MasterPieces Puzzle Company is the World Almanac for Kids knowledge-based game. Winner of the iParenting Media Award, this game is easy to play, containing questions written for children ages 8 and up that challenge skills of deduction and make learning fun. Our new Christmas puzzle, When Dreams Come True, is in support of Breast Cancer Research and a tribute to Breast Cancer Survivors. The puzzle is filled with special images that symbolize all the efforts made to eradicate this terrible disease. Our English and Spanish learning games offer a fun way to learn language through play. The pronunciation key helps English speakers say Spanish words and Spanish speakers say English words. For the ultimate puzzler, we have our 3-in-1 puzzler kits. These kits include a puzzle roll-up, puzzle glue and a top selling MasterPieces puzzle. Our customers are important to us and we are committed to service and value to form lasting relationships.
Click here to see some of the newer products MasterPieces Puzzle Co., Inc. has shared with ToyDirectory and TDmonthly Magazine.
MasterPieces Puzzle Co., Inc. primarily manufactures/wholesales products in the following categories:


To see a list of other manufacturers and wholesalers
who carry similar products, click on a link above.




1376 West Saint Mary's Road Tucson AZ 85745
Tel: 520-741-1315
Fax: 520-741-1978
Toll Free: 800-558-2891



E-mail wholesale inquiries to: