August 4, 2021

November 2005 | Vol. IV - No. 11

---
Hot for the Holidays
Retailers Predict Top-10 Christmas Toys
The Big Box stores may be stocking up on Bratz, Star Wars and electronic gizmos, but specialty retailers have their own set of hot items to make this holiday season bright. According to TDmonthly Magazine's survey, retailers across the land are predicting that this Christmas will be more nice than naughty, and that traditional toys will be their best sellers. So, if you're looking to do some last-minute ordering, here are the toys that we think will do well (and don't forget to check in next month to see an in-depth breakdown by some of the most popular holiday categories):
Uglydog by PRETTY UGLY LLC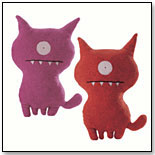 Developed by artists David Horvath and Sun Min-Kim, this irresistible 12" to 14" tall hot pink plush creature looks like a Cyclops caught in a nuclear meltdown. The "dog" has four feet and a tail, all in a row. Made of a soft fabric akin to the inside of a fleece sweatshirt, the doll is easy to squeeze and hard to put down. Uglydoll describes the character as "the ultimate pet" because "what he really likes to do is stand on his tail and live out his big dream … to be just like you!!!" Whether full-size, half-size, swinging from a keychain, or decking a t-shirt, the Ugly Dolls are the coolest hot toy for kids of all ages.
— "They're so popular, and across such a broad age range!" enthused Elaine Hackney, owner of J.P. Boing's Toy Shoppe in Jamaica Plain, Mass. "They´re great. When they first came out several years ago, I didn't think so, but I was proven wrong."
— A TDmonthly Magazine reporter spotted a tourist at a Los Angeles airport carting off a whole bagful of the Uglies. All the retailers we called said they haven't slowed down a bit.
— Uglydolls have been seen on CNN and The Today Show. The t-shirt is featured in the Sony picture "Zathura," out this month. (

Watch Video) 8/23/2005 (MSRP: $20.00; Age: All Ages)



Calico Critter Wedding Set by INTERNATIONAL PLAYTHINGS LLC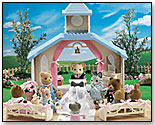 Formerly known as the Sylvanian Family, Calico Critters have been around at least as long as Mom, and now her daughters are collecting them, too. Pictured here is the brand new Calico Critter Wedding Set, available for a limited time only. It comes with more than 20 accessories, including an organ and pews, to make a special day complete. Calico fans can dress their critters in the bride´s gown and groomsman´s tuxedo, and invite all their critter friends to attend the grand event. The case measures 11" x 7" x 9". Critters and batteries are not included.
— "Omigod! They're unbelievable! They're like a top, top seller," gushed Ricki Block of Ariel's Child in New Windsor, New York.
— Terri's Toy Box in Seattle has been doing "really, really well," with Calico Critters, according to manager Meghan Block, and the same's been true at countless other stores.
— Even boys play with the critters, said Susan Tice, product manager and public relations director for International Playthings Inc. 10/27/2005 (MSRP: $41.95)



Knight's Castle by SCHLEICH NORTH AMERICA, INC.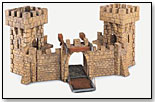 Jousting knights and horses need a place to gather, rest and strategize. This modular castle has two 16.5" towers with crenellations so archers can let fly and then hide, a drawbridge and an authentically medieval look. Made of textured plastic, the castle comes as an easily assembled kit. Towers and other pieces are available separately so that kids can add to the castle as their collection of knights and horses grows.
— Karen Barwick, owner of Boomerang Toys in New York City, expected the Knight's Castle to be a great Christmas seller.
— The knights and horses that fit in this castle have been cited by almost every retailer surveyed as the hottest collectible item among boys ages 4 to 12.
— "The Knight's Castle is a winner for us," said Sam Armstrong, CEO of Schleich North America. "It's a product everyone is chasing right now. We're getting containers in every week, so it's just a question of keeping of up with the demand." 10/27/2005



Papo Figurines by HOTALING IMPORTS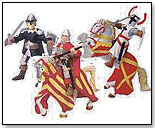 These highly detailed figurines and accessories are hand-painted and historically accurate. Almost all Papo Figurines can stand on their own or ride any of the horses. "The concept of creative imaginative play continues to be something that retailers and parents are very pleased with," Larry Hotaling, president of Hotaling Imports, Papo´s U.S. distributor, told TDmonthly Magazine. "It´s something that´s [otherwise] lacking with today´s children ... Papo´s been very well received."
— Papo knights were very-good-to-great sellers in 90 percent of stores surveyed.
— "Papo knights are one of the best things we have right now," said Richard Emery, owner of Toy Star in Easton, Pa., back in June 2005. As of the end of October 2005, retailers across the nation agreed that Papo knights were still one of their best items for boys.
— The popularity of Papo is growing strong," said Hotaling. "Children are very interested in our different categories, such as Medieval Knights Fantasy and Pirates. The brand name is becoming very well known. 8/15/2005 (MSRP: $3.98; Age: 3 to 12)



Apples to Apples by MATTEL INC.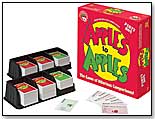 Apples to Apples is a wild, award-winning card and party game that provides instant fun for four to 10 players. It's as easy as "comparing apples to apples" ... players need only open the box and deal the cards to be ready to play. They then select the card from their hands that they think is best described by a card played by the judge. If the judge picks their card, they win that round. Everyone gets a chance to be the judge. Each round is filled with surprising and outrageous comparisons from a wide range of people, places, things and events. Fast moving and refreshing, Apples to Apples is perfect for any get-together with family and friends.
— "Sales have doubled every year," enthused Matt Mariani of Out of the Box Publishing in 2005. "We´re struggling to keep up to the demand." [Game previously available from Out of the Box.]
— Gwen Bowden, manager of Doodlehopper 4 Kids in Springfield, Va., told TDmonthly that she expected Apples to Apples to sell well during Christmas 2006.
― In early 2009, retailers reported sales of up to 40 per month of the Apples to Apples game.
― "We probably sell 25 a month," Mike DiAndrea, manager of Hardware Center in Paoli, Penn., told TDmonthly in early 2011. 4/22/2005 (MSRP: $29.99; Age: 12 and Up)



Rush Hour by THINKFUN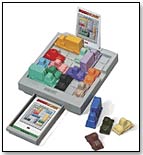 Voted one of Parent's Choice Foundation's "Best 25 Toys in 25 Years," Rush Hour puts players to the test, demanding thought and vision. As if the commute home isn't enough, in these 40 beginner-to-expert challenges, players must navigate a red car through a traffic jam and gridlock to successfully leave the game board. Challenge cards fit neatly into a pull-out tray beneath the game tray. Watch video
― "Logic games are selling very well, particularly (those from) ThinkFun," Amy Akin, manager of Giggles for Kids in Suwanee, Ga., told TDmonthly in early 2009.
― "We do really well with ThinkFun games — problem solving, like Rush Hour," added William Bingham, owner of Firefly Toy Shop in Milford, Pa. When asked about best-selling item for tween boys in October 2009, Fred Meyer, owner of Meyer's Toy World in Battle Creek, Mich., told TDmonthly, "Rush Hour is great. We sell hundreds." It was named a best-selling game by five of 38 retailers in Feb. 2010. During a summer 2010 survey of 40 retailers, two said Rush Hour from ThinkFun is their top-selling puzzle, citing sales of up to 60 pieces per month.
AWARDS: 2010 TDmonthly Top Seller 9/29/2005 (MSRP: $15.99; Age: 8 and Up)



Melissa & Doug Deluxe Easel by MELISSA & DOUG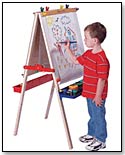 Kids can paint with sweeping gestures when they use this generous-sized easel. One side is a chalkboard, the other´s a dry-erase board. Load a piece of paper into the paper holder and kids can paint and scribble to their heart's content. Each side of the easel features a colorful tray that can hold paints, cups, chalk, erasers, clips and more. "Our Deluxe Easel has become one of our best-selling items because of its great value, high-quality construction and versatility," said Rick Davis, part of the marketing team at Melissa & Doug. It has two adjustable boards that allow children of all sizes to enjoy painting and creating, and the easy-to-clean trays are removable in seconds."
— This product has been making the TDmonthly Best-sellers lists since 2005.
— As of 1.06.2011 this product had 4.5 out of 5 stars from 647 reviews on Amazon.com and was No. 18 on the top 100 bestselling toys and games. Pros: Double Sided; easy to clean. Cons: Supplies must be purchased separately.
— "The Melissa & Doug Easel, hands-down, beats everything in terms of dollars. It's well-made and good value," was the praise given by David Campbell, owner of Amazing Toys in Great Falls, Mont.
— "Our easel, from Melissa & Doug, just blows out of here," said Nishan Shepard, owner of Rockridge Kids in Oakland, Calif., in early 2010.
— Seven of 48 retailers named the easel as their top-selling art item in January 2010, reporting average sales of three per month.
— This easel has been a consistent best seller for Jillie Beans Toys & More of Westminster, Colo., since the store opened in 2006. (April 2010) (

Watch Video) 9/29/2005 (MSRP: $49.99; Age: 4 and Up)



Harry Potter Scene It? Deluxe Edition by SCREENLIFE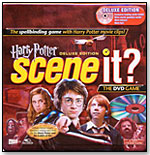 Test your knowledge of one of the world´s most famous wizards with movie clips, puzzlers and questions based on the first three Harry Potter movies, including bonus content from "Harry Potter and the Goblet of Fire." How much do you really know about Quidditch, Transfiguration or the Dark Arts? You'll find out as you race your friends around the game board. (

Watch Video) 9/13/2005 (MSRP: $49.99; Age: 8 and Up)



PlasmaCar® by PLASMART INC.



The Original PlasmaCar continues to intrigue and fascinate. Powered by kid power; no batteries, gears, or pedals needed. Just sit, put your feet up, and turn the steering wheel to propel yourself forward. The patented safety seat design places riders in a safe, comfortable position and minimizes tipping. Moves up to 6 mph on any smooth, flat surface. Supports up to 220 lbs. Visit www.plasmacar.com to see all the wonderful colors available.
— In a March 2015 survey, two out of 10 retailers told TDmonthly that Plasmacar is a best-selling outdoor toy.
— As of 05/13/2011 this product had 4.5 out of 5 stars from 122 reviews on Amazon.com. Cons: Does not work well on surfaces that aren't completely smooth.
— This top-seller in specialty stores earned a TDmonthly Top Toy 2007 award for its distinctive aerodynamic design and ease-of-use. TDmonthly believes it has the potential to become a classic due to its fresh, contemporary appeal and application in a child's formative years.
Awards: 2012 Parents Choice Awards Recommended, 2009 Green Parents List Check Mark, 2009 DisneyFamily.com Top Action Figures and Toys for Toddlers, 2009+2008+2005 The National Parenting Centre Seal of Approval, 2008 iParenting Media Toy Award, 2008 Fat Brain Toy Award Active Play, 2006 TIA Outdoor Toy of the Year - Specialty Toy of the Year, 2006 Oppenheim Toy Portfolio Platinum Award, 2005 Oppenheim Toy Portfolio Gold Seal Award, 2005 Dr. Toy Best Vacation Products, 2005 Creative Child Seal of Excellence, 2001 International Patent Fair, Hong Kong Gold Medal 6/28/2005 (MSRP: $69.99; Age: 3 and Up)



Nightmorphs by RIVER DOLPHIN TOYS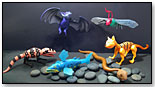 Sixty rugged plastic pieces snap together easily to form endless combinations of poseable creatures. In this set, kids can make a cat, fruit bat, lantern fish, desert lizard, snake and firefly or morph them to make all sorts of fantasy creatures. The heads have hinged jaws, and select pieces, such as the cat's eyes, glow in the dark. All Morphs sets are interchangeable. The Morphs are also available in jungle, sea, pet, runners, fliers and dinos sets.
— "This is a great one," said Doris Jelliff, bookkeeper for Dinosaur Hill in New York City. "It was a big hit when they first came out and now they've come out with new glow-in-the-dark ones."
— "This is one of the hot sellers," said Ricki Block of Ariel's Child in New Windsor, N.Y. "All of the sets are going to be popular."
— "We started with 60 stores in 2004, but the word got around so now we're in 700," said River Dolphin partner Mark McFarland. "The demand has been high; we've gotten slammed with orders. We got in 25,000 units today and they are almost entirely sold." READ MOM REVIEW (

Watch Video) 10/27/2005



---
---


Copyright © 2021 TDmonthly®, a division of TOYDIRECTORY.com®, Inc.