April 19, 2021

July 2006 | Vol. V - No. 7

---
Dolls Talk Back and Kids Respond
Technology and Lovability Grow Closer Together
"The ideal toy will blend the huggable factor with seamless technology." — Virginia Uelze, Zapf Creation

Technology has advanced so quickly that baby dolls don't just talk, they talk back. But do kids go for dolls that have a mind of their own? Manufacturers who spoke with

TD

monthly Magazine

had varied opinions, but even those who incorporated technology in their dolls still emphasized that cuddliness is paramount.

"I believe children want a product that they can talk to and not the other way round," stressed Antoinette Hueber of Europlay/Selecta Spielzeug (Käthe Kruse).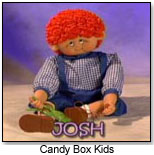 "I think kids want both," countered Virginia Uelze, marketing manager for Zapf Creation (USA). "Kids are becoming increasingly sophisticated consumers … The ideal toy will blend the huggable factor with seamless technology."

"Short term, there may be an attraction to things that move and speak and have lights," pointed out Charles Erdman, president and CEO of Dervish Toys (ToyShow), whose Faery Folk, a line of dolls with accompanying books, Web site and upcoming DVDs, debut in early summer 2006. "But toys with imagination have a stronger offering for both parents and children in the long term, because it stimulates both lobes of the brain."
"Grandparents and parents like the idea of going back to the basics, with something the kids can use for good, wholesome play activity that doesn't require batteries," pointed out Barbara Hock, owner and designer of Candy Box Kids Inc (ToyShow). Her dolls come with a storybook and tape that helps kids enter the dolls' imaginary world.
For Terri Lee Associates (ToyDirectory), batteries and tapes aren't even an option.
"Terri Lee Dolls are an American Classic spanning the 1940s, '50s and '60s — we didn't want to make drastic changes to a proven concept," explained Gretchen McGinnis of Terri Lee Associates. "Terri Lee dolls appeal to the innocence and sweetness of children, with a touch of nostalgia."
Newcomer Paulette Goodreau of Goodreau Doll LLC (ToyDirectory) was clear about what she thinks little girls' preference is: "Cuddly," she stated. "They like to take dolls to bed with them, and rolling over on the hard plastic ones is no fun."
Goodreau, whose quirky collectibles the NONO dolls debuted at Toy Fair, is just about ready to release her new baby line. The small, squishy dolls were inspired by the imminent birth of her twin nieces.
"I wanted a little doll that they could hold and have in the crib with them without suffocating," she said. The boy and girl baby dolls will come in a 7" infant and 14" toddler size. "I'll have them at IDEX," promised Goodreau, "and they'll ship in July and August."
Although Corolle Dolls (ToyShow) won an Oppenheim's Best Toy Platinum Award and iParenting Media Award for their Lila doll, which gurgles, burps, coos and cries, their traditional low-tech babies are their mainstay. Public relations director Maggie Moss Tucker anticipates that the most popular Christmas item will still be the classic Corolle Baby Do in a new "Moses" rattan basket.
"French parents traditionally carry their kids in these baskets, Tucker told TDmonthly. "I think it will be very popular in the fourth quarter because it's more on the high end and grandparents, aunts and uncles will be particularly interested."
Corolle will also soon be releasing their special holiday dolls, which usually consists of one baby doll and one or two toddler dolls, said Tucker.
The Adora Doll Company, which caters primarily to adult collectors despite having an extensive play line, is changing their line — but without technology. At IDEX in Las Vegas this month, they will introduce Sandy's ADORA-ble Friends — 12 new 8" posable international dolls — "to answer our collectors' requests, especially the Adora Club Members who absolutely love the little 8-inch doll in the club kit," explained Adora president David Lin.
Zapf USA is listening to its customers, too, by building on the success of last year's crying Baby Annabelle. Their new Talking Chou Chou toddler doll is even more sophisticated and interactive … and she's even bilingual.
"She speaks whimsical phrases in either English/Spanish or English/French," explained Uelze. A little switch on the back is all that it takes for Mommy to "teach" her baby a new language — and maybe learn one herself.
The doll's speech is triggered by gestures, such as rubbing her tummy, or accessories, including a teddy-bear bib and a changing mat (available separately).
"When you stroke her cheek, she says 'Mommy I love you' or 'You're the best Mommy in the world,'" continued Uelze. "If you take off her bib, she'll say, 'Can I have my little bear now?' or 'Can we play now?'"
Uelze's favorite phrase, however, can only be triggered by the changing mat: "Oooo! Stinky! I need to be cleaned up!"
Whether the dolls talk or listen, manufacturers agree that little girls still want them. Following are the ones they anticipate will be their hits for the holidays:
Terri Lee Princess Ballerina by TERRI LEE ASSOCIATES



Terri Lee has an important ballet recital to attend. She is dressed in favorite blue leotard and tutu with matching ballet slippers. Her accessories include a rhinestone crown, bouquet of roses, special compact and lipstick and her very own hairbrush. (

Watch Video) 10/19/2005 (MSRP: $19.99; Age: 3 to Adult)



Terri Lee Pajama Party by TERRI LEE ASSOCIATES



Terri Lee is dressed in her favorite pink pajamas with bunny slippers. She has a pajama party to go to so she will need to pack her accessories, which include her very own satin, monogrammed pillow, her favorite stuffed bunny, toothbrush, toothpaste and her hairbrush. 10/19/2005 (MSRP: $19.99; Age: 3 and Up)



Terri Lee Birthday Fun by TERRI LEE ASSOCIATES



Terri Lee is all dressed up in her fancy lavender dress for a special birthday party! Her accessories include a special daisy-charm necklace, birthday cupcakes and plates for two and party favors that include a birthday crown and gift box. She also has her very own hairbrush. She recently won an iParenting Media Award. 10/19/2005 (MSRP: $19.99; Age: 3 to Adult)



Käthe Kruse – Elea by EUROPLAY CORP.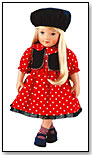 Oh la la, chic Françoise is ready for her travels to Italy. Her blonde hair is waist long and covered with a typical navy-blue French beret, matching her navy-blue flannel vest perfectly. Her classical red and white polka-dotted dress is trimmed with dark blue tulle and has a Peter Pan collar. On her little feet she wears striped socks and nicely matching blue shoes. Francoise belongs to the Käthe Kruse family of Elea, which was modeled after one of Käthe Kruse's great-grandchildren. The hand knotted kanekalon wig is easily and fun to style. The faces are hand-painted in the traditional Käthe Kruse style. The flashing eyes are looking happily into the world. Elea has a soft cloth body; her swivelling arms, legs and the head are made from high-quality vinyl. Elea stands 16" tall. Francoise debuted at the American International Toy Fair 2006. 5/31/2006 (MSRP: $160.00; Age: 3 and Up)



Käthe Kruse – Toni Sabine by EUROPLAY CORP.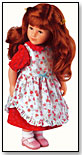 Sabine's fairytale red hair hangs long and curly over her shoulders. Her green eyes look inquisitive and playful at the same time. Sabine wears a bright red floral dress and a coordinating patterned apron with a ruffled hem. Sabine belongs to the Käthe Kruse family of Toni. She stands 15" tall and represents a 6-year-old girl who is happy and full of joy. Her body is made of hard vinyl and her kanekalon wig is easy to style and brush. She debuted at the American International Toy Fair 2006. 5/31/2006 (MSRP: $130.00; Age: 3 and Up)



Käthe Kruse Towel Doll Fairy - pink by EUROPLAY CORP.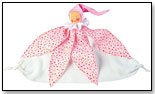 The soft, warm and cuddly towel dolls are made of finest cotton flannel, molleton and cotton. The faces are hand embroidered. For playing, cuddling or sleeping, this fairy is always the right friend. There are many more characters, such as bear, bunny, mouse and duck available. The fairy also comes in blue. It debuted at the American International Toy Fair 2006. 5/31/2006 (MSRP: $19.90; Age: 0 and Up)



Käthe Kruse Mini Baby It's Me by EUROPLAY CORP.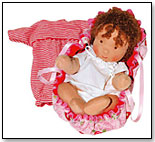 This little doll is perfect for cuddling and pampering. Baby It's Me belongs to the Käthe Kruse Waldorf line and is only 8.5" long. Baby It's Me likes to nap in her carrying bag. She comes in three hair colors: blonde, brown and white and also with a diaper, romper and carrying bag. She is adorably packed in a heart-shaped bag and is handmade and hand washable. She debuted at the 2006 American International Toy Fair. 5/31/2006 (MSRP: $49.90; Age: 3 and Up)



Talking CHOU CHOU by ZAPF CREATION (U.S.) INC.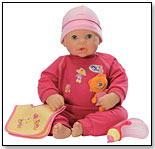 Talking 19" CHOU CHOU says the cutest things — in two languages: English and Spanish. When she is given her bottle or her favorite toy, when her bib is put on or her cheek stroked, she responds by saying the cutest toddler-like phrases. She has a soft cuddly body and a realistic look and feel characteristic of all CHOU CHOU dolls. In addition, she interacts with her Interactive Changing Bag, Interactive Carrying Sling and Interactive Bed — each sold separately. Talking CHOU CHOU requires 3AA batteries (not included) and is available in various ethnic versions. 5/31/2006 (MSRP: $34.99; Age: 3 and Up)



Classic Bébé Do in Moses Rattan Basket by COROLLE DOLLS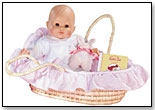 Corolle's Classic 14" Bébé Do is dressed in white velour pajamas and comes in a rattan Moses basket complete with a pink and white ruffled liner. The soft-bodied Bébé Do features a realistically sculpted face, eyes that open and close and delicately tinted vinyl skin that is lightly scented with vanilla, a Corolle signature. Bébé Do comes with her own soft bunny, baby bottle and a small picture book with ideas of how her new mommy can take care of her. 5/31/2006 (MSRP: $75.00; Age: 3 and Up)



Jules by COROLLE DOLLS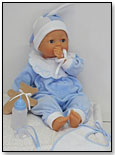 When his hand is pressed, he coos and babbles. When his tummy is tickled, he laughs. When he is given a bottle, he drinks it. When he is placed on his stomach, he cries. Jules is 17" tall and dressed in blue velour pajamas with a matching knit cap. The doll comes with its own feeding bottle, bib, pacifier and soft teddy bear. Jules is an Oppenheim Toy Portfolio Gold Award Winner. 11/15/2005 (MSRP: $60.00; Age: 3 and Up)



Mon Premier Playcrib by COROLLE DOLLS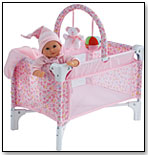 Created expressly to meet the needs of little moms on the grow, Corolle's new Mon Premier Bebe collection now includes a play crib ensemble. Designed to feature the same valued qualities of real-life bedding for babies, the Mon Premier play crib ensemble includes soft padded sides, see-through mesh netting and overhead mobile-style toys. This true-to-life play crib ensemble allows little girls the opportunity to enjoy the same rest and play time routines with their own baby dolls that they once experienced with their own parents. The crib, new for 2006, is scaled for Corolle's award-winning 12" Calin and Tidoo dolls. "I love the new dolls and the clothing in the Mon Premier line," recommended Rich Gordon, owner of Learning Express in Exton, Pa. (

Watch Video) 12/20/2005 (MSRP: $36.00; Age: 1 and Up)



Tidoo Elf by COROLLE DOLLS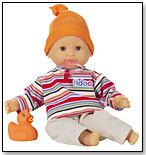 Corolle introduces a new Tidoo to their award-winning collection of dolls that can go in the water: Tidoo Elf. Tidoo is a 12" soft body baby doll filled with polystyrene pellets with a beanbag-like feel. Because little ones love water play, Tidoo dolls have a special polished cotton body with a little hang tag so it can dry quickly after it gets wet. Tidoo Elf is dressed in a striped long-sleeved shirt, khaki pants, an orange cap and a pacifier, and comes with a play duck. For kids who can't monopolize the sink or tub, Corolle has added a new Bathtime Set ($20) to its line of accessories. The set comes with a bathtub, a duck, a shampoo bottle, a cream pot, body lotion and a potty.
— Tidoo dolls are best sellers at Henry Bear's Park in Massachusetts, Owner Sally Lesser told TDmonthly in spring 2007. 5/31/2006 (MSRP: $32.00; Age: 3 and Up)



Ruth by CANDY BOX KIDS INC.



One of 26 character dolls in the Candy Box collection, Ruth collects shiny pennies to buy her favorite treats. The 21" vinyl-and-cloth rag dolls in the magical world of the Candy Box Kids reflect and relate to every child's life, with their emphasis on the cute, sweet, mischievous, silly and the just plain yummy. Ruth comes with a storybook and cassette and has the signature of creator Barbara A. Hock on her soft cloth body and her box. Each doll also has a trademark heart stamp on his or her chest, too. The girl dolls come with removable fake candy treats and the boys with removable frogs. (

Watch Video) 1/17/2006 (MSRP: $24.99; Age: 3 and Up)



Pearl by CANDY BOX KIDS INC.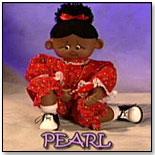 Pearl is a simple, different, new and unique product to the market. No batteries are required for this 21" tall, vinyl and cloth play doll. She is jointed at the neck, shoulders, elbows, hips and knees. She is easy to hug and has black yarn hair tied up in a bun, tied with red ribbon to match her red print dress. Her one-piece outfit is removable and she comes with vinyl oxford tied shoes that are both black and white. She is one of 26 dolls in the Candy Box collection. 1/17/2006 (MSRP: $24.99; Age: 3 and Up)



SARAH by CANDY BOX KIDS INC.

Sarah is as cute as she can be, a soft and cuddly posable doll. At 21" tall, she is small enough to cuddle at nap time and ready to play and be a special tag along friend all the time. Sarah has a vinyl face, and vinyl lower arm and leg parts. Her cloth upper arm and leg parts are attached to a soft beanbag-style body for that lovable, huggable rag doll feeling. Sarah has blue eyes and yellow rooted yarn hair. Her adorable one-piece yellow outfit can be removed and is washable. It's a perfect fit and is interchangeable with all the Candy Box Kids outfits. She wears slip-on vinyl brown and white oxford tie shoes. Sarah is clutching a stationary molded penny in one hand that she is saving for some special candy treats. She has an attachable/removeable vinyl red sucker accessory in her other hand. Her huggable flexibility enhances a rag doll feeling and flare for children to cuddle and love. Her cute and different posable positions are unique for collectors to display. She comes with a free storybook and tape set. 2/22/2006 (MSRP: $24.99; Age: 3 and Up)



NONO Dolls - Les by GOODREAU DOLL LLC


These offbeat new cloth dolls with a cool humorous twist are each tagged with a description that acknowledges the doll's struggles and celebrates their differences. NONO Les likes wearing a dress but is no less of a man. NONO Dolls are just one of the products in a very diverse line designed by Goodreau Doll LLC. The company offers a variety of lines that are for fun, or are fun to play with. NONO has branched out to clothing, stationery and other products. The quirky collectible NONO dolls have been adopted by none other than that classic play doll, Ginny, by Vogue Dolls. VIEW ARTICLE 12/29/2005 (MSRP: $19.99; Age: 13 and Up)



Faery Folk by DERVISH TOYS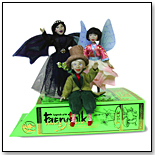 These dolls are part of the Legends of the Faery Folk property that consists of an expanding doll line, book series, Web site and future DVD series. The dolls are magical interpretations of the fairies that inhabit gardens and forests, and each character is supported by a rich back-story that has a strong environmental message. The Web site includes craft projects and downloadable fairy tales. 3/14/2005 (Age: 6 to 10)



---
---


Copyright © 2021 TDmonthly®, a division of TOYDIRECTORY.com®, Inc.