March 5, 2021

June 2007 | Vol. VI - No. 6


My Best Sellers: On the Park
Truffles and Puppy Dogs Make Store Special
When asked to pick his best-selling toys, Fred Rosenberg, co-owner of On the Park in Kingwood, Texas, responded, "Top 10 is tough. Our categories that I think are best sellers are plush, candy, education, imagination and birthday."

"Birthday" includes candy — he and wife Karen sell everything from Gummy Worms to Joseph Schmidt Gourmet Truffles in a 400-square-foot candy store within a toy store.

Following are some of the top-selling products in On the Park's top-selling categories. Read more about the store in Retailer Spotlight: On the Park.
Golden Retriever Puppy by DOUGLAS CUDDLE TOYS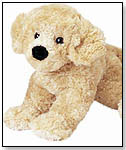 This 9" kohair Golden Retriever Puppy is even softer and cuddlier than the real thing. Kids won't have any problem taking this puppy everywhere.
— "In the plush area, Douglas realistic dogs and cats are our No. 1 item," Fred Rosenberg, co-owner of On the Park in Kingwood, Texas, told TDmonthly in spring 2007.
— "Who knew?!" exclaimed TDmonthly's Baby Roundtable evaluator Christy Chambers. "This toy goes with us everywhere! Every day! Of all the toys we have seen, this is one my 2-year-old son still uses the most!" 11/28/2006 (MSRP: $8.00; Age: 2 to 8)



babyGUND® Spunky Key Wind Motion Musical by GUND INC.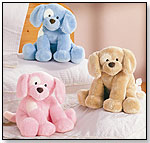 A beloved babyGUND character, Spunky is a floppy-eared pup made sweeter by the spot of white fur surrounding his right eye. The tan-colored, 8" plush plays "Rock a Bye Baby" as he moves his head to the music. This product received a 2007 Oppenheim Toy Portfolio Gold Seal Award. Launch date: January 2007.
— Baby Gund is the No. 2-best-selling plush for Co-owner Fred Rosenberg of On the Park in Kingwood, Texas, he said in spring 2007. 4/18/2007 (MSRP: $25.00; Age: 0 and Up)



Webkinz – Tree Frog by GANZ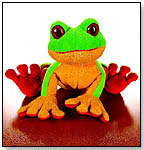 This frog will liven up any dull day with its bright red toes and vibrant green skin. In its online world, the frog has a treetop perch and eats tree frog fly soup. The Canadian Toy Testing Council honored Webkinz with a 2006 Children's Choice Award – Top Ten Toys of the Year. Launch date: November 2006.
— "Webkinz is probably the most desired product, but when you don't have it, you can't sell it," pointed out Fred Rosenberg, co-owner of On the Park in Kingwood, Texas, in spring 2007. Many retailers are frustrated with the shortage of this super-hot toy. (View Article)
— Deran Muckjian, owner of Catch a Falling Star in Winchester, Mass., had much to say about this popular line: "Webkinz by Ganz is very interactive. It has a wonderful website that children adapt to."
— Michelle Deutschmann, owner of Kaleidoscope Toys in Falmouth, Mass., said Webkinz has been one of her best sellers since June 2006. 11/17/2006 (MSRP: $9.99; Age: 6 and Up)



Papo 2-Headed Dragon Figure by HOTALING IMPORTS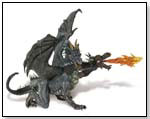 This highly detailed, hand-painted, two-headed dragon stands 4.5" tall.
— "The most critical thing [with action figures] is the dragons, and in the dragons, Papo wins. The 2-Headed Dragon Figure is number one," said Kate Tanner, owner of Kidstop Toy & Book Store in Scottsdale, Ariz. Other Papo action figures specialty retailers told TDmonthly are selling well were horses, animals and fantasy figures.
— Tanner was one of 10 retailers TDmonthly spoke with, out of a total of 34, who cited something other than a knight or a pirate as a best-selling Papo figure in their store.
— "The 2-Headed Dragon is available in two colors: green and, new for 2007, red," said Brian J. Shackelton, operations manager for Hotaling Imports Inc. 7/18/2006 (Age: 4 and Up)



Calico Critters Baby Play House by INTERNATIONAL PLAYTHINGS LLC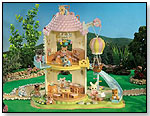 Calico Critter babies love to spend time in the pretty Play House with a windmill on top. They can enjoy a delicious meal or take a nap after spending time at the playground. Unique "build on" features allow children to add rooms, such as the Baby Bathroom, that are specially designed to fit. The house comes with more than 20 furniture pieces and accessories, a detachable roof, a balloon that goes up and down, and a rotating windmill and ceiling mobile. "Their popularity continues to grow," Sue Tice of International Playthings told TDmonthly about Calico Critters. Launch date: February 2006.
— As of spring 2007, Calico Critters were one of Owner Fred Rosenberg's two best-selling lines in the "imagination" category at his store, On the Park, in Kingwood, Texas. (

Watch Video) 12/14/2006 (MSRP: $59.99; Age: 3 and Up)



Petting Zoo Toob by SAFARI LTD.®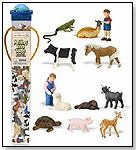 In addition to the Petting Zoo collection, Safari offers miniature collectibles in an acetate Toob in more than 40 different themes, including Desert, Pirates, Rainforest, Coral Reef, Dinosaurs, Horses, Pets, Penguins, Reptiles and more. Each replica is hand painted, made of phthalate-free PVC and finely detailed for extra realism. Toob size is 1.5" D x 13.5" H. Launch date: Spring 2007.
— "In education, the best seller really is Safari Toobs," shared Fred Rosenberg, co-owner of On the Park in Kingwood, Texas, in spring 2007. 3/7/2007 (MSRP: $7.90; Age: 3 and Up)



My First Airplane Kit by SCIENTIFIC EXPLORER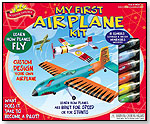 How do airplanes fly in the sky? With My First Airplane Kit, children can learn all about flight. They can build and paint easy-to-make airplanes with pens, and then watch their custom aircraft soar through the sky. Next, using their planes and other components, they can conduct experiments to learn about gravity, lift, drag and thrust, the forces involved in flight. This kit "tailors the fascinating world of flight to the young child. Not only can you build, paint and decorate planes — but you can also use these planes to conduct experiments," Susan Rives at Scientific Explorer told TDmonthly. Launch date: May 2007.
— Idanna Smith, owner of Juggles in Wakefield, R.I., cited My First Airplane as one of the best toys at Toy Fair 2007.
— Scientific Explorer experiments do well, Owner Fred Rosenberg of On the Park in Kingwood, Texas, told TDmonthly in spring 2007.
— Scientific Explorer is one of "the most accommodating companies that I have dealt with," Joshua Grindstaff of Education Station in Coldwater, Mich., told TDmonthly in spring 2007. "They … allow for a very small minimum order, and the quantities that you have to buy of each item are reasonable."
THIS PRODUCT IS NO LONGER AVAILABLE 2/28/2007 (MSRP: $19.99; Age: 4 and Up)



PlasmaCar® by PLASMART INC.



The Original PlasmaCar continues to intrigue and fascinate. Powered by kid power; no batteries, gears, or pedals needed. Just sit, put your feet up, and turn the steering wheel to propel yourself forward. The patented safety seat design places riders in a safe, comfortable position and minimizes tipping. Moves up to 6 mph on any smooth, flat surface. Supports up to 220 lbs. Visit www.plasmacar.com to see all the wonderful colors available.
— In a March 2015 survey, two out of 10 retailers told TDmonthly that Plasmacar is a best-selling outdoor toy.
— As of 05/13/2011 this product had 4.5 out of 5 stars from 122 reviews on Amazon.com. Cons: Does not work well on surfaces that aren't completely smooth.
— This top-seller in specialty stores earned a TDmonthly Top Toy 2007 award for its distinctive aerodynamic design and ease-of-use. TDmonthly believes it has the potential to become a classic due to its fresh, contemporary appeal and application in a child's formative years.
Awards: 2012 Parents Choice Awards Recommended, 2009 Green Parents List Check Mark, 2009 DisneyFamily.com Top Action Figures and Toys for Toddlers, 2009+2008+2005 The National Parenting Centre Seal of Approval, 2008 iParenting Media Toy Award, 2008 Fat Brain Toy Award Active Play, 2006 TIA Outdoor Toy of the Year - Specialty Toy of the Year, 2006 Oppenheim Toy Portfolio Platinum Award, 2005 Oppenheim Toy Portfolio Gold Seal Award, 2005 Dr. Toy Best Vacation Products, 2005 Creative Child Seal of Excellence, 2001 International Patent Fair, Hong Kong Gold Medal 6/28/2005 (MSRP: $69.99; Age: 3 and Up)



Ernie Fire Engine by WOW TOYS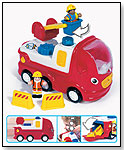 Ernie Fire Engine comes to the rescue with his powerful friction motor and crew of firefighters. Little firefighters can ring his push-button bell and watch his revolving light before using the click-and-turn ladder to fight any imaginary blaze. The firefighter's hand opens the back door to reveal two emergency barriers. Ernie is great for long-lasting role-play fun.
— "Wow is an excellent line of cars, especially for the 1- to 1½ -year-olds," said Fred Rosenberg, owner of On the Park in Kingwood, Texas, in spring 2007. "It's hard to find things as well made as [Wow] that you can actually sell to that age. In the fall [2006], we brought them in, and they've done very well." They've also become a best seller for Brain Station and Tree Town Toys in Ann Arbor, Mich., Owners Hans and Tricia Masing told TDmonthly in fall 2007.
— "This is my baby's favorite toy. She plays with it every day," shared TDmonthly's Baby Roundtable reviewer Sharri Hefner. She and her co-reviewers voted Ernie No. 1 for lasting value out of the 12 toys they evaluated from March to July 2007.
— Ernie Fire Engine is full of "wow" for toddlers — from its friction-prompted motion and siren to its friendly face and likable figurines. Doors that open and close, a workable ladder and attractive packaging also contributed to its receipt of a TDmonthly Top Toy 2007 award. Saving trips to the store to buy batteries (it doesn't need them) helped, too! (

Watch Video) 5/10/2007 (MSRP: $29.99; Age: 2 to 5)



Alphabet Train Floor Puzzle by MELISSA & DOUG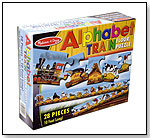 When assembled, this 28-piece puzzle measures 10' long. It is made of heavy-grade cardboard that is coated on both sides and is 20 percent thicker than the competition's material. The company's colorful, detailed, value-priced floor puzzles are available in a variety of shapes, sizes and piece-counts, ranging from 24 to 100 pieces. The pieces of the Alphabet Train Floor Puzzle are self-correcting and the puzzle itself is an amazing 10' long upon completion. Launch date: Re-launched January 2007 with revised graphics.
— "Our best seller is Melissa & Doug — their wooden floor puzzles are very popular," said Melodie Ingwersen, owner of Creative Kids in Columbia, S.C.
— Research conducted by TDmonthly indicated that sales of Melissa & Doug Floor Puzzles were strongest in the Southeast, where retailers averaged more than 30 units sold a month.
— Over 57 percent of retailers told TDmonthly in early 2008 that Melissa & Doug puzzles were the best-selling puzzles in their stores. 3/20/2007 (MSRP: $10.00; Age: 3 and Up)



12 Champagne Mini Truffles by JOSEPH SCHMIDT CONFECTIONS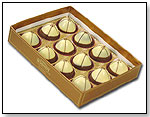 As seen on "Unwrapped" on the Food Channel, this collection of signature Champagne Belgian Chocolate Truffles is for connoisseurs who relish rich Belgian Milk Chocolate and exquisite champagne truffle fillings. Each clear-topped box contains 12 mini Champagne truffles and weighs 7.8 oz.
— "When you do anything, you gotta make a statement," advised Fred Rosenberg, owner since 1992 of On the Park in Kingwood, Texas. "So we actually put a candy store inside a toy store. But you can't just do candy for kids; we're also a candy store for adults." Joseph Schmidt chocolates are his best seller for the grown-up crowd, he told TDmonthly. 5/10/2007 (MSRP: $16.00; Age: 21 and Up)



Galactic Ooze by TOYSMITH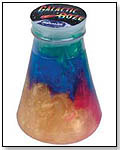 Each 3-½" plastic beaker oozes with mysterious color swirls of green, blue, purple, yellow and pink. The product features a "unique blend of distinctive colors and texture," Debra Ashley of Toysmith told TDmonthly.
— Owner Fred Rosenberg of On the Park in Kingwood, Texas, said in spring 2007 that inexpensive impulse items from Toysmith are best sellers in his store's "birthday" category. 12/11/2006 (MSRP: $2.00; Age: 5 and Up)



---
---


Copyright © 2021 TDmonthly®, a division of TOYDIRECTORY.com®, Inc.