---
Retailer Spotlight: On the Park
Truffles and Puppy Dogs Make Store Special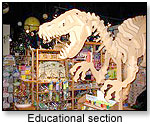 It all began with a Gund pig named Hamlet. When Fred Rosenberg got out of the service in 1971, he and his wife, Karen, traveled to Chicago for the weekend. In a plush animal store, they purchased the pig for their first niece.

"We were kind of inspired by it," Fred told

TD

monthly Magazine. "We had this idea of combining stuffed animals, toys and candy together. My dad was a master pastry chef and candy maker, so I had some background there."

TRAGEDY INSPIRES SPECIAL STORE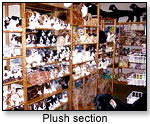 After the couple's son died in 1992, they wanted to do something that would have a good effect on children. They opened their first store in 1996 — a 50/50 combination of plush and candy.

Today, On the Park in Kingwood, Texas, is a full-line specialty toy store, a full-line candy store, and the only five-star-rated toy store in southeast Texas.

"We carry over 600 different kinds of candy," Fred said. "We have everything from kids' candy all the way up to Belgian chocolate for the adults."

Employees must be certified as food-service managers, and health inspectors drop by periodically. But the extra work pays off by increasing profit margins and broadening the store's appeal.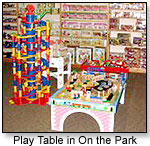 PLAY BREAK FOR KIDS … AND GROWNUPS

A picture window allows children to watch some of the confection making.

In the works is an "adult time-out" area — a coffee bistro where adults will relax while kids enjoy the store.

"We're going to offer coffee with a chocolate-covered strawberry," he said.

BUT SUCCESS ISN'T EASY

After their first success, the couple started another successful store, and then decided to open a third location.

"We missed a basic demographic item that we should have looked at," Fred explained. "It was a disaster. It had all the traffic and everything, but it wasn't the right demographic group."

The Rosenbergs had to close the store and take a substantial loss, which reduced their cash flow and led to another mistake.

"Banks don't want to loan money to cover the loss," Fred shared with

TD

monthly. "So you go to a credit card — big mistake. It's something that takes an awfully long time to overcome and to rectify."

EXPANSION PAYS OFF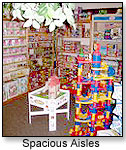 The Rosenbergs downsized to one store, but expanded the space to encompass 5,400 square feet.

"I believe that stores should be spacious," Fred noted. "They should have wide aisles for wheelchairs and double-wide strollers."

The extra space also allows the Rosenbergs to focus on "Three Cs" — concept, creativity and change. Inside the store is a tranquil "park" featuring 17' trees and vines. The couple frequently changes displays to maintain customer interest and researches new toys and companies via the Internet to keep their products fresh.

The themed areas within the store feature a focal point, such as a 16' dinosaur in the education area and a train that kids can ride in the Thomas area.

REMEMBER … IT SHOULD BE FUN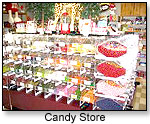 Fred's advice to those just starting out is to stay focused despite the pressures — from manufacturers who don't understand specialty stores' needs to competition from other retailers.

"Stay focused on what you know you do right," he said. "And always look at how you can change it for the better. You also need to keep abreast of margins … we have over 54 percent gross profit. That's pretty good for our industry."

Fred concluded by saying it's important to not lose sight of the industry's purpose:

"We're in the toy business, and it should be fun."

To find out what's fun in the Rosenbergs' store read My Best Sellers: On the Park.

Writer's Bio:
Brenda Ruggiero is a freelance writer from western Maryland.
Read more articles by this author
THIS BANNER IS AN AD:
---
---