March 7, 2021

November 2007 | Vol. VI - No. 11


Tween Girls Crave Crafts and Fashion
Active Kits Keep Their Interest
What do tween girls want? Anything they can use to transform their worlds. From crafts to fashion and room decor, tween girls like to stay busy and crafty.

Here are some new products

TD

monthly Magazine selected for you that should get their fingers itching:
Discover Your World Music Treasure Box by ENCHANTMINTS



Once upon a time, there were legends and nursery rhymes, fables and adventures and stories to be told. This beautiful music box, one in a series of four other Storybook Treasure boxes, will find a worthy place in a special child's room. This unusual box has secret drawers conveniently tucked into the corners for a whole new kind of storage. 10/1/2007 (MSRP: $33.00; Age: 5 and Up)



Fashion Design Studio by CREATIVITY FOR KIDS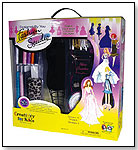 This designer-set features a mannequin, sewing materials, a sketch book, yards of fabric, a swatch booklet, trims, a satin dress form, a garment bag and a design manual. Kids can decorate the dress included or create their own dream designs. "This product taps into the energy generated by television shows, such as 'Project Runway,' and excites tweens to try out their fashion design skills. The thoughtfulness that went into the selection of materials in the kit makes it ideal for the specialty market," Lisa Ritchey of Faber-Castell told TDmonthly. Launch date: May 2007.
— Terry Meyers, owner of Kaleidoscope Toys in Round Rock, Texas, told TDmonthly that her store "sells several dozen" of this item each month.
— "They're all inclusive and that's attractive to customers because they don't need to go out and buy a whole bunch of other supplies," said John Goehring, owner of The Toyworks in Santa Rosa, Calif., of his top-selling Creativity for Kids crafts in late 2008.
— Thirteen percent of 44 retailers listed fashion-related kits as top-selling crafts in fall 2008. 9/28/2007 (MSRP: $29.99; Age: 9 and Up)



Blue Ribbon Horse Collectibles Thoroughbred by SAFARI LTD.®



Marvel at our latest Blue Ribbon horse collectibles. The ultimate, affordable large-scaled horses in the world marketplace! Over 6" tall. The newest collection consists of the Clydesdale, Selle Francaise, Hanoverian and Quarter Horse. Featured in this article is the Thoroughbred. Intricately sculpted by a leading horse expert who shows the true musculature of the breed. All have silver horseshoes for added realism. All come on an attractive platform box with five language educational information. All are hand-painted and phthalate-free. Ages 3+ View our entire collection at www.safariltd.com 9/27/2007 (MSRP: $14.00; Age: 3 and Up)



Butterflies Paint & Play by SAFARI LTD.®



Safari's Paint & Play includes two replicas, non-toxic paint, an illustrated painting guide and two brushes. Challenge your artistic skills, and discover the frontiers of your imagination. Box Size: 10.5" L x 10.5" H x 2.5" D. View our entire collection at www.safariltd.com 9/27/2007 (MSRP: $11.00; Age: 3 and Up)



Make Your Dog a Party Collar by BOWWOWMEOW



For special occasions your dog will look splendid in a dress-up party collar, especially one made lovingly by you. There is enough material in this kit to make one collar for a bull mastiff or several for a toy poodle. You can even make a matching bracelet or ponytail holder for yourself or a friend. Everything needed is included in the kit. (

Watch Video) 9/27/2007 (MSRP: $14.99; Age: 8 and Up)



Toute Sweet Padlock Jewelry by FASHION ANGELS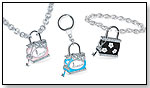 The fully functional enamel spring padlocks are accented with Austrian crystals and have a matching key charm. There are six styles of padlocks with affirmation words, and six styles with daisy designs. The padlocks can be changed and worn on a necklace, bracelet or key ring. The MSRP ranges between $3.00 and $12.99. Launch date: January 2007. 9/27/2007 (MSRP: $3.00; Age: 8 and Up)



Bella Sara™ Ancient Lights by BEST OF BEST



Collect your favorite Bella Sara™ horses and play fun card games with your friends! Ancient Lights released October 2007 is the latest Bella Sara expansion. New horses, including Nike, Venus, Juno and Athena, join Bella, Jewel and Fiona to encourage imagination and positive traits such as courage and kindness. 9/25/2007 (MSRP: $2.99; Age: 7 and Up)



Grow A Frog™ by BEST OF BEST



Watch the incredible metamorphous from tadpole to adult frog. Grow A Frog™ includes aquarium, growth food, pet handbook and certificate. Just mail in the certificate and a live tadpole will be sent directly to you! Ages 6 and up.
— "I often have to point the kits out, as [kids] are transfixed by the aquarium," Richard Stoecklein, owner of The Toy Factory in Jacksonville, Fla., said in summer 2008 of the live Grow-A-Frog display he has kept on his counter for many years.
— Five percent of 64 retailers said in August 2008 that Grow-A-Frog is a top-selling science and nature item. 9/25/2007 (MSRP: $19.99; Age: 6 and Up)



Quickbuild Playscale Townhouse by HOUSEWORKS LTD.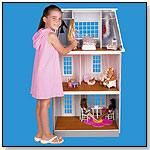 Designed for 11.5" fashion dolls, this completely finished kit includes 3/8" MDF exterior walls with clapboard finish. Only a screwdriver and white glue are required for assembly, and simple instructions are included. The exterior and interior are completely finished with paint, stain and wallpaper. There are two closets with rods. Measurements are 26" W x 52" H x 22"D (includes railing on top). Sales Manager Nancy Van Horn of Houseworks pointed out "the sturdy quality of the construction of the house. [It's] something to cherish as an heirloom," she said. 9/25/2007 (MSRP: $479.00; Age: 4 and Up)



Girl Pirate Slumber Sack by KELLY KOUTURE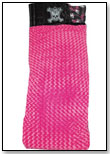 This fun, fuschia sleeping bag has a soft, swirly design and is lined in a funky fabric featuring pirate skulls and hot pink flames. The top of the bag shows off a rhinestone-studded appliqué of a princess pirate skull. The item, which opens up into a throw blanket, is reversible and measures 56" x 70" open and 28" x 70" zipped close. It is ideal for sleepovers, trips to the grandparents' house, pajama days at school and Saturday morning cartoons. "The stylish and soft furs, along with the accented trims, set these bags apart," according to Owner and Designer Kelly Waterman of Kelly Kouture. Launch date: September 7, 2007. 9/21/2007 (MSRP: $179.99; Age: 3 and Up)



Siamese Picture Frame by TRANSWORLD PLUSH TOYS INC.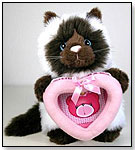 This 9"-tall Siamese cat holds a heart-shaped photo frame measuring 4.5" x 5". Launch date: January 2007. 9/21/2007 (MSRP: $14.99; Age: 3 and Up)



GeoSafari 10-in-1 Electronic Lab by EDUCATIONAL INSIGHTS INC.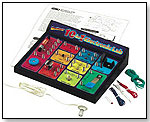 Curious minds can investigate the magic of electricity through the distinctive and versatile 10-in-1 Electronics Lab. Young electronic engineers can build 10 different circuit projects with one unit, including a Morse code telegraph, a burglar alarm and a radio that really works. The 20-page illustrated project guide provides easy-to-follow instructions and diagrams, and the spring-coil construction means no tools or soldering are required. The lab requires a nine-volt battery, which is not included.
— "For boys 8 to 12, we steer a lot of them toward science. We have a lot of science kits that are fun, [such as] GeoSafari by Educational Insights," said Linda Hays, owner of Hopscotch Inc. in McMinnville, Ore.
— Michael Lanz, owner of Kiddy Corner in Ellington, Conn., said that "anything to do with science — science kits by Educational Insights," will probably sell well during the holidays 2007.
— Two of 54 retailers predicted that science kits from Educational Insights will sell well for tween boys at Christmastime. 9/20/2007 (MSRP: $19.99; Age: 9 and Up)



My Invisible Diary by MAZEOLOGY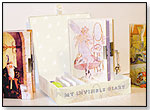 With this special diary, kids write with invisible ink markers and then shine the UV mini-light on the page to read what they've written. Each set comes with a locking 240-page diary with two keys, a mini UV-light and two invisible ink pens in a 6.5" x 7" x 1.5" magnetic-closure keepsake box. Varieties include Fairy, Castle, Princess Pea and Merlin. "A perfect gift, the My Invisible Diary sets combine the secret elements of invisible ink with a personal diary and a special keepsake box decorated with beautiful artwork," Elizabeth Carpenter of Mazeology told TDmonthly. Launch date: September 1, 2007. (

Watch Video) 7/6/2007 (MSRP: $19.99; Age: 5 and Up)



Works of Ahhh… Wood Painting Kits – Heart Box by BALITONO INC.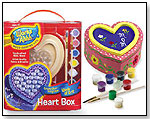 This beautifully crafted wooden heart box awaits an artist. A child can paint whatever her heart desires, then brush on the special glitter glaze to make this a keepsake for herself or a loved one. The designer can glue photos, glass marbles (included), beads or other decorations to the open frame on top. (

Watch Video) 7/6/2007 (MSRP: $18.00)



PaintWorks Back Pack Buddies by DIMENSIONS/PERLER



Ready and waiting for another adventure is this adorable pair of pups. Designed for all skill levels, this paint-by-number kit includes a printed canvas board, eight acrylic paints and a paint brush. 9/24/2007 (MSRP: $8.00; Age: 8 and Up)



Designed By You Fashion Studio by FABER-CASTELL



Dream up your own designer originals and get ready for the runway. Ultimate set includes a dress mannequin, sewing essentials, sketch book, yards of fabric, swatch booklet, trims, embellishments, stain dress form, garment bag and a fashion design manual. Embellish the dress included in your kit or use the material provided to dream up your own creative couture. 9/17/2007 (MSRP: $30.00; Age: 9 to 99)



Lime Purse by FRECKLES & MAYA GIRLS ACCESSORIES USA



From her tiny tap shoes through the years to holding her makeup, your little princess will use this forever! The opening has two top drawstrings with pom-poms designed for little hands to pull closed. Washable and reversible, be careful, though, these well-built little gems dislike a hot dryer. The inside of the Pom-Pom Purse has a shiny, silky satin with an original design copyrighted by the creators of Freckles & Maya™ accessories.
Little girls will have a hard time deciding which way they like wearing it better the satin side or the lush fleece! 9/5/2007 (MSRP: $19.99)



Crazy Bracelets by SENTOSPHERE USA



What fun to paint bracelets and match them with all your favorite dresses! This kit offers three wonderful Plexiglas bracelets with different fashionable designs. They are embossed to help the young creator paint with the desired colors. The paint becomes transparent when dry and gives a beautiful stained-glass effect. 9/10/2007 (MSRP: $17.00; Age: 8 and Up)



Aroma Dough - Lollipop Lime Green by AROMA DOUGH, INC.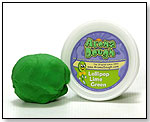 Available in both regular and gluten-free (for children with wheat allergies) formulas, this play dough is made in the USA of 100-percent, child-safe, natural ingredients. The specially formulated aromas can lift spirits, calm overtired kids or help in concentration. The non-crumbling formula stays soft and pliable for hours of play and washes easily from carpet and clothing. Other varieties include Ana Banana Yellow, Awesome Orange, Bubblegum Pink, Cherry Cola Fizz, Rootin' Tootin' Root Beer, Groovy Blue and Lemondrops Yellow. "The natural aromatic oils appeal to one of strongest senses, the sense of smell," Co-developer Diane Scott of Aroma Dough told TDmonthly. 8/29/2007 (MSRP: $2.99; Age: 2 and Up)



Digital Photo Activity Kit by APTE INC



Give your kids the joy and pleasure of their very own digital camera. With this loveable, squeezable camera, taking a picture is a snap. Get teacher-designed photo-project software just for kids. Digital Photo Activity Kit is packed with photo projects to energize the creative and writing skills of every kid. In minutes your kids will be creating storybooks, newsletters, journals, and stationery. Click on the Game Center to play five challenging games with your photos. Or create fun stuff in the Craft Corner or Movie Maker. Your kids will have endless hours of fun with this loveable camera and Digital Photo Activity Kit software. Software includes both an English and Spanish version. 8/29/2007 (MSRP: $38.95; Age: 7 to 10)



Professional Cartoonist Kit by HAMMINATION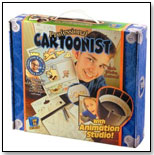 With this kit, kids can create awesome animations, make their own Sunday comic strips, use the flip books to create animation anywhere and learn easy formulas to make cartoon characters. It includes the following materials: comic template, drawing underlays, clip, black marker, No. 2 pencil, blue line pencil, balloon template, desktop with storage, Gene's Guide Book, animation strips, blank animation strips, animation zoetrope, paper and two flip books. Launch date: June 2007. 8/27/2007 (MSRP: $19.99)



Sticky Mosaics - Princess by THE ORB FACTORY LIMITED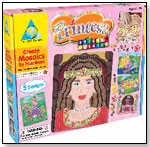 Numbered templates, sticky foam and jewel tiles allow kids to easily create beautiful mosaics. Five different design templates are included, each with a short story on the reverse side geared at inspiring young artists to imagine his or her own mosaic fairy tale. Picture hangers are also included for easy artwork display.
— "The Orb Factory has a great variety of themed mosaic tile arts and craft choices," Jeanette Lauture of Aunt Jean's Toys & Treats in Montclair, N.J., told TDmonthly in early summer 2008 about this best-selling line in her store. "This has hours of play time. I had a dinner party and children from 2 to 12 years of age were entertained."
― "Sticky Mosaics are terrific," said Deran Muckjian, owner of Catch A Falling Star in Lexington, Mass., during an April 2010 survey of top-selling activity kits.
― "They're popular for both boys and girls, and they're fun and easy to play with," Sandy Challinor, owner of Owl's Nest Toy Store in Southlake, Texas, told TDmonthly about Sticky Mosaics in spring 2010.
― Out of 43 retailers interviewed in April 2010, 10 named Sticky Mosaics as their best-selling activity kit. (

Watch Video) 8/16/2007 (MSRP: $16.99; Age: 6 and Up)



Create-A-Critt'r Tube by PLAY CLAY FACTORY

Five sets of eyes and noses, a set of horns, teeth and sunglasses come in each tube. Made from all organic ingredients. 8/10/2007 (MSRP: $4.95; Age: 3 and Up)



KaleidoDraw by PROTOZONE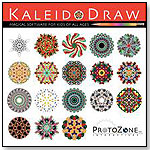 KaleidoDraw introduces kids to the art and science of symmetry patterns. This fun program is simple enough for a 3 year old and complex enough with infinite possibilities to fascinate all ages. In minutes, users will be making Magical Masterpieces that explode with a kaleidoscope of color. KaleidoDraw is running in Museums, hospitals and schools all around the world. Designs can be saved and printed for use in scrapbooks, pictures, cards and more. This product was a Children's Software Review All Star award winner in 2003. "ProtoZone software is unique. It is intuitive, easy, complex and completely open ended; the only limits are the user's imagination," CEO Jim Metcalfe of ProtoZone told TDmonthly. Launch date: 2003. 8/9/2007 (MSRP: $18.95; Age: 3 and Up)



Magic Mesh by MAGIC MESH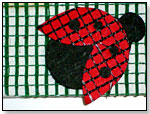 Magic Mesh is perfect for moms who want to have fun and be creative with their kids without the messy cleanup: just cut, emboss, weave, layer and more. Magic Mesh's self-adhesive quality makes it great for positioning and re-positioning on scrapbook pages, cards, gift tags and many other surfaces. Magic Mesh is also great for covering up torn pages and matting photos. A 36-page fully illustrated book offering a wide variety of tricks and tips to wow friends and family is available separately. Magic Mesh is available in four weaves (fine, medium, quilted and Dottie Ann) and 54 colors. (

Watch Video) 5/21/2007



Butterfly Bucket Tattoo Kit by SAVVI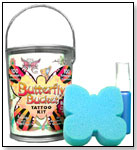 This tattoo kit includes 100 temporary tattoos, a butterfly shaped sponge, a spray bottle and bonus nail tattoos. Applying the tattoos is fun, easy and safe. Launch date: June 2007. 8/16/2007 (MSRP: $9.99; Age: 3 and Up)



Webkinz - Knapsack Purple by GANZ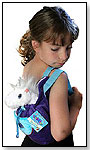 This soft violet backpack is a perfect way for Webkinz lovers to take along their favorite furry friends. It adds function and style to the Webkinz universe that has captivated collectors everywhere.
— "Webkinz by Ganz is our hottest selling item right now. ... With Webkinz, girls start at about 6 to 7 years old," said Amy Oliver, owner of Giggles in Hamilton, Mass.
— "The Webkinz are coming up with a whole slew for Halloween and Christmas. They're the most popular right now," the manager of Fun Among Us in Ipswich, Mass., told TDmonthly.
— Eleven of 54 retailers believe the Webkinz craze will also carry through for tween girls during the 2007 holiday season. 9/20/2007 (MSRP: $14.99)



Be Mine™ by Q P PRINTING LTD.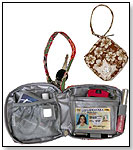 The 5" x 5" machine-washable bag comes with nine different features, including a wrist strap with multiple key rings, a lipstick loop, an extendable pen, a zippered inside pocket and more. An adjustable strap can also be purchased to convert the bag into a clutch, a mini-bag or an accessory pouch that can be clipped onto a diaper bag. The bag is available in eight designs, including Tiki Toffee and Blue Bouquet. "We are finding that teens are using it for their ipods, etc. and grandmas are carrying it as well," Ju-Ju-Be Creator Kristin Hunziker told TDmonthly. Launch date: February 14, 2007.
Awards: Toyman Award. 9/18/2007 (MSRP: $30.00; Age: 6 and Up)



---
---


Copyright © 2021 TDmonthly®, a division of TOYDIRECTORY.com®, Inc.