March 2, 2021

April 2009 | Vol. VIII - No. 4


Watch Outdoor, Sporty Playthings on Video
New Ways To Keep Kids Active
Balance bikes gained speed at Toy Fair 2009. New vehicles included balancers that convert to bicycles, scooters that require no pushing and sand buckets that can be washed in a machine and folded into a pocket. See videos below for more details.

Retailers: Did you know you can broadcast TDmonthly Toy Videos from your website? (See website terms of use.) Manufacturers: Find out how a TDmonthly Video attracts buyers.
Pumgo Scooter by LAND SURF INC.



The scooter features two pedals that are similar to a stair climber and propel the scooter forward. The rider can either pedal the scooter, or push-off the scooter like a kick-scooter. The scooter is multifunctional, serving as a toy, fitness and exercise equipment and a mode of transportation. Both parents and kids can ride together. (Max 180 lbs) Launch date: February 2009. www.pumgo.com (

Watch Video) 2/19/2008 (MSRP: $299.00; Age: 8 and Up)



Hobby-Bike - Blue by INTER-AXION INC.

Hobby-Bike, a learning bicycle for children with a removable drive system (crank, pedals,chain, etc.), allows for two modes of operation: learning and riding. The bicycle's primary purpose in the learning mode (without drive system) is to teach young children the basic skills (balancing, braking and control) needed to ride a bicycle without the use of training wheels. Without the pedal system it is lighter and easier for a child to maintain balance and steer. Once these skills are mastered, the drive system is fastened and the bicycle is ready for use in the riding mode. The Hobby plush toy serves as the handlebars protective padding to protect the child from direct impact with the handlebar. Available in red, blue, yellow, and pink. Comes with a comfortable saddle and pneumatic rubber tires, making rough and bumpy paths comfortable for the rider. Awards: Mom's Best Award 2010 (

Watch Video) 2/9/2009



Bolaball by BOLABALL INC.

Bolaball is perfect for family gatherings and outings with friends, take it to the park, beach, camping, barbecues or enjoy in the comfort of your own backyard. It's travel bag with shoulder strap makes it the ultra portable game! AND now with the addition of our games stands that allows Bolaball to stand without being hammered into the ground you can play in your driveway, garage, or basement!

Past Videos:
Toy Fair 2008 (

Watch Video) 11/21/2007 (MSRP: $49.99)



Dragon Tire Swing by WILDLIFE CREATIONS INTERNATIONAL INC.



Fire not included! How much fun would it be to take yourself to an enchanted land and tame one of these fire breathing beasts? Handcrafted from shock absorbing recycled tire. Fully assembled. Hanging instructions included. Supports up to 200lbs. (

Watch Video) 9/15/2008 (MSRP: $109.95; Age: 3 and Up)



Bubble Thing! by BUBBLE THING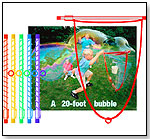 Blow The World's Biggest Bubbles! This is the famous Bubble Thing that started the giant bubble sport. It blows gorgeous high-flying rainbow-colored bubbles the size of baby whales. Easy! A thrill for all ages. Great for outdoor parties. Graceful operation without compare. Keep dipping and opening and closing the flexible fabric loop to create a fantastic menagerie of bubble shapes and sizes. Package includes BIG Bubble Mix powder that makes 2.7 gallons of world class bubble solution. Just add water and dish soap. (

Watch Video) 1/23/2009 (MSRP: $11.95; Age: 6 to 96)



SandSac™ Beach Pail and Shovel by MESKO Associates LLC



The SandSac™ is and eco-friendly, foldable travel beach pail. Made from 100% cotton canvas with a bamboo shovel, it is an alternative to the traditional plastic shovel and pail. The SandSac™ is also customizable using fabric markers, paints, or applied accessories. Machine washable and can be folded and stored away until its next use. Comes in three sizes and is sold individually or as a set of two. Also included are four fabric markers. (

Watch Video) 2/9/2009 (MSRP: $11.95)



Toot Scoot by BUCKALE LLC



The Toot Scoot has no pedals or training wheels. Children sit on the seat while pushing off the ground with their feet, scooting themselves and the bike forward. By first learning balance, coordination and motor skills on the Toot Scoot, children as well as parents will find the transition to a traditional two wheel bike much easier than without a Toot Scoot. Available in Red, Blue, Black, and White. (

Watch Video) 12/1/2008 (MSRP: $79.95; Age: 2 to 5)



Pink 09 MiniGlider by GLIDE BIKES


09 MiniGlider provides young children, eighteen months to seven years old, a safe and fun way to both enjoy bicycling and learn how to balance. Based off the original PV Glider, this MiniGlider is a smaller version of the original, but with the same features and in a pink paint. With adjustable seating and handle bars, this leg-propelled bike helps young children learn how to balance a bicycle. (

Watch Video) 8/13/2008 (MSRP: $99.99; Age: 2 to 7)



Go Glider by GLIDE BIKES



Designed for kids age 6-9 who have not mastered riding a bike. Kids with learning disabilities can benefit as well by allowing them to learn safely at there own pace. The Go Glider features a 16" Eva foam airless tire, adjustable seat height from 17.5" to 23", and adjustable handle bars. (

Watch Video) 8/14/2008 (MSRP: $129.99; Age: 6 to 9)



The Skuut Wooden Balance Bike by SKUUT LLC


The Skuut wooden balance bike gives preschoolers the big-kid riding experience, as well as a leg up on the competition. Its design helps youngsters forgo the awkward "training wheel" period. The Skuut has no pedals, so children kick off the ground as if running, thus pushing or "skuut-ing" themselves and the bike forward. Developing strength and balance as they go, kids can walk, coast or "skuut" along before transitioning to a two-wheeler. Launch date: November 10, 2006.
— "People like it because it's a little different. It's not a bike or a trike; it's not an infant ride-on. It covers that in-between stage and has a nice age range," said Owner Tye Steinbach of Thinker Things in Portland, Ore., during a March 2009 survey.
— "We're starting to see more interest in coaster bikes," Phil Wrzesinski, owner of Toy House and Baby Too in Jackson, Miss., told TDmonthly in spring 2009. Skuut offers "fun for pre-bike riders," according to Patricia Fieldler, owner of Green Frog Toys in Portland, Ore. This bike was on her top-nine best-seller list in spring 2009.
— Two of 37 retailers named Skuut as a best-selling ride-on in March 2010. Skuut "is a huge seller," noted Elaine Hackney of Boing! JP Toy Shop in Jamaica Plain, Mass. Past Videos: Toy Fair 2008 (

Watch Video) 11/10/2006 (MSRP: $99.99; Age: 2 to 5)



Marshmallow Shooter by MARSHMALLOW FUN COMPANY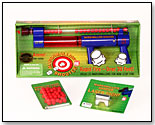 Shoot an edible miniature marshmallow over 30´ with this pump-action shooter, complete with LED sight for aiming accuracy. The easy-to-refill magazine holds 20 marshmallows (or foam pellets—which are included) for fast, nonstop action. The LED sight shoots a safe beam of red light to help locate a target. Barrel and magazine are top-rack dishwasher safe, and the back of the box even has a target for practice.
— "The Shooter did excellent for us this past year [2005]," said Andrew Saucier, general manager for the Marshmallow Fun Company. "We were on Jay Leno and Good Morning America. We're about to go on David Letterman, and AOL picked us as a top toy of the year." In November the company launched the Marshmallow Blaster, which fires "big marshmallows," he added.
— Warren Brown, owner of French's Toy Shop Inc. in Concord, N.H., claimed he never fired marshmallows at lax storeworkers, but later admitted, "I did use it on a couple of customers!"
— "Marshmallow Shooters are really hot," Mary Alice Miner, co-owner of Miner's Doll & Toy Store in Ocean Springs, Miss., told TDmonthly in fall 2007.

Past Videos: Product demonstration, Toy Fair 2009 (

Watch Video) 6/28/2005 (MSRP: $21.95; Age: 8 and Up)



Bow & Mallow by MARSHMALLOW FUN COMPANY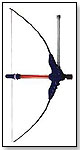 This cross-bow type of toy propels mini marshmallows up to 30' with each pull of the bow string. It can be paired with the Marshmallow Blaster for a great entertainment package. Launch date: February 2007.

Past Videos: ASTRA 2008 (

Watch Video) 3/29/2007 (MSRP: $24.95; Age: 6 and Up)



The Marshmallow Blaster by MARSHMALLOW FUN COMPANY


Kids can declare sweet victory with The Marshmallow Blaster. Its powerful air compression chamber "blasts" normal-sized marshmallows more than 40'. Marshmallows are not included.

Past Videos:
Product demonstration (

Watch Video) 3/29/2006 (MSRP: $24.95; Age: 12 and Up)



Yo Baby Kick Flipper by GarageCo Toys, Inc.



This is a plastic, blow-molded skateboard deck only, NO WHEELS OR TRUCKS. Kids learn, practice, and get skills from balance and action sports moves indoors or out. The Yo Baby Kick Flipper is a great INDOOR sports toy. Whether it's too hot outside or the snow is coming down, children stay active and practice the fastest growing sport in the world indoors or outdoors. Parents love the product because children can learn boarding skills safely. The DVD that comes with it is mesmerizing for children and they watch it over and over hoping to master the same moves with their Yo Baby Kick Flipper.
Awards: 2007 TDmonthly Innovations Award; 2009 product of the year; 2008 preferred choice; ASTRA pick of the year; 2008 Seal of Excellence; Action Product Award ASR 2009
— "We're doing well with Yo Babys, [and] ordering a case a month," said Connie Hoeft, owner of C R Toys in Kearney, N.E., when asked about her best-selling sports toys in spring 2009.

Past Videos: Toy Fair 2009 (

Watch Video) 4/2/2009 (MSRP: $14.95; Age: 3 to 10)



Prinzessin Scooter by KETTLER INTERNATIONAL INC.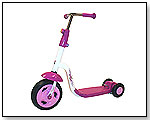 This scooter features an eight-position, adjustable handlebar, a synthetic MaxXtread™ front tire for a smooth and quiet ride, EVA foam rear tires, a rear footbrake and an extra-wide footplate. Weight capacity is 100 lbs. "The KETTLER® Scooter Prinzessin comes with a lifetime warranty on the main 'd' tube frame, [and] also has a five-year warranty on the paint against fading. It is coated inside and outside with an anti-rust coating," Heather McGlothlin, national sales manager for KETTLER International, told TDmonthly. Launch date: March 10, 2009. (

Watch Video) 3/12/2009 (MSRP: $120.00; Age: 2 to 5)



Super Glider by GLIDE BIKES



The Super Glider is designed so that adults or older kids who are a little unstable on a bicycle or perhaps have an injury or learning disability can benefit from the extra stability it offers. 4/14/2009



Videography by Alison Marek and Amanda Wilder. Edited by Alison Marek.
---
---


Copyright © 2021 TDmonthly®, a division of TOYDIRECTORY.com®, Inc.