April 14, 2021

April 2009 | Vol. VIII - No. 4

---
"Just for Fun" Toys Show Off on Video
Don't Ask Why, Just Play
Novelties and odd skills catch the fancies of even the most jaded kids. Watch what's fun on these TDmonthly Magazine videos from Toy Fair 2009. More products coming soon (check out Geospace and Duncan in the Toy Fair video article from last month):

Retailers: Did you know you can broadcast TDmonthly Toy Videos from your website? (See website terms of use.) Manufacturers: Find out how a TDmonthly Video attracts buyers.

Duck Hunter by INTERACTIVE TOY CONCEPTS LTD.

Hunt or be hunted with the Duck Hunter. Launch the duck in the air and try to hunt it down with the toy shooter as it flies freely in the air. The i-Fly Duck Hunter offers an interactive infrared battle between bird and player. Free flights can be up to 30 secords or more with realistic wing flapping. Takes 3 direct hits to bring down the duck. A 10 second charge equates to 30 seconds of free flight. (

Watch Video) 3/2/2009



Steve Spangler's Geyser Tube by BE AMAZING!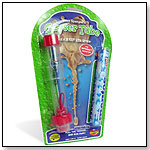 Not only are MENTOS® great to eat, but these amazing candies are loaded with wonder. Learn how to create an enormous geyser by combining MENTOS® with soda. The eruption is amazing—up to 25 feet high—and so is the science just beneath the surface. The Geyser Tube™ allows you to load the candies and safely disperse them into the soda bottle.
— When asked about their best selling novelty toys in a September 2011 survey, Mary Porter Green, owner of The Curiosity Zone in Ashburn, Va., told TDmonthly: "We sell lots of the Geyser Tubes from Be Amazing! Toys."
— In a Fall 2013 survey, two out of 12 retailers told TDmonthly that Be Amazing was a best-selling brand of science toy. (

Watch Video) 3/24/2008 (MSRP: $5.99; Age: 8 and Up)



Bubble Thing! by BUBBLE THING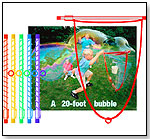 Blow The World's Biggest Bubbles! This is the famous Bubble Thing that started the giant bubble sport. It blows gorgeous high-flying rainbow-colored bubbles the size of baby whales. Easy! A thrill for all ages. Great for outdoor parties. Graceful operation without compare. Keep dipping and opening and closing the flexible fabric loop to create a fantastic menagerie of bubble shapes and sizes. Package includes BIG Bubble Mix powder that makes 2.7 gallons of world class bubble solution. Just add water and dish soap. (

Watch Video) 1/23/2009 (MSRP: $11.95; Age: 6 to 96)



Squirmles The Magical Pet by Nowstalgic Toys, Inc.

Squirmles are incredible toy puppets who'll wiggle, jump, and squirm their way into everyone's hearts. All Squirmles Pets are packed in their own colorful sealed packages and come with their own storage/carrying cases for when not in use. Packaged, Tied, and Ready to Play.
— Marc Holcomb, owner of Toys & Co. in Greensboro, N.C., told TDmonthly in a September 2011 survey that they sell about 120 Squirmles each month. They have a display that features a video of the product. (

Watch Video) 1/28/2008 (Age: 3 and Up)



Sky Box by SKY BOUNCE, LLC

The Urban Classic now in a beautiful display box! This colorful counter piece contains twenty-four Sky Bounce Balls in an assortment of colors. Games listed on the side of the box are: Handball, Stickball, Stoopball, and Off the wall. (

Watch Video) 2/25/2009



Ernie the Interactive Talking Dog by MECHANICAL DISPLAYS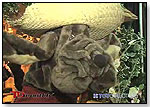 If you're shorthanded, Ernie the Interactive Talking Dog can entertain your customers for you. He can be programmed appropriately to respond to a number of phrases on cue. Can you say that about your staff? Mechanical Displays can also construct animated characters to order. (

Watch Video) 4/9/2009 ()



R/C Gecko Car by GEOSPACE INTERNATIONAL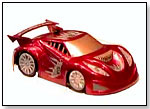 Kids don't have to drive their parents up the wall anymore ... now they can transfer their energy straight to this super cool Gecko RC car. It can travel horizontally or vertically for fun in all dimensions. Launch date: February 2009. (

Watch Video) 4/14/2009 (MSRP: $49.99; Age: 5 and Up)



Crocodile Rocker by THE ORIGINAL TOY COMPANY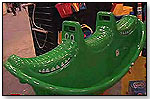 Smooth rounded corners with 2 easy grip handles. Suitable for indoor or outdoor use. Includes self-mounting stickers. Danish designed, made in Denmark. Maximum weight 150 lbs. 42"L x 15"W x 16"H. Ages 3 years +. Launch date: February 2009. (

Watch Video) 4/14/2009 (Age: 3 and Up)



Little Princess Play Watches by COLORI USA/TATIRI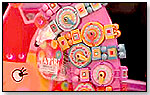 These wooden play watches are a must for any little girl's costume wardrobe. They also teach her how to tell time. Designed in Italy, produced mostly in the Phillippines. 4/14/2009



Marshmallow Cross Bow by MARSHMALLOW FUN COMPANY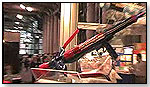 This cross-bow shoots large marshmallows up to 40 feet. Launch date: 4Q 2009. 4/14/2009



Phoenix Diabolo by DUNCAN TOYS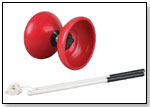 Duncan Toys adds new spin to their juggling line by introducing the Phoenix™ Diabolo. Duncan's Phoenix is balanced and well weighted for long lasting momentum, making it accessible to beginners and performers alike. Featuring customizable shell colors and an integrated axle that converts from a fixed position to a one way bearing for easy learning and long lasting spin. Customization is tools-free with Duncan's built in hand knobs making axle and shell changes quick and easy for every player. (

Watch Video) 4/15/2009 (MSRP: $29.99)



Free-Hand Zero by DUNCAN TOYS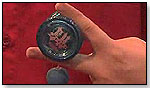 This counterweight yo-yo doesn't have to be attached to the hands and is perfect for performing a multitude of tricks. (

Watch Video) 4/15/2009



WarStone™ by DUNCAN TOYS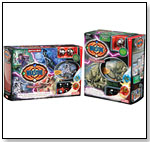 WarStone is a collectible card game using marbles to compete against opponents on a board. The starter set is designed for 2, 3, or 4 players. To start a game, divide the card deck by color and match up stones with cards of the same color. Set up the battlefield. Place stones in their starting positions. Stones with icons match the icons on the cards. Except for Hex cards, each stone has a matching card. The object of the game is to fire at an opponent and knock a predetermined number of them off the battlefield. The cards instruct you how to attack. Contents include 24 WarStone Stands, 24 Page Rule Book, 2 Savage Stones, 4 Master Stones, 16 Core Stones, 60 Cards, Ruler and Markers, and Storage Pouch. 4/15/2009



Juggling Rings by DUNCAN TOYS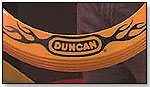 These are professional-quality juggling rings at an affordable price. They're emblazoned with the Duncan logo. (

Watch Video) 4/15/2009



Videography by Alison Marek and Amanda Wilder. Edited by Alison Marek.
---
---


Copyright © 2021 TDmonthly®, a division of TOYDIRECTORY.com®, Inc.