September 27, 2020

January 2010 | Vol. IX - No. 1


Toy Stores Go Light on Fright
Costumes and Novelties Make Halloween Scary Enough
Most specialty toy-store owners told TDmonthly Magazine Halloween just isn't a big deal for them. They might do a spooky window display or make sure dress-up is in stock, but customers shouldn't expect all-out decor or too many special orders for spiders and goo.

About 28 percent of 46 retailers mentioned selling costumes, though the majority are part of the store's year-round offering and don't necessarily tout a Halloween theme. Creative Education of Canada appears to be the most popular dress-up brand, with three mentions, while face paints from Klutz and Alex-Panline also prove a must-have item for trick-or-treating season.

Should your store need a monstrous makeover for Halloween 2010, or perhaps just a few novelty touches here and there, check out the products below:
Pearl Princess Cape by CREATIVE EDUCATION OF CANADA

This beautiful Pearl Princess Cape (51915) is made with shimmer organza on one side and reverses to a shiny bridal satin on the other side. The collar has a lined scalloped finish with satin ties. This gorgeous cape is trimmed in silver with a scalloped bottom edge and it's adorned with hand stitched pearl drops. Transforms any little girl into an instant Princess. 12/18/2009 (MSRP: $34.99; Age: 4 to 8)



Glow-in-the-Dark Halloween Tattoos by DOVER PUBLICATIONS



Ghosts, pumpkins and black cats can be found in this spooky collection of six glow-in-the-dark tattoos.
— Three of 52 retailers named items by Dover when asked by TDmonthly about best-selling Halloween items in fall 2008.
— Teresa Derry, owner of Annie's Toy Chest in Cocoa, Fla., told TDmonthly in a Winter 2012 survey that glow-in-the-dark tattoos were one of her Halloween bestsellers. 12/10/2008 (MSRP: $1.50; Age: 5 and Up)



Pirate by BEASTLY BUDDIES



Bright red velvet-like flocked vest, black and white striped pants with drop crouch, swagger style yellow satin belt, black taffeta scarf, eye patch and white poly-cotton shirt make this pirate garb fun for boys or girls. (

Watch Video) 12/10/2009 (MSRP: $62.00)



Mermaid Set by IMAGINATION CREATIONS INC.



This light blue mermaid set features a two-piece swimsuit and mermaid fins. (

Watch Video) 10/12/2009



Reversible Knight/Dragon Cape & Reversible Knight/Dragon Hood by CREATIVE EDUCATION OF CANADA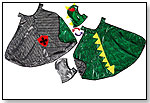 This product was a 2009 ASTRA Best Toys for Kids Winner — the only costume to win this award in 2009 in the Pretend/Fantasy Play category. The green Dragon side is made with shimmering scales and a yellow dragon tail. The silver Knight side emulates a glittering armor and is embellished with a red and black emblem. The Reversible Dragon/Knight Hood (sold separately) completes the look of this fiery dragon and a feisty knight. "This is a truly unique and high-quality design and it's sold for the specialty market only," Veesha Knight, sales and marketing manager for Creative Education of Canada, Inc., told TDmonthly. Launch date: February 2009.
Awards: 2010 Children's Choice Award by the Canadian Toy Testing Council.
— Donna Frederick, owner of The Play House Toy Store in Durham, N.C., told TDmonthly in a December 2011 survey that "We ran out of capes this year," and that she will definitely order capes from the Great Pretenders line by Creative Education again for Halloween next year. 10/29/2009 (MSRP: $31.99; Age: 3 to 7)



HouseHaunters Incredible Man Trapped in Gorilla Cage Costume by HOUSEHAUNTERS



This one-person costume is made to create a scene wherever it goes. The wearer appears to be trapped in a bamboo cage being carried by a full-grown gorilla. "This is the first year [it's] offered anywhere for under $1,000. And it attracts LOADS of attention," Brian Kelly, President, HouseHaunters, told TDmonthly. It won 1st place (most creative) at the Maplewood Halloween festival in New Jersey in 2008. Launch date: May 2010. 12/28/2009 (MSRP: $149.00; Age: 17 and Up)



Dynasty Face Painting Brush Sets by FM BRUSH COMPANY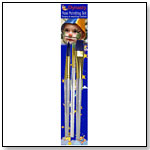 The Dynasty Face Painting Assortment offers acrylic handled brushes with bright neon-colored filament. It comes with kid-friendly packaging with face painting suggestions included. "Face painting is the big buzz word for every tiny tot's party, be it Birthday Halloween or Religious. Today's parent is watching his/her budget and in doing that, is turning to the Internet to find fun and fast ideas to make their child's party unique. ... All they need is a little imagination and a little material from the local craft/variety store," Veronica Towey, Director of Marketing, FM Brush Company, told TDmonthly. Launch date: September 2009. 12/16/2009 (MSRP: $5.99; Age: 10 and Up)



Musical Waltz Ballet Set by ACTING OUT



The set includes: musical skirt, a soft lavender feather boa and two purple satin wristlets with streamers. All pieces in set are placed in an oversized pink organza bag. The Musical skirt plays the world's most famous waltz, "The Blue Danube" composed by Johann Strauss, Jr. Music device is hidden within an interior front pocket. Press on for music and it continues with motion, encouraging movement and creativity. The skirt is two tones of purple adorned with sparkles and a bow. It is lined with satin for itch free wear. Elastic waistband provides easy dressing and can be worn by children from size 3 – 6. As with all Acting Out styles, waistband is completely finished ensuring comfort and long lasting wear ability. 10/20/2009 (MSRP: $36.00; Age: 3 to 6)



Ladybug Dress by CREATIVE EDUCATION OF CANADA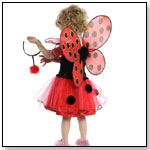 The Ladybug Dress has a black satin ruched top trimmed with a small red satin bow in the center. The red skirt features black dots resembling that of a ladybug. The skirt is lined with a soft lining to prevent scratching and it features 3-layers of stiff tulle to give it full body. This dress is paired with Wings and a Headband (sold separately). 9/21/2009 (MSRP: $31.99)



Halloween Countdown Calendar by GROOVY HOLIDAYS



This Halloween calendar outfitted with a haunted house, ghosts, jack o' lanterns and more, lets families count down to the 31st of October. They can put tricks on treats in the pockets of the calendar for a fun family tradition. The calendar may be personalized (optional). 12/4/2009



Skull Sabers by LIGHTUP TOYS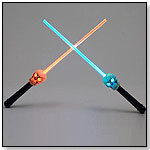 These light-up skull sabers flash with a colorful glow. 11/3/2009 (MSRP: $4.00)



Jr. Astronaut Boots by AEROMAX INC.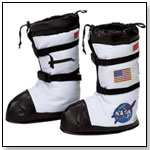 Our Jr. Astronaut Boots are the perfect compliment to our Jr. Astronaut Gloves, Jr. Astronaut Back Pack and our Jr. Astronaut Helmet to wear with our Jr. Astronaut White Suit. They have official looking NASA and American flag embroidery. Look for the special zippered compartment, too. They are intended to wear over your little astronaut's own shoes. This ensemble is among our most popular. Sizes: Small, Medium, Large & Adult – Covers from a 5" shoe to a 14" shoe. 9/15/2009 (MSRP: $24.95)



Jr. Wizard by AEROMAX INC.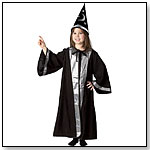 This Jr. Wizard outfit will cast a spell. The crepe-fabric black robe has a glimmering silver metallic trim with trumpet sleeves; plus it is fully lined and includes a secret interior pocket. The fabulously-decorated cone hat has the matching silver trim with embroidered moon & star appliqués. Size: One Size Fits Most – ages 4 to 9. 9/15/2009 (MSRP: $29.95; Age: 4 to 9)



My Princess Academy — Pink Pixie Skirt and Wing Set by ALMAR SALES COMPANY INC.



Dress up as your own princess with the My Princess Academy pink satin and tulle diamond glitter dress up skirt and wings. This skirt has a diamond gold glitter pattern with pink tulle leaves layered on top. Skirt slips on easily over clothes with stretch material and elastic waist for easy wear. The wings have a glittery diamond pattern and elastic straps that easily stretch over your shoulders. 8/28/2009 (MSRP: $22.50)



Jr. Garden Fairy by AEROMAX INC.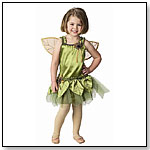 Flowers will perk up when this Jr. Garden Fairy appears. This lovely, shimmering green dress has a tulle lining and the back is a knit fabric for comfort. Two beautiful floral appliqués and trim; plus the detachable gold-glittered wings complete the look. Sizes: 2/3, 4/6 and 6/8. 9/15/2009 (MSRP: $29.95; Age: 2 to 8)



Baby Costume - Frankenstein by MULLINS SQUARE



The hood of this Frankenstein costume for babies features a forehead scar, bolts, felt hair and a heightened head — to store all those brains. The poly/cotton blend jacket and pants have jagged edges, and the pants have an elastic waist. "Our costumes are easy to wear for the children and for parents to dress! Adorable, fun, exciting and unusual costume characters are well made so that younger siblings will be able to wear them also," Eugenie Torres, designer for Mullins Square, told TDmonthly. Launch date: March 15, 2009. 8/6/2009 (MSRP: $25.00; Age: 1 to 2)



Menacing Mummy by WOWindows, LLC


Menacing Mummy — ready to terrorize the next trick or treater — has two 3' x 5' full-color, high-quality plastic window decorations that light up at night with back lighting from everyday household lamps for the enjoyment of passersby on the street. It comes with corner stick adhesive squares. Reusable WOWindow Posters are made in the USA. 8/6/2009 (MSRP: $11.99; Age: 8 and Up)



Sinister Sid by WOWindows, LLC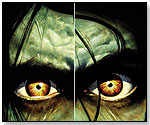 Sinister Sid — an evil, frightening bedroom monster — has two 3' x 5' full-color, high-quality plastic window decorations that light up at night with back lighting from everyday household lamps for the enjoyment of passersby on the street. It comes with corner stick adhesive squares. Reusable WOWindow Posters are made in the USA and are sold sold in big-box stores, according to Robert Schott, director of National Sales for WOWindows. Launch date: 2007. 8/6/2009 (MSRP: $11.99; Age: 8 and Up)



Pirate Sword by TOYSMITH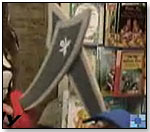 This soft foam pirate saber will make a little blackbeard feel like the king of the seas, without causing any harm. (

Watch Video) 7/16/2009



Monster-opoly by LATE FOR THE SKY PRODUCTION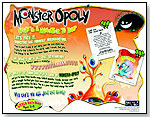 In this game, the goal is to collect monster friends. Kids learn more about each monster by flipping over their deed and reading the bios. Players can also learn cool monster jokes to share with friends. Launch date: June 2009. 5/28/2009 (MSRP: $15.99; Age: 5 to 8)



Black Cat Peeking Out of Pumpkin by CHERYL'S LITTLE CREATIONS



This small collectible is handmade out of polymer clay and even features a tiny spider on the base. It measures 2" to 3" tall, and no two are alike. 3/13/2009 (MSRP: $10.95)



---
---


Copyright © 2020 TDmonthly®, a division of TOYDIRECTORY.com®, Inc.