September 19, 2020

January 2010 | Vol. IX - No. 1


Innovations of 2010
Things Take New Shape for Play and Storage
Coins jump into bracelets, a dollhouse goes super modern, pacifiers take a new shape, and baby food benefits from a safe storage solution in stylish silicone. These are just some of the innovative toys and children's products that have hit the market recently or are coming out this year.
Flipoutz™ Super Starter Kit by FLIPOUTZ™



Flipoutz™ are bracelets you can wear and personalize with Flipoutz™ coins. Trade your coins with friends and other Flipouterz. Set up your profile online and tell everyone about yourself and your coins while also tracking traded coins as they are traded from one person to the next. The Flipoutz™ Super Starter Kit includes a bracelet of your choice, a random coin, and two random 2-coin packs (making a total of 5 coins to fill up the bracelet). (

Watch Video) 12/29/2009 (MSRP: $12.99)



Little Bites Storage Jars by KINDERVILLE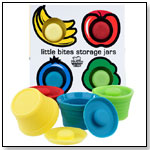 A safe and easy option for storing and heating your little one's edibles at home, daycare or on-the-go. Unlike plastic, little bites storage jars are bacteria resistant and BPA, Phthalate and Lead free. These stylish, versatile silicone jars and lids feature an innovative, patent-pending design and are made from high-grade silicone, making them dishwasher, refrigerator, freezer, and microwave safe. Little bites stackable storage jars can be used for preserving baby food, storing and defrosting leftovers, stowing and warming lunches, and serving up snacks, and more. Size: 3 1/2" wide x 2 1/4" tall. Volume: approx. 3.5 fl/oz. 12/11/2009 (MSRP: $19.99)



Emerson House by brinca dada LLC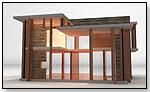 Emerson House combines contemporary design with excellent play value. It has a fold-out design for play inside and out, sliding doors, and LED lights that run on solar-powered batteries. "The solar-powered LED lights are innovative, but it's the contemporary design that makes the Emerson House stand apart. There are a handful of "modern" dollhouses on the market, but nothing like this," Doug Rollins, Founder & CEO, brinca dada LLC, told TDmonthly. Launch date: May 2010. 12/16/2009 (MSRP: $299.99; Age: 3 to 8)



Patchwork™ by KNIGHTWEAVER GAMES LLC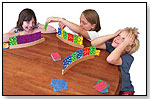 Patchwork is a fast-paced logic game for two to five players designed to build logic, memory and patterning skills in a fun setting. Players trade colorful, two-sided cards between elegant wood racks to create sets, or steal them from each other. Game play takes 20 to 30 minutes. "The game employs a totally unique game mechanic that is easy to learn, fun to play and teach[es] logic, memory and sequencing skills," Daniel Weaver, founder of Knightweaver Games, told TDmonthly. This product has received the following awards: 2009 Oppenheim Gold Seal; 2009 Dr. Toy Best Vacation Children's Products; 2009 Seal of Excellence for Kid's Strategy Game from Creative Child Magazine; and 2009 Outstanding Products iParenting Media Award. Launch date: January 29, 2009.
— "It is an engaging game that encourages player to think logically while trading card with other players. You have to use logic, memory and create pattern sets to win the game," said Angel Stahl of Angel's Toy Barn in Greensburg, Pa., who especially liked this game at the 2009 ASTRA Marketplace.
Editor's Note: Gamewright announced May 25, 2010, that it signed an agreement for the worldwide publishing rights to Patchwork. Play will remain the same; however, Gamewright will re-launch the game as FlipOut in late 2010 or early 2011. (

Watch Video) 5/19/2009 (MSRP: $19.99; Age: 5 and Up)



Gyrowheel by GYROBIKE INC.



Designed as an alternative to training wheels, the Gyrowheel senses imbalanced riding and recenters the bicycle once it begins to wobble. This effect is accomplished by an interior disk that spins independently of the wheel to stabilize the bike even at very low speeds. It installs quickly with a wrench and has a simple on/off button, three stability settings, rechargeable batteries, and light and sound indicators. The 12" Gyrowheel is available in black and white. Watch Demo Video; Watch Gyrowheel: Top-5 Video, Toy Fair 2010
— John MacDougall, owner of Golden Apple Learning Store in Pleasanton, Calif., was impressed with this product at Toy Fair 2010. It's "a step up from a balance bike with a gyro that keeps balance without training wheels. Tech + Bike = Perfect," he said. (

Watch Video) 1/6/2010 (MSRP: $115.00)



SmartLab Fiber Optics Lab by SMARTLAB TOYS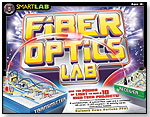 Ever wondered if the light in the fridge stays on when you close the door? Fiber optics can light the way. It may sound like some supercomplicated electronic technology, but the basics are quite simple. Author Jim Becker helps kids understand what's going on as they use the power of light to build 10 high-tech electronic projects, including a burglar alarm, an electronic rooster, and a flexible flashlight. The kit includes two preassembled workbenches (transmitter and receiver), three optical fiber rods and a connector, 26 hookup wires, two LED couplers, 12 activity cards , and a 12-panel fully illustrated booklet. "The retail feedback we have received tells us that there is not a similar product on the market," Darcy Morris, Director of Sales & Marketing, SmartLab Toys, told TDmonthly. Launch date: April 30, 2010. 12/28/2009 (MSRP: $19.99; Age: 10 to 14)



Rory's Story Cubes by GAMEWRIGHT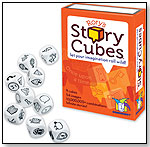 This pocket-sized story generator is designed to provide hours of imaginative play for all ages. With Rory's Story Cubes®, anyone can become a great storyteller and there are no wrong answers. Players simply roll the cubes and let the pictures spark the imagination. "Rory's Story Cubes is unique because of its simplicity, small packaging, low price point and endless story possibilities. It's a great learning and writing tool that can be played with one person or a large group as a party game," Emily Nichols, marketing coordinator for Gamewright, told TDmonthly. Launch date: March 2010.
Awards: 2009 Dr. Toy's 10 Best Games of the Year; 2010 Major Fun Award; 2010 Parents' Choice Gold Award, Creative Child Magazine Seal of Excellence Award, iParenting Media Award, Oppenheim Toy Portfolio Gold Award.
— As of 12/17/2012 this product had 4.6 out of 5 stars from 306 reviews on Amazon.com. Pros: Helps develop story telling ability; promotes cooperative play; creative; affordable. Cons: One reviewer said they were bored with it after playing a few times, but that it is very affordable.
— Stacy Kalisz of The Old Schoolhouse Magazine "absolutely loved" using the Story Cubes with her family as they came up with a variety of games. One of their favorite play variations "is to tell a group story, with each person using one die on his or her turn." 12/28/2009 (MSRP: $7.99; Age: 8 and Up)



MOOV Education Kit by BERG USA, LLC

Children like to create and to construct. MOOV Education kit, which contains more than 200 construction elements, is entirely adapted for educational use for example on primary schools and childcare. MOOV is a unique full-size construction toy for children aged 5 to 12 years. Children can construct MOOV by themselves without use of any tools or help from a teacher, educator or pedagogue. The wooden parts, rings, shafts and frames are multi-functional. The holes in the wooden parts are specially designed, so you can easily remove the rings from the shafts. Storage is simple with the durable roller box for the large pieces and the durable cotton bags for the smaller parts. 12/23/2009



myWallaby Agile Doll Carrier by MYWALLABY LTD.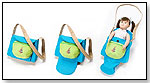 The myWallaby Agile Doll Bag is designed specifically to serve as a purse and doll carrier. It can accommodate dolls and stuffed animals from 12" to 18". The strap is adjustable so it can be sized to its owner. In addition to the enclosed doll compartment, the bag also has its signature "pouch," a handy zipper-enclosed pocket on the front that is in the shape of a Wallaby's stomach. It is machine washable. Dimensions: 9.5" x 7.5" x 3.5". "What really sets the myWallaby Agile Bag apart from others, besides the upscale quality, is that it is designed to carry a doll facing forward in an expandable pocket that resembles a real Wallaby pouch," Eric Hildenbrand, co-founder, MyWallaby Limited, told TDmonthly. Awards: Dr. Toy's Best Picks Children's Products for 2009. Launch date: March 15, 2010. 12/16/2009 (MSRP: $45; Age: 3 to 9)



Friendship Bracelet Maker by CROREY CREATIONS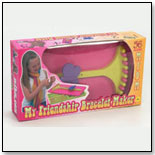 Designed to make it easier and convenient to create colorful friendship bracelets, the Friendship Bracelet Maker features an adjustable butterfly clip to hold the top of the bracelet during construction, as well as a holder to keep all the strings in place. It's travel-ready, with a pull-out drawer for string storage and instructions, and comes with 56 threads in 14 colors. Launch date: Fall 2009.
Awards: Dr. Toy's Best Vacation Products 2010

Past videos: Product Demonstration (

Watch Video) 7/16/2009 (MSRP: $24.95; Age: 6 and Up)



Fair Share Chore Cards by ROBIN DOWNES DESIGN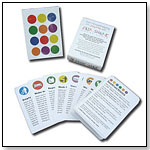 Fair Share Chore Cards eliminates dreaded arguments among who does what chores and takes the phrase "that's not fair" out of the housework equation by leaving chore assignments to the luck of the draw. The chore cards have helpful directions printed on each card on how to accomplish each chore safely and efficiently. The only Ace in the deck serves as a "get out of a chore free" card, giving one a lucky break from a chore. (

Watch Video) 12/7/2009 (MSRP: $14.95)



Hookum by 5MISSISSIPPI



The goal of this patent-pending, fast-paced game is for players to swing their ring onto their hook. One to four competitors frantically try to out-duel one another while tuning out the screams to focus on the perfect release. "Hookum is the first collapsible, multi-player Bimini Ring game," Joe Parrish, chief creative officer of 5mississippi, told TDmonthly. Launch date: September 2009. Watch Hookum: Top-5 Video, Toy Fair 2010 (

Watch Video) 6/29/2009 (MSRP: $39.99; Age: 7 and Up)



firstSEAT by FIRSTSEAT LLC

The firstSEAT REVOLUTION applies innovative patented technology utilizing an energy absorbing "Crumple Zone" design proven to greatly reduce crash forces on the child. The REVOLUTION' shell and "Head Surround" design also focuses on side impact protection. A "Rigid Latch" system is used for anchoring into a vehicle for strength and ease of use. The seat cover system has a semi permanent liner with removable inserts for ease of cleaning. CRASH indicator panel to indicate the seat has been in an accident and needs to be taken out of service. The firstSEAT REVOLUTION is a state of the art child restraint system designed to better protect children in frontal or side impact collisions. (

Watch Video) 6/25/2009



Pumponator Balloon Pumping Station by PUMPONATOR INC.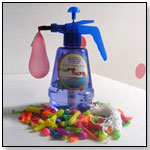 The Pumponator Balloon Pumping Station is designed to make filling balloons with water or air easily. The Pumponator Balloon Pumping Station is filled with 500 balloons and strings for tying. Just fill the container with water, pump, press and fill the balloon. Leave out the water for indoor balloon fun.
— Two of 43 specialty retailers named Pumponator as a top seller in late spring 2010. Four of 40 surveyed retailers claimed Pumponator as an overall top seller in June 2010.
— "I order 144 at a time (and am on my) fourth order since May," Barbara Fineblum, owner of Barston's Child's Play in Baltimore, Md., told TDmonthly in early summer 2010.
— In a summer 2010 survey, seven of 38 toy and gift retailers named Pumponator an overall top seller. Terri Bracken, owner of Earth Explorer Toys in Zionsville, Ind., told TDmonthly in July 2010 that her store sold 120 Pumponator stations in less than two months. The same month, Kathy Burns, manager of My Favorite Toy Store in Downers Grove, Ill., called Pumponator "a neat, neat item, and very price-appropriate."
— ''We sell about 500 per year at all 3 stores,'' Marc Holcomb, owner of owner of Toys & Co. in Greensboro, S.C., told TDmonthly in autumn 2010.
AWARDS: 2010 TDmonthly Top Seller (

Watch Video) 10/16/2009 (MSRP: $19.95)



U-Play Mat Starter Set by PLAY THIS WAY EVERY DAY LLC.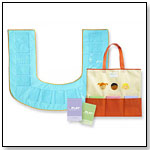 The U-Play Mat is a U-shaped mat with 15 clear pockets on its surface. The mat is 4 feet wide, and 3 feet deep. The innovative "U" shape allows the child to sit inside the opening of the "U" with full access to the 15 pockets. The child has full visual and tactile access to the whole surface, without having to crawl atop the mat. Child-safe see-through pockets allow fifteen theme-based cards to be secured to the mat surface. This patent pending design allows for the caregiver to sit across and engage the child in a variety of exercises using the adorable theme-based card decks. The pockets are designed to be slightly larger than the cards, allowing for the cards to be placed and removed easily. This set is recommended for at-home use, especially with the one to two year old child just starting to use the U-Play Mat. Includes: U-Play Mat, Tote, U-Animals Card Deck, and U-Foods Card Deck.
— "A great language activity that promotes listening, language and social skills. A superior choice for children who need support in these areas and might have trouble staying focused," Jennifer Shuman, of 1SmartNoodle, told TDmonthly at Toy Fair 2010. 11/9/2009 (MSRP: $49.00; Age: 1 to 5)



---
---


Copyright © 2020 TDmonthly®, a division of TOYDIRECTORY.com®, Inc.