January 25, 2021

February 2010 | Vol. IX - No. 2


TDmonthly's Charitable Kid Looks Back
Seven Months of Schoenhut Brought Happiness to Dozens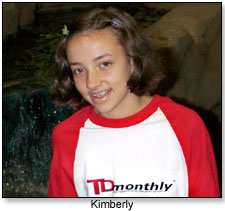 It's been seven months since Kimberly, 14, of South Carolina, won the title of TDmonthly's Charitable Kid and the chance to give away 100 high-quality My First Piano IIs from the Schoenhut Piano Company. Thanks to Kimberly and Schoenhut, there are now dozens of happier children in the world!

CHARITABLE NOTES REACH DOZENS

Kimberly and her mom, Michelle, devoted a considerable amount of time and thought to ensuring that a significant number of institutions would receive the gift of music for their charges. Their primary focus was children's hospitals, but they also picked organizations that served children with special needs, foster homes and an elementary school.

The final giveaways have a personal connection, too: the 10 pianos shipped to MUSC (Medical University of South Carolina, Charleston) were prompted by gratitude for the care that Kimberly's younger sister, Neyland (8), received there as an infant.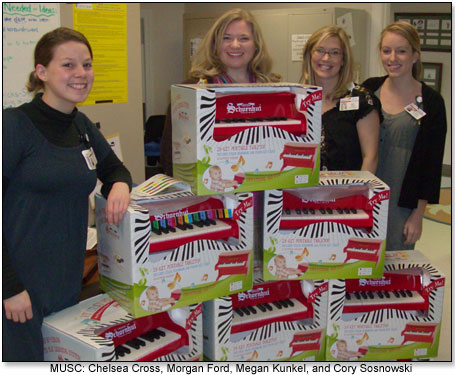 Kimberly continues to hear from grateful recipients, including Principal Andrew Brown, whose Anderson Elementary received 16 pianos for the holidays. "Our students were delighted to receive the pianos," he told TDmonthly. "I think it was said best by a parent who said, 'I just love to hear my daughter get her piano out and play. I think she has a real ear for music.' ... They have truly brought joy to some young people's lives through these pianos."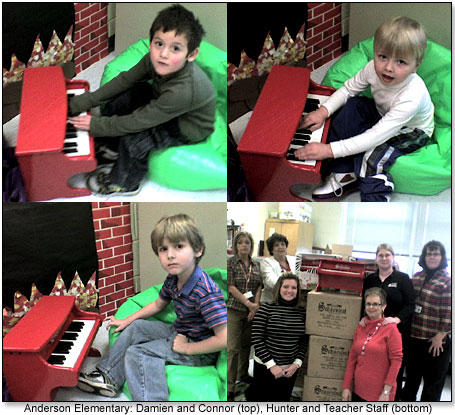 PRIZES BRING FAMILY CLOSER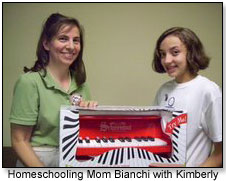 In addition to the thrill of giving, Kimberly's generous heart won her some extravagant prizes from Schoenhut: a My First Piano II, a Melodica, an Electric Guitar and a Junior Drum Set. Kimberly has happily shared the prizes with her sisters; the drum set had to be shared with her dad, too.

"He played the drums in high school and used to play at our church in Virginia before we moved here," Michelle told TDmonthly. "[He] can teach her all about it … What an awesome gift!"

Renee Trinca, president of Schoenhut, picked the drum set as Kimberly's final gift after she realized Kimberly might be too modest to choose such a valuable item.

MEMORIES COVER THE COMMUNITY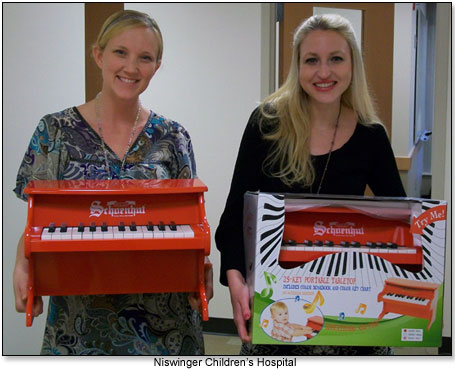 "She has really enjoyed giving the pianos away and the rest just has been a double blessing," Michelle said. "Kimberly is thrilled to give them away — and she has gotten some nice emails and cards from a few of the recipients saying how much they enjoy the pianos. She hopes to get her scrapbook put together with all these cards."

In addition to the memories she can revisit on TDmonthly, Kimberly also made the front page of one of her local papers. "The Charitable Kid Contest has been a lot of fun," summed up Renee, who views charity as an essential part of her company's mission.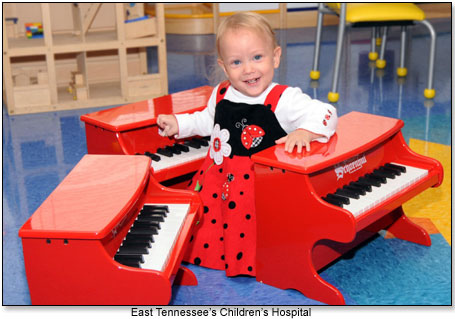 Michelle, too, found the TDmonthly Charitable Kid Contest to be valuable to her family and community. "Thank you again for choosing Kimberly — we all have really enjoyed it. And it is really heart-warming to see my children be so charitable."

Here's a rundown of all the pianos that Kimberly gave away. Scroll down to see the gifts she gave and received, plus a few more great items from Schoenhut:



My First Piano II by SCHOENHUT PIANO COMPANY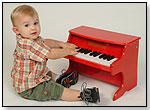 Schoenhut's bright red, wooden, 25-key tabletop is the perfect choice for a toddler's first piano. Both fun and educational, it is an ideal instrument for developing eye-hand coordination and encouraging musical creativity. Chromatically tuned, the lovely chimelike notes are produced by little hammers striking precision-ground, German steel music rods. The tone never changes nor will the piano ever need tuning. Schoenhut's patented Learning System, with its play-by-color teaching method, makes playing simple and fun. A removable color strip fits behind the keys to guide small fingers from chord to chord. The chart also works on adult keyboards, since keys on Schoenhut toy pianos are of corresponding width. This teaches children proper finger placement from the very beginning. The accompanying Songbook contains a collection of familiar tunes. This Learning System has been specially designed to build a child's confidence and develop basic playing skills. It comes in red and white. Launch date: 2005.
- This model was Schoenhut's best seller for 2010. It was also the model given away by TDmonthly's Charitable Kid, Kimberly (then 14) of South Carolina -- 100 times over! As a reward for her charity and careful selection of institutions to receive the toy pianos, Kimberly was given a number of other high-quality Schoenhut instruments, many of which she shared with her younger sisters. (

Watch Video) 6/29/2007 (MSRP: $59.95; Age: 3 and Up)



5 PIECE DRUM SET by SCHOENHUT PIANO COMPANY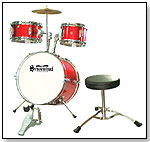 The perfect instrument for a JUNIOR ROCK STAR. Delivers great sound and incorporates many of the same features as a full-sized professional drum set. Built to last, constructed of high-quality hardwood shells and sturdy chrome-plated steel hardware. 8" Mounted Tom Drum & 10" Mounted Snare Drum, tunable w/ precision, adjustable, double-braced mounting arm 16" Bass Drum, tunable w/ two stabilizers for adjustable angle 10" Crash/Ride Cymbal, tunable, adjustable, Bass Drum Pedal, adjustable spring action Assembly required. Includes: Easy set-up instructions w/ illustrations, adjustable padded foam seat, tuning key, drum sticks. 8/28/2007 (Age: 6 to 12)



Schoenhut® Electric Guitar by SCHOENHUT PIANO COMPANY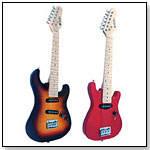 This could be a first guitar for kids and a travel guitar for players of all ages. It includes eight dot position inlays, 1/4 pin pickup, and a silkscreen logo. No assembly is required. Launch date: August 2009. 6/29/2009 (MSRP: $115.99; Age: 6 and Up)



44-Key Baby Grand Piano by SCHOENHUT PIANO COMPANY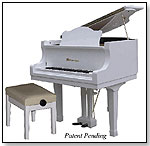 This dynamic, new line of 44-key baby grand and upright pianos, launched to coincide with Schoenhut's 135th anniversary, features true piano sound … without the use of electronics. The mid-sized piano is less intimidating for small children who want to learn to play the piano. This line is not intended to replace Schoenhut's vintage models that feature chime-like tones, such as those originally developed by Albert Schoenhut in 1872. Rather, the introduction is in response to requests from customers for a "new" sound. It's available in black, white or red. Launch date: January 2007.
— If parents wish to start their kids on the piano before they're ready for the real baby grand, this stunningly beautiful instrument with authentic piano sound is the way to go. It received a TDmonthly Top Toy 2007 award for innovation in mechanics and design within the category of musical instruments for children, as well as its ability to grace any space while furthering a young child's music education.

Past Videos:
Toy Fair 2007 (

Watch Video) 2/26/2007 (Age: 5 and Up)



Schoenhut® 37-key Concert Grand by SCHOENHUT PIANO COMPANY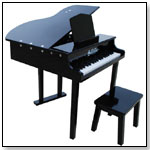 Inspired by the beauty of a full-size concert grand, Schoenhut® Piano Company offers this exquisite miniature 37-key replica. Complete with opening top to release the lovely chime-like tones, this smaller version is designed for a child with serious musical aspirations. Each piano in the series is custom built from solid maple and ½-inch multi-ply birch, stained in mahogany or painted in your choice of white or black, with the interior hand finished to match the selected exterior. The hinge is designed to raise and lower gradually, so as not to slam down on little fingers. Chromatically tuned, the sound is produced by little hammers striking precision-ground, German steel music rods.Schoenhut's patented Learning System, with its play-by-color teaching method, makes playing simple and fun. Available in Mahogany, Black or White. 7/6/2009 (MSRP: $255.97; Age: 3 and Up)



Six-String Student Guitar - Pink by SCHOENHUT PIANO COMPANY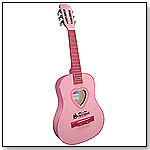 Kids can celebrate the magic of music with this handcrafted guitar that can be used for guitar classes, private lessons and study, or for play in a child's first "amateur band." A quality instrument is always beneficial when beginning the study of music, especially when the student is young. "This guitar is easy to play, tunable, and will help to keep a child pursuing one of the most rewarding pastimes in history: making music," Manager Kristy Schaffer of Schoenhut told TDmonthly. Launch date: December 2008. 10/31/2008 (MSRP: $39.95; Age: 7 to 10)



Schoenhut® 25-Key Piano Pals™ by SCHOENHUT PIANO COMPANY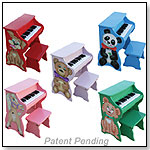 This versatile little piano grows with the child. The main unit, decorated with a whimsical animal's head, is perfect for toddlers because it sits safely and squarely on the floor within easy reach of little hands. Later on, the sides with the animal's body can be attached, conveniently raising the piano to a comfortable height for an older child seated at the bench. Included is Schoenhut's® Learning System, with a removable color-coordinated strip that fits behind the keys to guide small fingers from chord to chord. The accompanying songbook contains a collection of familiar tunes. Schoenhut toy pianos are famous for their lovely chime-like tones. The keys are spaced correctly for a full-sized piano, which teaches proper finger placement and affords an easy transition to a large piano.The piano is 19-3/4" H x 16" W x 10-3/4" D and the bench measures 8" H x 8" D x 11" W. This product weighs 17 lbs. Launch date: February 2008. 2/25/2008 (MSRP: $129.99; Age: 3 and Up)



Schoenhut® 15-String Harp by SCHOENHUT PIANO COMPANY



At 27 inches high, this wooden, lightweight instrument is designed with curved sides with a spacious box, along with a range of 15 notes (from C to C), permitting a wide variety of music in melodic tones. Fully tunable by using the wrench to adjust zither pins. 8/29/2007 (MSRP: $144.60; Age: 6 and Up)



---
---


Copyright © 2021 TDmonthly®, a division of TOYDIRECTORY.com®, Inc.