---
Mission-Minded Toymakers Touch Lives Around the World
Toy and Game Manufacturers Make a Difference With Charitable Contributions
"It's about making a difference, one game at a time." — Kevin Werntz, president, Whirled Peas Corp.

Some toy companies practice charity all year long. Whether their mission is focused on social efforts or one that engages in specific charitable projects, they are wonderful examples of the importance of reaching out to make the world a better place.

PEAS FOR PEACE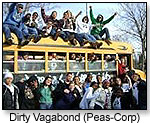 Kevin Werntz, president of recently founded Whirled Peas Corp., plans to donate 40 percent of profits to lesser-known charitable efforts through the Whirled Peas Project foundation.

"Our goal is to look at helping smaller community organizations, and also create a national network for them so that they will get more exposure to larger charity resources. The big money overlooks them because they don't know how to apply for grants, or don't meet the specific criteria of the larger charities," he told TDmonthly Magazine.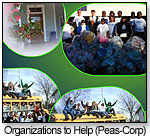 "It's our goal for the spirit of the game and the message of our mission to resonate and create a positive lasting impression," he continued. "It's about making a difference, one game at a time."

Such efforts can also be seen in companies like newcomer Oomfy Corp. and KidsGive, maker of the popular Karito Kids doll line.

Oomfy manufactures products that represent actual orphaned wild animals. The rescue, rehabilitation and eventual release of these animals are fully financed via product sales. Buyers of Karito Kids dolls receive an activation code to join in a program called Plan that helps children's charities around the globe.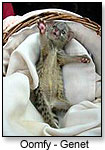 HARNESSING THE WIND

ThinkFun has engaged in an innovative social mission that reaches to Africa. From its inception, the company has sought to do things a little differently, said Andrea Barthello, co-founder and chairman. She spoke about a recent project supporting William Kamkwamba, a young African who, against all odds, made a difference.

"The Boy Who Harnessed the Wind," published by HarperCollins, tells his story. At age 14, inspired by a picture in a book, he scavenged materials and built a windmill capable of lighting his family's home and bringing radio to his village in Malawi, during the country's worst famine in 50 years. His family was at risk of starving to death.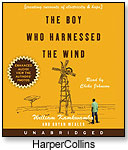 "We first met William at TEDGlobal 2007 (Technology, Entertainment & Design Conference) in Arusha, Tanzania," Barthello told TDmonthly. "William's story was one of imagination, problem solving, and creativity that so closely touched on the passion I have and what my company ThinkFun stands for. William's courage and determination inspired us to get directly involved by supporting his education, as well an ongoing projects in his village in Malawi."

HELPING IN NUMEROUS WAYS

Year-round, Cloud B works with different organizations, donating products, allocating a percentage of profits, and helping promote events and organizations, as well as having an entire product line centered on supporting animals.


"A portion of the proceeds from the Endangered Species Series benefits Conservation International," explained Marketing Associate Emily Chae.

"When we made the decision to create our Eco-Friendly Series and our Endangered Species Series, we felt that in addition to reducing our carbon footprint, we needed to support a worthy cause. Conservation International is a great organization and their core message fits with our idea of responsibility and sustainability."

Schoenhut Piano Co. donated $6,000 worth of toy pianos for distribution by the teenage winner of TDmonthly's Charitable Kid Contest — effectively touching dozens of lives at hospitals, educational institutions, and a home for abused and neglected children.

Working with PBS, The Rock Foundation with Dwayne "The Rock" Johnson, the National Children's Hospital, and K.I.D.S (Kids in Distressed Situations), Corolle Dolls' many philanthropic efforts are focused on children.

"We are committed to bringing memorable play to children," explained Liza Grando, account executive at Moss-Tucker Associates. "By working with organizations and charities, we expand the magic of Corolle to those less fortunate. We recognize the value of creating these childhood moments, and many children out there don't have the opportunity to create these moments in their lives."

Itsy Bitsy Hearts, a new children's organic clothing line has partnered with the Heart Gallery of America in an effort to provide public awareness of the need for adoptive families. Itsy Bitsy Hearts has agreed to donate 20% of profits to support the Heart Galleries mission of finding "Forever Families" for the thousands of foster children hoping to join a permanent home.

As an adopted child herself, co-owner Kelly Kuceracredits the support of her amazing adoptive family to the successes she has enjoyed, such as being crowned Miss Colorado 2001 and spending her year of service helping people in the adoption arena. "Children need to be loved in order to thrive and every child deserves the Peace of knowing they belong to a family," said Kucera. "This is my way of giving back and helping other children find the love that I had."

See products from these and other companies below:







All profits from the sale of the GKTW Charity Bracelet benefit Give Kids the World, a non-profit Florida resort that provides magical vacations for children with life-threatening sicknesses. The bracelet is mostly white, with a black BEADTHEMESSAGE "start" bead, plus four colored beads that spell GKTW. Each bracelet also features a mushroom charm to represent the giant mushroom at Give Kids the World Village. The jewelry comes with a decoder card and information about Give Kids the World.

.

AD
---






This high-quality musical instrument is chromatically tuned and features lovely chime-like notes that are produced by little hammers striking precision-ground, German steel music rods (versus the conventional taut wires used in full-sized pianos). Schoenhut's patented Learning System, with its play-by-color teaching method, makes playing simple and fun. A removable color strip fits behind the keys to guide small fingers from chord to chord, and is also suitable for use on adult-sized keyboards. The accompanying songbook contains a collection of familiar tunes. Launch date: July 2007.

.

AD
---






Daisy is one of several plush in this line centered online orphaned wild animals. When an individual buys one of these products, he gains a code that allows access to the story of the oomfy supported by his purchase. A blog keeps track of the rescue and rehabilitation of the orphaned animals.

.

AD
---






This stainless steel puzzle features 15 number tiles that the player must slide into numerical order after scrambling.

.

AD
---






.

AD
---






.

AD
---






.

AD
---






.

AD
---






.

AD
---






Itsy Bitsy Hearts offers 100-percent organic cotton and each garment comes on a 100-percent recycled hanger. The company's slogan is "Clothing with Heart" because 20 percent of profits are donated to the Heart Gallery in an effort to help foster children find families. They offer hip stone art creations, including adoption designs and black organic styles, for newborns and young children. They are hand pressed in the United States. Launch date: 2009.

.

AD
---






Now, you can give the gift of membership to the Toobee fan in your life. Toobee The Amazing Flying Can is safe fun for all ages and can be played indoors and out. The kit includes a membership card, a membership certificate, three Toobees with a carrying case and a T-shirt. The membership kit also includes free shipping, and like all other Toobee products, includes 100 percent of profits donated to a children's charity, Cannedwater4kids. Launch date: November 22, 2005.

.

AD
---






Gentle Giraffe On The Go helps recreate sleep time routines by bringing familiar soothing sounds while away from home. Gentle Giraffe's unique Serengeti sounds aim to take a child on a magical journey while effortlessly transforming unknown surroundings to a more familiar environment. It features four peaceful sounds, push-button sound selection with volume control, and two sleep-timer options, plus more, and may be used for all ages. Gentle Giraffe On The Go is part of the Cloud B Endangered Species Series, which helps bring awareness to animal friends who need our attention. A portion of every purchase goes to Conservation International. This product received a 2009 NAPPA Honors award, a 2009 iParenting Media Award for Outstanding Product in the Toy Category, a 2009 Creative Child Top Choice of the Year Award in the Travel-Soothing Sleep Aids for Kids Category, a 2009 Seal of Approval from the National Parenting Center, and a 2009 Dr. Toy Best Vacation Children's Product Award. Launch date: June 2009.

.

AD
---
THIS BANNER IS AN AD:
---
---