September 29, 2020

May 2010 | Vol. IX - No. 5


Videos: Outdoor Toys Fire, Fly, Scoot and Bounce
Marshmallow Fun Adds Shooters and the Pumponator Pumps Up Fun
Beware of shooting marshmallows, streams of water and freshly filled water balloons! TDmonthly Magazine's videos of outdoor toys from early 2010 exhibitions show creatively engineered flying toys and more.
M Forcer by MARSHMALLOW FUN COMPANY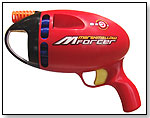 The MForcer pistol is the first ever rapid-fire marshmallow shooter, allowing you to shoot 15 consecutive marshmallows at unsuspecting targets. It packs all the punch of the company's flagship Marshmallow Shooter into quarter of the size. Load up to 15 mini-marshmallows into the chamber, give it a quick pump, and the MForcer is set for rapid fire attack. There's no need to for any additional pumping after each shot. (

Watch Video) 3/17/2010 (MSRP: $34.95)



JUMPAROO BOING! Pogo Stick by GEOSPACE INTERNATIONAL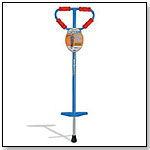 The JUMPAROO BOING! Jumping Stick is capable of 24" leaps with a little practice. Constructed from all-metal materials with a Y-shaped handle with foam grips that offers more hand positions than standard pogos, and greatly increases its control and ease of use. The rugged metal spring is completely encased by a steel housing, so there's no possibility of pinching, and all surfaces are rounded for extra safety. The rubber "foot" has a diameter is twice that of most pogos for greater security and stability. The JUMPAROO BOING! Pogo Stick has two models: one for users with a body weight of 44-86 pounds and another for users between 86 and 160 pounds. (

Watch Video) 4/16/2010 (MSRP: $49.99; Age: 6 and Up)



Jeep® Junior Pedal Go-Kart by BERG USA, LLC

The BERG Jeep® Junior Pedal Go-Kart drives action and adventure right into the backyard. This light and compact go-kart, designed in Holland for children as young as three, gives the feeling of real Jeep® off-roading. The pedals are designed using a unique patented BFR-hub technology, thus making going forward, in reverse, freewheel and breaking simple, easy and controlled with just the use of the pedals. This technology allows for optimum safety and maximum driving pleasure. Suitable for ages three to eight with an adjustable steering wheel and seat. (

Watch Video) 12/23/2009 (MSRP: $359.00)



Trick 360 by FLEXIBLE FLYER® SLEDS

This APS-core foam sled comes complete with adjustable lap belt/buckle, knee pads, and a contoured design with bold graphics. (

Watch Video) 3/24/2010 (MSRP: $40)



MystiFlyers by Nowstalgic Toys, Inc.



Millions of Mystiflyers have been sold nationwide since the 1950s in the specialty toy and hobby market. The Mystiflyers card trick comes with magicians thread & wax, a card, and full instructions. Also includes a wooden stand with 3 removable rattles. (

Watch Video) 3/17/2010 (MSRP: $5.99; Age: 3 and Up)



Rapid Fire by MARSHMALLOW FUN COMPANY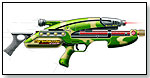 Scope out a target, and squeeze the trigger for a spread of mini marshmallow furry. The NEW futuristic Marshmallow Rapid Fire blasts multiple mini marshmallows up to 30 feet in one shot. Regulate the use of marshmallow ammo by varying the amount of pumps that create air pressure. The more pumps to the rear handle, the more marshmallows will exit the barrel. When pumped to full capacity, The Marshmallow Rapid Fire sprays out the entire magazine of 25 mini marshmallows with one squeeze of the trigger. (

Watch Video) 3/24/2010 (MSRP: $49.95; Age: 6 and Up)



Smart Trike "Recliner" by Smart Trike U.S.A. LLC



The unique 4-in-1 Smart Trike Recliner designed for babies from 6 months and up, provides the child with a safe and comfortable ride. The adjustable seat is equipped with a reclining position to allow baby to nap. The multi-position adjustable handle guarantees an easy solution for the parents to steer and, by releasing the clutch, the child takes control for fun, independent riding. The Smart Trike Recliner includes a washable, quality seat cover and is available in a range of colors together with a useful functional bag. It is available in green, pink and red. Smart Trike "Recliner" is the winner of the "Toy Innovation" Award in the Fun + Sport category and "Right Start Award" Overall Winner in the 0-3 category and "Gold award" in the Sit n Ride category.
— As of 05/13/2011 this product had 4 out of 5 stars from 20 reviews on Amazon.com. Cons: Doesn't easily stay in a straight line; sun shade doesn't align with the rest of the trike.

Past Videos:
Product Demonstration (

Watch Video) 7/30/2009 (MSRP: $200.00; Age: 1 to 2)



Glow-and-Throw UFO Flying Disc by STAMOS ENTERPRISES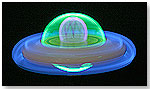 Users can create hundreds of different colorful and 3D flying shapes and designs with this illuminated or lighted flying disc. Each colorful light appears as its own 3D flying shape. Awards: 2009 Top Toy of the Year, Creative Child Magazine. Launch date: January 2008. (

Watch Video) 3/17/2008 (MSRP: $12.95; Age: 7 and Up)



BLINGKEEZ by TOOBEEZ LLC

Users can light up the day and night with BLINGKEEZ, a fun, multi-use light with 10 LED bulbs. The 2.5" sphere features three light settings (disco strobe, party flash, all on), an 18" lanyard with a breakaway safety clasp, and automatic shut-off. Launch date: February 14, 2010. (

Watch Video) 2/4/2010 (MSRP: $11.99; Age: 3 and Up)



Water Blaster XLR by WATER BLASTER INC.

The XLR is a long range water cannon that easily sends voluminous flows of wetness as far as sixty feet. You can reload the Water Blaster XLR in less than three seconds. (

Watch Video) 2/4/2010



The Zyclone by ZING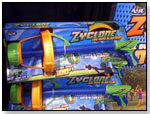 This flying toy flings soft foam rings hundreds of feet accurately. The rings are soft enough that even if you hit someone with them, it won't hurt.
— "I first saw this toy while watching David Letterman's holiday toy segment this past December. After Dave literally and figuratively destroyed several toys, he really seemed to like the Zyclone. We tried it at Toy Fair and suspect it will be a breakout springtime toy this year," Joe Mitchell, owner of YoYo Joe's Toys & Fun, told TDmonthly at Toy Fair 2010. (

Watch Video) 2/17/2010



Jeep® Wrangler Pedal Go-Kart by BERG USA, LLC

With real off-road tires that can handle any terrain, the BERG Jeep® Wrangler Pedal Go-Kart exemplifies the rugged, outdoor adventure attitude of the Jeep® lifestyle. This BERG go-kart features a roll bar for extra safety, an adjustable sports bucket seat and offers a customized number plate. It also features a front swing axel offering secure road handling and a spare tire with cover. Designed and manufactured in Holland for children ages five and up. (300 pound weight capacity) (

Watch Video) 12/23/2009 (MSRP: $999.00; Age: 5 and Up)



Pumponator Balloon Pumping Station by PUMPONATOR INC.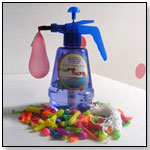 The Pumponator Balloon Pumping Station is designed to make filling balloons with water or air easily. The Pumponator Balloon Pumping Station is filled with 500 balloons and strings for tying. Just fill the container with water, pump, press and fill the balloon. Leave out the water for indoor balloon fun.
— Two of 43 specialty retailers named Pumponator as a top seller in late spring 2010. Four of 40 surveyed retailers claimed Pumponator as an overall top seller in June 2010.
— "I order 144 at a time (and am on my) fourth order since May," Barbara Fineblum, owner of Barston's Child's Play in Baltimore, Md., told TDmonthly in early summer 2010.
— In a summer 2010 survey, seven of 38 toy and gift retailers named Pumponator an overall top seller. Terri Bracken, owner of Earth Explorer Toys in Zionsville, Ind., told TDmonthly in July 2010 that her store sold 120 Pumponator stations in less than two months. The same month, Kathy Burns, manager of My Favorite Toy Store in Downers Grove, Ill., called Pumponator "a neat, neat item, and very price-appropriate."
— ''We sell about 500 per year at all 3 stores,'' Marc Holcomb, owner of owner of Toys & Co. in Greensboro, S.C., told TDmonthly in autumn 2010.
AWARDS: 2010 TDmonthly Top Seller (

Watch Video) 10/16/2009 (MSRP: $19.95)



Whiplash™ by STREET SURFING LLC

The patent-pending Whiplash™ provides enough momentum to self-propel – so much so – riders' feet never need to touch the ground. The revolutionary new ride is part scooter, part Wave® (caster board) and totally fun because you can ride it like a scooter and carve and drift like The Wave®. Centered around the award-winning design of The Wave's® unique caster design and Torsion technology, Whiplash's™ flexing deck and handlebar fuse together to provide riders with a cool, side to side, whip-like ride. (

Watch Video) 2/4/2010 (MSRP: $79.99)



Water Blaster MINI by WATER BLASTER INC.

This smaller version of Water Blaster Inc's water cannons is designed for younger kids. A gentler, kinder water cannon that holds considerably less water. (

Watch Video) 2/4/2010



Fun Gripper™ Fireball Sport Series 9" Flyer by SATURNIAN 1 INC.



Made of durable composite suede material with Fun Gripper™ patented Foam Matrix covering, these vibrantly colorful flyers are 9" in size and are flexible and packable. They feature a weighted PE pellet bean bag edge for improved stability. Available in 3 assorted neon colors. (

Watch Video) 12/7/2009



Retailers: Did you know you can broadcast TDmonthly Toy Videos from your website? Manufacturers: Find out how a TDmonthly Video attracts buyers.
---
---


Copyright © 2020 TDmonthly®, a division of TOYDIRECTORY.com®, Inc.