September 28, 2020

July 2010 | Vol. IX - No. 7


Holiday Preview: DVDs
Fun-Loving Characters Teach and Entertain
Abstract art projects and eco-friendly messages make their way into videos for tweens. Also watch out for colorful puppets, an animated blue koala, and programs that aim to help kids learn numbers, language and more in TDmonthly's Holiday Preview of DVDs below. back to main article

For products that interest you, click "Add to my Inquiry Basket" to request a catalog or ask questions of the manufacturer.
I Can Make Art by CRYSTAL PRODUCTIONS



This 74-minute DVD, featuring six artists with diverse talents and backgrounds, aims to inspire young viewers to make art. Activities use simple materials and techniques for projects including Found Object and 3D Sculptures, Self-Portrait Relief Prints, Abstract Art and Folk Art Paintings, Murals and Stained Glass. 5/20/2010 (MSRP: $39.95; Age: 9 to 12)



Dwizzle Dee - Colors, Sizes, Songs & Imagination! by CINEMA WERX LLC



Created to entertain and educate preschool children through colorful and lovable live-action puppet characters and animation, the DVD teaches fundamentals such as colors, sizes and shapes with the help of its distinctive characters.
Awards: 2010 Dove Foundation; 2009 KIDS FIRST! Coalition For Quality Children's Media 6/4/2010 (MSRP: $14.95; Age: 2 to 5)



He's Got the Whole World in His Hands... by NEW VIDEO GROUP INC. / A&E HOME VIDEO



Featuring a guide for parents and kids with tips on how to be green, this DVD includes an adaptation of the beloved folk song "He's Got the Whole World in His Hands." It is illustrated by Caldecott Honor-winning illustrator Kadir Nelson and sung by Crystal Taliefero. This DVD features an hour of colorfully animated storytelling for a new generation of eco-conscious kids. Launch date: April 20, 2010. 5/4/2010 (MSRP: $14.95; Age: 5 to 10)



Wow! Wow! Wubbzy!: Escape From Dino Island by ANCHOR BAY ENTERTAINMENT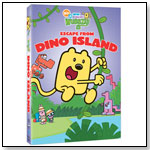 Wubbzy and his friends are heading out on a mysterious adventure. Join the Wuzzleburg gang as they voyage to Dino Island in Widget's Wavy Wheeler 3000, explore Wazumboo Jungle and try to control a Doodleberry patch that has gone Wow! Wow! WILD! There is no telling who they will meet along the way! Sing and laugh along while learning life lessons about honesty, sharing, friendship and being prepared. 5/4/2010 (MSRP: $16.98)



Hollywood Musicals by LANGENSCHEIDT PUBLISHING GROUP



This book and postcard package is an informative visual feast of pop-culture iconography. Featuring spreads on movie icons and individual musical classics, Hollywood Musicals covers show-stopping classics such as "Singin' in the Rain," toe-tapping favorites like "Jailhouse Rock," and modern romps like "Mamma Mia!" "Not only is there an informative book, written by an expert on film and media, about the iconic and glamorous Hollywood Musicals, but there is also the added bonus of six, full-colored oversized postcards," Andrea Sper, Langenscheidt Publishing Group marketing assistant, told TDmonthly. 6/14/2010 (MSRP: $14.99; Age: All Ages)



The Playdate Kids: DVD & Adventure Book by PLAYDATE KIDS PUBLISHING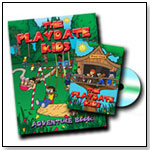 Cartoon DVD vignettes on behavioral issues along with a coloring and puzzle book. This set mainly focuses in on valuable lessons for young children such as lending a helping hand, the importance of paying attention, sharing with friends, and being polite. 3/16/2010 (MSRP: $12.95)



The Velveteen Rabbit by ANCHOR BAY ENTERTAINMENT



One of the most beloved family tales of all time comes to life in an enchanting combination of live-action drama and animated adventure. It's the story of a young boy named Toby who is sent by his busy father to spend the holiday season in the home of his stern grandmother. Toby's world instantly changes when he discovers the house's 'magic attic' where three forgotten toys, including a special stuffed rabbit, unlock a world of imagination that will change all their lives forever. The film is directed by Michael Landon, Jr., features the voices of Jane Seymour, Tom Skerritt and Ellen Burstyn, and was produced based on the best-selling book by Margery Williams. Awards: 2009 Dove Family-Approved Seal. "Total sell-through for Christmas 2009 was over 64 percent!" Jennifer Barger, Assistant Brand Manager, Anchor Bay Entertainment, told TDmonthly in spring 2010. 3/15/2010 (MSRP: $14.98; Age: 3 and Up)



Runaway Ralph by NEW VIDEO GROUP INC. / A&E HOME VIDEO



"Runaway Ralph" is the third installment of Beverly Cleary's classic tales building on the adventure and excitement of "The Mouse and the Motorcycle" and "Ralph S. Mouse" (both available on DVD from Scholastic Storybook Treasures). Maryn Greenberg at New Video Group told TDmonthly, "Runaway Ralph is a stop-motion animation of a classic tale by beloved author Beverly Cleary." Launch date: April 20, 2010. 5/4/2010 (MSRP: $14.95; Age: 3 to 9)



Creating Fiber Weavings and Baskets by CRYSTAL PRODUCTIONS



In this educational video, Peggy Flores explains the use of natural fibers in history and then introduces a variety of yarns that can be used to make weavings, as well as the fabrication of looms for the process. She also demonstrates the weaving process and coiling rope wrapped with yarn to shape and create baskets, after which students will be able to enjoy creating colorful yarn weavings at home on a cardboard or coat hanger loom. "An art teacher demonstrates the weaving process and finished examples are shown," Amy Woodworth, President of Crystal Productions, told TDmonthly. Launch date: Feb. 26, 2010. 3/24/2010 (MSRP: $29.95; Age: All Ages)



Christmas Story by ANCHOR BAY ENTERTAINMENT



Have you ever wondered how Santa Claus came to be Santa? A long time ago, a young boy named Nikolas took on a mysterious mission and created a legend that would be carried on from generation to generation. "Christmas Story" is a magical and heartwarming tale of how the gift-giving tradition was created. Awards: 2009 Dove Family-Approved Seal. Launch date: November 3, 2009. 3/15/2010 (MSRP: $19.97; Age: 3 and Up)



Lewis Cardinal's First Winter - El primer invierno de Luis, el cardinal DVD by Playentertainment, LLP

Lewis Cardinal's First Winter/El primer invierno de Luis, el cardinal, is the first of its kind interactive bilingual (English/Spanish) vdoBug compatible DVD from Raven Tree Press's interactive bilingual (English/Spanish) children's book of the same name. With the vdoBug children can read along with the book or simply watch the DVD as the pages come to life in either English or Spanish, watch videos of the animals in the book in their natural habitat, listen to music, print out pictures and color along as well as working crossword puzzles with the English to Spanish vocabulary words in the book. This first of its kind DVD and the vdoBug make it fun and so easy for children to move at their own pace while learning to read in their own as well as a second language. 3/2/2010 (MSRP: $14.95)



Wow! Wow! Wubbzy!: Wubbzy Goes Green by ANCHOR BAY ENTERTAINMENT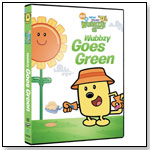 Wow! Wow! Everyone in Wuzzleburg is getting involved in saving the planet! In these earth-friendly episodes, Wubbzy, Widget, Walden and Daizy must find a new place for the Wuzzle Bears to live, think up creative ways to reuse juice bottles and learn to grow their own doodleberries. Your pre-schooler will discover important lessons about ecology, harmony, and personal responsibility while enjoying plenty of singing and dancing. Launch Date: Apr. 6th, 2010. 3/3/2010 (MSRP: $16.98)



vdoBug DVD Remote by Playentertainment, LLP

VdoBug is a DVD remote for children which easily programs to the adult DVD player allowing children to move between interactive pages or chapters of our compatible DVDs. Each compatible DVD comes with a picture cutout with a scene from each chapter which fits under the 10 large buttons so children can easily recognize their favorite chapter. (

Watch Video) 3/2/2010 (MSRP: $29.95; Age: 3 to 8)



Foreign Language and Fun, Disc 6: I Can Count! by LITTLE PIM CO.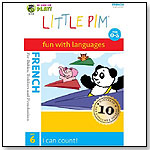 The DVD contains five-minute shorts starring a lovable, animated panda named Little Pim who, along with live-action kids, teaches very young kids themed vocabulary in a foreign language. Little Pim the Panda is now joined by Lola the Elephant and Bob the Bobcat in Disc 6: I Can Count! The DVD is specially designed for babies, toddlers and preschoolers, and is available in Spanish, French and Mandarin Chinese. Launch date: early 2010 2/15/2010 (MSRP: $17.95)



Grandpa Read's Quiet Time Tales by QUIET TIME PRODUCTIONS LLC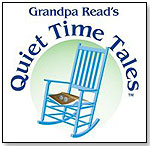 Quiet Time Tales is created to offer wholesome, educational children's programming. Each of the 12 DVDs in the collection contains five complete stories read aloud by the gentle character of Grandpa Read. "Most of the shows on Nickelodeon are full of frenetic animation, frenzied dialogue, frantic sound effects, and don't encourage a sense of calm in children. From the tone of Grandpa's voice to the static illustrations and the mellow songs, Quiet Time Tales are soothing and relax children," Brad Juhasz, Vice President, Marketing, Quiet Time Productions, LLC, told TDmonthly. Grandpa Read's Quiet Time Tales received a Kids First! endorsement from the Coalition for Quality Children's Media. Launch date: August 2009. 2/2/2010 (MSRP: $14.99; Age: 2 to 8)



Eight Silly Monkeys by MOVING PICTURE BOOKS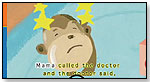 By combining high quality animation, rich narration, sound effects and music, Moving Picture Books provide a fun and educational digital reading experience for children ages 0-7. There are 38 titles — both classic stories and new favorites — each available in English, Spanish and English Read-Along-Text versions. Our books can be purchased as digital downloads, or DVDs. (

Watch Video) 1/27/2010



Robby The Blue Koala Rides the Discovery Express DVD by GIFTOFHAPPINESS MEDIA PRODUCTIONS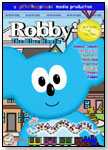 In Robby The Blue Koala Rides The Discovery Express, Giftofhappiness Media Productions uses fun antics and colorful animation to make learning opportunities out of entertainment. "Parents and teachers see Robby as educational programming disguised as entertainment. Kindergarten fundamentals have never been so easily accessible. But shhh! Let the kids enjoy and keep the secret between us," Giftofhappiness Owner and Founder John Lawrence told TDmonthly. 1/8/2010 (MSRP: $12.99; Age: 2 to 7)



DVD - Big Ball Fun with Baby and Me by SPOTLIGHTBABY



Disc 1 provides fun baby activities on a yoga ball to enhance motor development for 0- to 6-month-olds. Disc 2 provides 19 core exercises for new moms using a yoga ball. In some of the mommy exercises, the baby is also working on tummy time and trunk stability, balance and sitting. "Moms can exercise and engage their new babies all at the same time. They can workout without ignoring their babies or leaving them at home while mom is at the gym. Both discs benefit baby development and bonding to moms," Judy Kang, president of spotlightbaby, told TDmonthly. Launch date: 2010. Watch DVD Preview 12/16/2009 (MSRP: $17.99; Age: 0 to 1)



"Let's Explore ... Spring and Summer" DVD by ONE SMART COOKIE PRODUCTIONS LLC



This colorful DVD featuring real-life nature scenes explains about summer solstice, pollination and various insects, summer safety and seasonal foods. Bonus features include sign language, a game, a quiz, a slideshow of images, and a Spanish vocabulary slideshow. A corresponding Activity Book is also available. 12/2/2009 (MSRP: $18.95)



The Dog Who Saved Christmas by ANCHOR BAY ENTERTAINMENT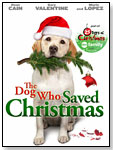 The Bannister family's new addition, Zeus (voiced by Mario Lopez) a former K-9 police hero, appears to be less than the dependable guard dog the family needs. However, when two burglars (led by Dean Cain) set out to break into the Bannister's home while they're away for Christmas, Zeus seizes the chance to be a hero, proving every dog – even this one – has his day. 12/1/2009 (MSRP: $19.97)



Let's Go Guang! Chinese for Children by AHA!CHINESE INC.



Let's Go Guang! Chinese for Children is a kit for kids to learn Chinese as a second language. Children join Ling and Kai while they visit their grandparents and discover Guang, a fun-loving dragon. It's designed for kids to learn how to properly pronounce about 50 useful everyday Mandarin Chinese words, phrases and sentences, including greetings, introductions and numbers. Each kit includes: DVD: "Meet Guang, the Chinese Dragon" (Animated Feature), "Making Dumplings" (Live footage), and "Mini Lessons and Songs," all in English and Mandarin Chinese; illustrated hardback book: "Story of Meet Guang, the Chinese Dragon with Pinyin"; English audio CD; flash cards with simplified Chinese characters, Pinyin; English Parents/Educator Guide; and vocabulary list.
— "This is a unique, high-quality, high-production toy/product that is effective, yet fun and engaging for kids," Karen Wu Audi, Co-Founder of aha! Chinese, told TDmonthly. "Kids learn Chinese and don't realize that they are learning the language." Awards: 2009 iParenting Media Award; and Dr. Toy's 10 Best Educational and 100 Best Children's Products Awards. Launch date: August 8, 2009. 11/25/2009 (MSRP: $49.95; Age: 2 to 10)



Young Minds - Numbers and Counting DVD by MATH TUTOR DVD



"Young Minds - Numbers and Counting" teaches young children how to count from 1 to 10 by way of visually counting objects on the screen in an interactive manner. he entire production is set to classical music from Bach, Beethoven, Mozart, Vivaldi and other classical composers. The objects counted on the screen include animals, machines, fruits, vegetables and scenes from nature. "Our DVD has substantially more educational value than other DVDs marketed to this age segment. In addition to numbers, our DVD also teaches animal sounds, colors, and much more," Jason Gibson, owner of Math Tutor DVD, told TDmonthly. This DVD has received the following awards: Dr. Toy Top 100 Best Products 2009; 2009 Dr. Toy Top 10 Best Audio-Video Products 2009; Parent Tested Parent Approved (PTPA) 2009; iParenting Media 2009; Creative Child Magazine Top Choice Award 2009; Creative Child Magazine Seal of Excellence 2009; and "The Toy Man" Award 2009. Launch date: July 21, 2009. 11/17/2009 (MSRP: $19.99; Age: 0 to 3)



Up Down & All Around by Leaping Legs Creative Movement Programs



"Up Down & All Around" is a creative movement/exercise DVD for people of all ages and abilities. The DVD provides resources to develop gross motor skills, spatial awareness, strength and balance. It's designed to be easy to follow, easy to do, and encourage adult-child interactions. "It was designed specifically to be utilized by educators and parents to do with their students and children. ... each of the eight sections of the DVD begin with bulleted objectives. There is also a detailed movement guide ... [that] explains how to do each section of the program in depth, what kinesthetic skills are being addressed, as well as offers fun variations to the exercises. This is a comprehensive program that will help schools and communities meet the National Physical Education Standards as well combat the obesity epidemic," Stacey Pepper Schwartz, founder of Leaping Legs Creative Movement Programs, told TDmonthly. The DVD was awarded Dr. Toy's 10 Best Active Products 2009 and Dr. Toy's 100 Best Children's Products 2009. Launch date: December 21, 2008. 11/17/2009 (MSRP: $19.95; Age: 2 and Up)



Oüm by OUM PRODUCTIONS INC.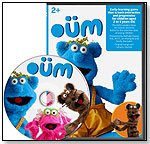 This early learning game for children is designed to be both interactive and progressive. Visually colorful, the DVD features three, 20-minute sessions suited to the attention span of young children. It features three puppets: Oüm, the main character, asks children to participate in his friends' lessons with him; Mimi has a talent for music and Coco, for physical activity. Children and animals appear throughout each of the lessons. Both English and French original versions are included.
Awards: 2010 Creative Child Magazine DVD of the Year Award 11/9/2009 (MSRP: $17.97; Age: 2 and Up)



Fundamentals: Think (1 to 4 years) by First Wave, LLC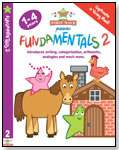 Fundamentals: Think is the second level of our educational video series. It builds upon many concepts introduced in Fundamentals and adds additional subjects for higher order thinking. Video teaches reading by building from letter recognition and phonetics sounds to 3-letter words and simple sentences, and demonstrates geometry, addition and subtraction, and numbers up to 20. 10/14/2009 (MSRP: $14.95)



---
---


Copyright © 2020 TDmonthly®, a division of TOYDIRECTORY.com®, Inc.