April 18, 2021

October 2011 | Vol. X - No. 10

---
Top-10 Most-Wanted Science & Nature Toys
With additional reporting from Chris Lundy and Brenda Ruggiero

When TDmonthly interviewed retailers in September 2011 to find out about the current bestsellers in the Science & Nature category, the most mentioned products were Elenco's Snap Circuits, and various products from Scientific Explorer. The educational toys below encourage kids to exercise their minds while having fun - from watching caterpillars grow into butterflies in Insect Lore's Butterfly Garden, to creating their own robot with the Tin Can Robot from Toysmith.

See all of the Top-10 Most-Wanted Science & Nature toys below.

No manufacturer paid to be included in this article. All products listed were designated by editorial staff without regard to the company's relationship with TOYDIRECTORY.com/TDmonthly Magazine.
SC-300 Snap Circuits by ELENCO



Snap Circuits make learning electronics easy and fun. Kids follow the colorful pictures in the manual to build exciting projects, such as FM radios, burglar alarms, doorbells and more. Parts are mounted on plastic modules and snap together with ease. "Children can play with this kit for hours and hours and still have not completed all the projects the snap circuit kits have to offer," Walter Larsen, national sales manager for Elenco, told TDmonthly.
— One retailer said in summer 2007 his store sells 25 Elenco units monthly. Five percent of 64 retailers said in August 2008 that Snap Circuits are a best-selling science product, reporting average sales of six units per month. Four of 38 retailers echoed the same a year later. "They've gone back to this game six or seven times," between January and July 2006, said TDmonthly's homeschooling mom Susan Ledford.
— Any time TDmonthly asks specialty storeowners about top-selling science toys, Elenco's Snap Circuits heads the list. This simple electronics kit appeals to both girls and boys. By making science fun and easy, Snap Circuits earned a TDmonthly Classic Toy 2007 award.
— As of 12/17/2012 this product had 4.8 out of 5 stars from 575 reviews on Amazon.com. Cons: One user said that her grandchildren were "not all that interested" in the Snap Circuits, and told her that they would prefer LEGOs on their birthday. (

Watch Video) 10/27/2005 (MSRP: $59.95; Age: 8 and Up)



Butterfly Garden by INSECT LORE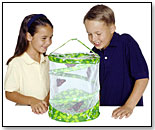 This net habitat (almost like a Chinese lantern) encloses caterpillars, food and the setting for a caterpillar's eventual metamorphosis. It requires mail-sent larvae. "The Butterfly Garden not only shows actual insect metamorphosis, but it does so in just three weeks' time. Many other animal habitats can take up to six months for any changes to occur. This makes it a perfect item for kids who have short attention spans and is an ideal science project for any classroom," John White, marketing director of Insect Lore, told TDmonthly.
— Fred Rosenberg of On the Park in Kingwood, Texas, named this as his No. 1 seller in May 2008, with sales of 50 to 60 units monthly. "I just can't keep them in stock right now," he told TDmonthly. "We have a display on our counter with the real butterflies so people can see it go through the process," said Kim Emigh, VP of e-commerce at Growing Tree Toys in State College, Pa.
— 25% of 64 retailers surveyed in August 2008 named this as their top-selling nature toy, reporting average sales of 12 per month. Five of 38 retailers named Insect Lore's butterfly habitats as best-selling science and nature products in late summer 2009. In an August 2010 survey, 21 percent of 43 specialty retailers said Insect Lore is a top-selling science and nature brand. Five retailers specifically cited Butterfly Garden as a best seller.
— As of 5/21/2012, the Butterfly Garden had spent more than 1,600 days in the top-100 best-selling toys and games at Amazon.com and has 4.4 out of 5 stars from 461 reviews.
AWARDS: 2010 TDmonthly Top Seller (

Watch Video) 7/18/2005 (MSRP: $19.99)



Classic Water Garden Starter Kit Eco-Aquarium by WILD CREATIONS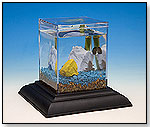 This balanced ecosystem offers a low-maintenance way for children or adults to enjoy an aquarium environment. It comes complete with water, a snail, two little frogs, food and care pack. The water in the aquarium only has to be changed every five or six months.
— ''We sold about 660 during the year," Marc Holcomb, owner of Toys & Co. in Greensboro, S.C., said in autumn 2010. Dave Campbell of Amazing Toys in Great Falls, Mont., sells approximately 12 per month.
— "I brought in 20, and in two weeks it sold out. I brought in 20 more and it sold out," Gage Brownell, manager of Belmont Toys in Belmont, Mass., told TDmonthly in March 2009 about the EcoAquariums he discovered at Toy Fair the month before. Molly McMullin of Twirl in Taos, N.M., reported sales of about 70 a month in March 2009.
— "Everyone was excited about them," Jeanne McCullough, owner of Children's Store Inc., said following ASTRA Marketplace in June 2009.
— In late summer/early fall 2009, three of 38 retailers named EcoAquariums as a best-selling science and nature product, noting sales of 18 to 60 a month. "We were hesitant to bring them in. We didn't want to be a pet store. But it's a neat idea. It's low maintenance. It's something the parents and kids can agree on," Gary Green of Toy Box of Asheville in Asheville, N.C., told TDmonthly.
Awards: 2010 Tillywig Top Fun; Parent's Choice Award 2010
Past Videos: Toy Fair 2009 (

Watch Video) 2/16/2009 (MSRP: $30.00)



ScienceWiz™ Electricity by SCIENCE WIZ / NORMAN & GLOBUS INC.



This kit includes a 40 page science book and enough contents to participate in 18 activities. All materials are included except for a D-cell battery. The kit has step-by-step, highly visual instructions and child appropriate materials designed for young children to work independently.
— John Blair, owner of Science Safari in Cary, N.C., told TDmonthly in a September 2011 survey that they sell 6-8 of these kits each month. "We really like them and we push them," he said. 8/21/2008 (MSRP: $19.95; Age: 5 to 10)



4M Tin Can Robot by TOYSMITH



Kids can recycle a soda can into a silly, walking, wobbling robot. The kit includes all the parts needed, right down to the googly eyes, except for the two AAA batteries that are required. Launch date: 2008.
— "The Tin Can Robot is a huge hit. It's from their Green Science series, which has been doing great," Jennifer Schneeweis, owner of Izilla Toys in Seattle, told TDmonthly in late August 2009. Two of 40 retailers mentioned the brand when discussing best-selling educational items in fall 2009.
― "Right now we have the Tin Can Robot for 8- to 10-year-olds and that's doing well," said Marlene, manager of Kits & Kaboodle in Carmel, Ind., when asked about her best-selling item for tween boys. Seven of 39 retailers surveyed in October 2009 said science kits are their top sellers for tween boys.
― "It's a good price point and an excellent product. It sells all the time," Priscilla Moore, owner of Mr. Fub's Party, Toys and More in Yellow Springs, Ohio, said of the Tin Can Robot and other 4M science kits in spring 2010.
— In August 2010, seven of 43 retailers told TDmonthly that Toysmith is a best-selling science and nature brand. Two retailers named Tin Can Robot as a top product.
AWARDS: 2010 TDmonthly Top Seller 5/19/2009 (MSRP: $15.00; Age: 8 and Up)



6 in 1 Educational Solar Kit by OWI INC.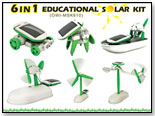 Including six different snap-together models, this kit provides children with examples of many uses for solar panel technology. A car, robot dog, hover boat, and other models spring to life when their solar panels are hit by direct sunlight, or the illumination of a 50 watt halogen bulb. Models are compact and light weight, making them easy to take outside and watch as the sun's rays are converted into clean electrical energy.
— Kate Tanner, owner of Kidstop Toys, informed TDmonthly that this was one of her favorite products at Toy Fair 2010.
— Lisa LeStrange, owner of Lucky Duck Toys in Wayne, Pa., told TDmonthly that this solar kit is a bestselling science toy. It's "not expensive. We just got it and it's selling well. It's a good product — you shine a flashlight on it and it goes," she said. 2/19/2009 (MSRP: $19.95; Age: 7 and Up)



Lab-in-a-Bag – Test Tube Adventures by BE AMAZING!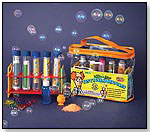 Using this science kit, kids will learn the secret of the Giant Test Tube and how to make Touchable Bubbles that don't pop. They can make a super bouncing ball and 20' of gooey, slimy worms. Almost everything kids need comes in one clear vinyl bag for easy clean-up.
— In a September 2011 survey, Joe Berardoni, owner of Pun's Toys in Brynn Mawr, Pa., told TDmonthly, "Be Amazing's Lab in a Bag (any one) does very well here. They have great experiments included and are a good 'birthday present' price."
— In a Fall 2013 survey, two out of 12 retailers told TDmonthly that Lab in a Bag was one of their best-selling science toys. (

Watch Video) 10/17/2006 (MSRP: $15.00; Age: 8 and Up)



Lava Blasting Volcano Kit by SCIENTIFIC EXPLORER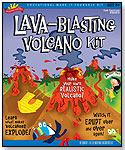 Volcanoes are one of the most awesome forces found in nature. They can shoot rocks and gases miles into the air and their lava flows can outrace a speeding car. Now kids can try that at home. In this kit, everything is included to create a volcanic blast. Volcano really explodes and lava flows, and the kit includes cool science that explains how volcanoes form and why they explode. Volcano erupts up to 10 times. Launch date: August 2010.
— In a September 2011 survey, three out of 13 retailers said products from Scientific Explorer were their bestselling science & nature toys. Joe Berardoni, owner of Pun's Toys in Brynn Mawr, Pa., told TDmonthly that "Scientific Explorer's line features colorful, good sized boxes and some great titles." 7/12/2011 (MSRP: $19.99; Age: 8 and Up)



Bubble Gum Factory by SCIENTIFIC EXPLORER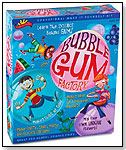 Kids can make gobs of gum with this bubble gum factory. Create unique recipes by mixing and matching different flavors. Kit Includes citric acid packet, corn syrup, confectioner sugar, gum base, watermelon flavoring, blueberry flavoring, mint flavoring, 2 note cards, activity guide, and a plastic tin with lid.
— Andrea Scartozzi, from Hardware Toys in Paoli, Pa., told TDmonthly in a September 2011 survey that Bubble Gum Factory is their bestselling science toy.
— In a late Summer 2012 survey, Joe Berardoni Sr., owner of Pun's Toys in Bryn Mawr, Penn., told TDmonthly that "a certain few of the kits from Scientific Explorer, mostly any one that has to do with food," are their second-best selling Science & Nature item.
— Mary Porter Green, owner of Curiosity Zone in Ashburn, Va., told TDmonthly in a Fall 2012 survey that kits from Scientific Explorer are one of their top-2 bestselling educational products. They sell dozens each month. 9/19/2011 (MSRP: $19.99; Age: 8 to 12)



Back Yard Exploration Critter Case by TOYSMITH


Mesh walls allow for close-up viewing of butterflies and insects. A sliding plastic door makes catching and releasing easy while avoiding pinched fingers, and a carrying handle makes it portable.
— With warmer weather approaching, these backyard exploration critter cases were on the top-10 best-seller list at My Club Tabby in Lake Charles, La., in spring of 2010. Owner Natalie Comeaux reported in March that the kits had been selling well for more than a month.
— June Hargrove, co-owner of Black Forest Books & Toys in Charlotte, N.C., told TDmonthly that they sell 24-30 of Toysmith's Critter collection each month. 3/25/2010 (MSRP: $15.00; Age: 5 and Up)



---
---


Copyright © 2021 TDmonthly®, a division of TOYDIRECTORY.com®, Inc.