October 1, 2020

December 2011 | Vol. X - No. 12


You Coulda Been First — Toy Fair Debuts That Keep on Selling
Why You Should Go to New York ... and Watch Our Toy Fair Videos!
With additional reporting by Justina Huddleston

Not sure whether you should trek to Toy Fair 2012? Watch the following TDmonthly videos to see what types of great new toys you could be missing by nestling home in February. If you were at Toy Fair from 2006 to 2011, your store could have been the first to feature such award-winning and hot-selling products as Hexbugs, ZipBins, Zoobies and Wild Creations' Eco-Aquariums.

Absolutely can't make the show? Don't worry. TDmonthly's video crew will be at it again, combing the aisles of Toy Fair and bringing back videos of products that could make your toy store the #1 place to be in 2012. Just be sure to check back in February and March 2012 to see the best of Toy Fair from your computer.
(Videos below start in 2006 and end with 2011 products. When there's more than one video for a product, the Toy Fair video will be on a link at the end of the product's description.)
ZIP-IT!® by BANANAGRAMS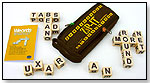 ZIP-IT! includes 24 ivory-like letter cubes packaged in a cloth pouch with unique self-scoring zippers, so everything you need is in the bag. No pencil, paper or board needed. Each player takes 12 cubes and races to form their own crossword grid using any side of the cubes. The first player to use all their own cubes calls "ZIP!" and scores a point by moving their own zip up the pouch. The first person to score 10 points shouts "ZIPIT!!!" and wins the game. One hand can be played in as little as than 20 seconds.The game was designed to be easily portable. Also includes complimentary WEORDS Dictionary, a list of weird words that can help win word games. (

Watch Video) 1/12/2011 (MSRP: $14.99; Age: 7 and Up)



Air Swimmers Flying Fish - Shark by WILLIAM MARK CORP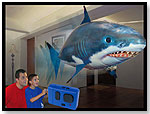 These helium-filled shark balloons are remote controlled to "swim" through the air. The infrared remote functions include climb, descend, and tail fin control. Up to a 40 ft range. 57 inches long, 36 inches high.
— As of 10/14/2011 this product had 2.8 out of 5 stars from 19 reviews on ToysRUs.com. Pros: Visually striking. Cons: Difficult to assemble; flimsy; does not stay inflated very long.
— Mike McCollum, owner of Learning Express in Hoover, Ala., told TDmonthly in November 2011 that Air Swimmers are becoming one of his best selling flying toys. He said that since September 2011, he has sold 16 of the sharks and 7 of the clown fish. (

Watch Video) 10/14/2011 (MSRP: $41.99)



Dado Cubes by FAT BRAIN TOY CO.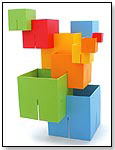 Dado will engage your imagination and help develop a keen eye for design, color, shape, size, space, balance, proportion and composition. Constructed horizontally, vertically or nested together, Dado invites unlimited visual spatial development and problem solving through design-centered play. Dado features ten cubes, scaled from 1" to 5". This game is "self-expression revealed through a contemporary palette of play, " Kathy Lorkovic, at Fat Brain Toys, told TDmonthly. This product has won numerous awards, including a 2007 National Parenting Center Seal of Approval Award, a Spring 2007 Dr. Toy Best Product Award, a 2007 iParenting Media Excellent Products Award and a Creative Child Preferred Choice Award. Launch date: September 1, 2006.
— "Dado Cubes forms the foundation of a series of design-centered educational toys," offered Mark Carson, developer and president of Fat Brain Toys. Dado is "that rare toy that combines intuitive fun with fine design. Equally rare is its ability to entertain young and old alike," he added. "Beyond Dado, we have a number of products in development that have been inspired by true educational research."

Past Videos: Toy Fair 2007 (

Watch Video) 10/6/2006 (MSRP: $27.50; Age: 3 and Up)



Silly Slapz! Slap Watch by BCP IMPORTS LLC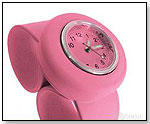 Inspired by the popular 90's toy, these silicone watches can be slapped onto wrists. They come in a variety of vibrant colors and in two sizes, small or large. The analog watch face is backed in the same vibrant color as the watch band, and the watch face is framed by a metal in the same shade as well. These watches can be collected, swapped, or worn in multiples to create a bold fashion statement.
— Kay Emigh of Growing Tree Toys in State College, Pa., told TDmonthly in late Summer 2011 that small Silly Slapz! Slap Watches were a top-three best-selling item in the store.
— John Taylor, owner of O.P. Taylor's in Brevard, N.C., told TDmonthly in an October 2011 survey that he sells 250 slap watches a month between his three stores. (

Watch Video) 2/22/2011 (MSRP: $17.95)



HEXBUG Nano Raceway Habitat Set by INNOVATION FIRST LABS, INC.


Ready, Set, Nano! Kids can race their HEXBUG Nano bugs by constructing their very own customizable Raceway Habitat Set. HEXBUG Nanos test their speed and take off out of the starting gates at a lightning pace in attempt to out-scurry their competition to the finish line, zooming through dangerous divides and tricky turns. (

Watch Video) 3/4/2011 (MSRP: $59.99; Age: 3 and Up)



Phone Frenzy by BUFFALO GAMES INC.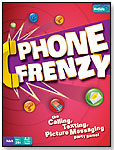 Phone Frenzy is a board game that uses everyone's mobile phone as the primary game component for calling, texting, and sending photos. Every turn, players are given a challenge or activity that can only be completed with the help of one or more of their phone contacts. A challenge might be a race to receive a correct response to "Finish this lyric by Journey: 'Just a small town girl'…" Players pick who they think are the right contacts from their phone and send them a text message with the question. The first player to receive the correct text message wins the round. Launch date: Summer 2011. (

Watch Video) 2/22/2011 (MSRP: $22.00; Age: 14 and Up)



ZipBin™ by NEAT-OH! INTERNATIONAL LLC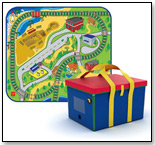 The ZipBin™ line consists of attractively designed, transportable and collapsible, interactive storage products that unzip to become activity/play surfaces, and then zip back up to storage-bin form, capturing toys. Each is stackable with a durable, wipe-clean surface. The five ZipBin products for toys include: ZipBin Mansion, ZipBin Road & Rail, ZipBin Dinosaur, ZipBin Builder's Bin for Plastic Blocks and ZipBin Medieval Castle. "We sometimes describe the ZipBin as a gift that parents give to ... themselves," Katherine and John Hodges told TDmonthly about the ZipBin. "The unique functionality [of the bin] ... simplifies clean-up." (

Watch Video) 12/9/2005



Twilight Ladybug - Relaunched by CLOUD B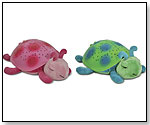 The redesigned Twilight Ladybug features a vibrantly colored shell and soft, matching fur on its body. The constellations are on a 45 minute timer. Each Twilight Turtle and Friends character from the collection projects constellation nightlights that create a magical sleep-time environment. Each "shell" illuminates the night with three soothing color options to help ease fear of the dark. The Twilight Collection includes Twilight Turtle and Twilight Ladybug, each available in three colors and a Twilight Sea Turtle that also has five illuminated windows projecting images of sea life.
―As of 1.06.2011 this product had 4 out of 5 stars from 833 reviews on Amazon.com and was No. 25 on the top 100 bestselling toys and games. Pros: Soft plush; shuts of automatically to reserve battery power. Cons: Light burnt out and was not replaceable.
― In a June 2010 survey, nine of 40 retailers told TDmonthly that Cloud B Twilight critters are top-selling baby toys, with five citing Twilight Ladybug and six citing Twilight Turtle. Twilight Ladybug is the "go-to (product) for infant gifts" at School Crossing Inc. in Williamsburg, Va., according to Owner Sherry Phipps. (

Watch Video) 11/5/2009 (MSRP: $29.95)



Les Cheries Cecile by COROLLE DOLLS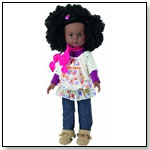 Chloe, Camille, Clare, Cecile and Cathy are a multicultural collection of 13" dolls and are marketed as "best friend" dolls and are purposefully not fashion dolls. Cecile, an African American girl, comes with with jeans, a knit shrug and glorious hair.
Awards: Oppenheim Toy Portfolio Blue Chip Classic Award Winner, 2009. (

Watch Video) 10/14/2010 (MSRP: $45.00; Age: 4 to 10)



Roman Town: The Premiere Archaeology Computer Game for Kids by DIG-IT! GAMES



Roman Town lets the player be an archaeologist and manage a team of diggers while learning about archaeological techniques and uncovering ancient objects. Graphics rendered in 3D let players explore Roman buildings and immerse themselves in Roman history. One can put pots together, exercise puzzle skills with fun mini-games, and find out what archaeologists really do. President of Dig-It Games Suzi Wilczynski told TDmonthly, "Roman Town is unique, educational and, most importantly, lots of fun!"
Awards: The Tillywig Brain Child Award; NAPPA Honors; The National Parenting Center 2010 Seal of Approval; Creative Child 2010 Game of the Year Award; Dr Toy's Best Vacation Product; five 2010 Life Buzz Parent-to-Parent awards. (

Watch Video) 4/29/2010 (MSRP: $39.95; Age: 8 and Up)



Ice Cream Mugz by GEOSPACE INTERNATIONAL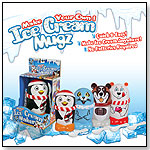 These miniature ice cream makers take three minutes to turn ingredients (sugar, milk cream, water, and anything else like to add like nuts, raisins, or candy) into an iced confection. There's no motor or batteries...the only energy required is a little vigorous shaking. Simply place ice cubes and salt into the lower part of the cup, and fill the top with sweetened juice, milk or cream. Fasten the lid and shake. The salt quickly melts the ice, which makes the aluminum plate super-cold, turning the liquid into ice cream, ice milk, or sorbet. Available in assorted animal characters (polar bear, cat, seal, dog, penguin) (

Watch Video) 2/22/2011 (Age: 4 and Up)



M9 Sports Van by AUTOMOBLOX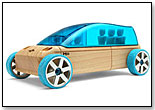 The Automoblox M9 comfortably seats eight of our cool, blue people. The extra-long main passenger compartment and additional seating for four in the rear block give this vehicle the longest wheelbase in the line-up. Now your child can build a minivan like mom's that even dad will want to drive. (

Watch Video) 3/31/2006 (MSRP: $37.99; Age: 3 to 9)



Cheche the Cheetah by ZOOBIES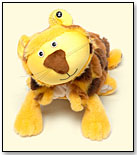 Part of the Safari Pack, this super-soft plush is also a pillow and a blanket. It is three products in one. Zoobie Pets received a 2007 Oppenheim Toy Portfolio Gold Award and a 2007 Top Toy of the Year Award from Creative Child Magazine.
― Debbie Scholl, owner of Fundamentally Toys in Houston, favored these transformable pets/pillows/blankies at Toy Fair 2007. (

Watch Video) 2/9/2007



The Original Fortamajig™ by THE HAPPY KID COMPANY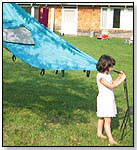 The Fortamjig provides a fun, easy way to build cool play spaces anywhere. The Fortamajig measures an open 8' square and is created out of durable nylon ripstop with no hard pieces to break or lose. It has open-able, stretchy loops around the interior and exterior edges for attachment to chair backs, tree branches, doorknobs and more, and features a closable mesh window, a flap door and four corner pockets. A reversible double-layer design is available for $89.95. This product is a Fall 2007 Parent's Choice Gold Award and Summer 2007 Dr. Toy Best Product Award winner. Launch date: February 2007.
— "The Fortamajig's open-ended design allows kids to create any play structure they can imagine, both indoors and out. Parents will appreciate the versatility the Fortamajig offers in one lightweight, portable and washable unit," founders Katherine Huck and Kristen Stocking of The Happy Kid Company told TDmonthly. (

Watch Video) 1/8/2007 (MSRP: $49.95; Age: 3 to 12)



Sprig Adventure Series by SPRIG TOYS, INC.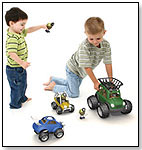 Sprig Toys is a new, environmentally responsible toy company created by award-winning industry veterans (former Mattel and Radica designers). Its line of kid-powered, totally green adventure vehicles for preschoolers is made from Sprigwood™, a child-safe bio-composite material derived from 100-percent recycled wood and reclaimed plastic. The Sprig Adventure Series harnesses the natural energy of push- and pump-action play to power lights and other electronics — all without batteries. Adventure Guide characters wearing LED-lit hats plug into durable, attractively designed vehicles and engage preschoolers with audio that guides them through exciting adventures as they play. Launch date: Fall 2008.
— "The sets were attractive, nicely packaged in recycled/biodegradable material, and had a rugged, tactile quality," said TDmonthly reporter Marie Raven, also a buyer for Over the Rainbow in Anchorage, Alaska, at Toy Fair 2008. "It's a small line but felt to me like an appropriate number of items for a nice in-store presentation while appealing not only to the eco-sense of our customers, but also providing active and stimulating educational play."
— "I was really impressed by all the angles that it covered," said Jennifer Klein, who in early 2008 ordered all three Sprig Toys vehicles for her store, Earth Child, in Sebastopol, Calif. Five of 24 retailers told TDmonthly this was one of their favorite lines at Toy Fair. (

Watch Video) 1/17/2008



HEXBUG Micro Robotic Creature by INNOVATION FIRST LABS, INC.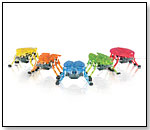 The micro-robotic HEXBUG is a tiny, obedient insect that features bump-sensor feelers that help it avoid objects in its path. It responds to clapping or other loud noise by backing up or changing direction. The HEXBUG is small enough to fit in the hand and comes in five different body types and colors including pink, blue, green, yellow and orange. Awards: TDmonthly Innovations 2008.
— According to more than 60 reviews on Amazon.com and Radioshack.com, this fun, durable toy has been rated 4 out of 5 stars due to its entertaining and educational features. It is portable for any occasion and appropriate for any age. Consumers should be careful though, as they have been known to be flimsy and easily breakable, like real bugs! (09.12.08)
— "Everyone wants one, from adults to kids," Charles Bonner, owner of Heights Toy Center in Little Rock, Ark., told TDmonthly of this best seller in April 2009. "I sell 200 to 250 a month." Three of 44 retailers tagged Hexbugs as an overall best seller in late fall 2009.
— During a September 2010 survey, two of 44 retailers listed Hexbugs as their top-seller for tweens.


(

Watch Video) 2/12/2008 (MSRP: $9.99; Age: 8 and Up)



Classic Water Garden Starter Kit Eco-Aquarium by WILD CREATIONS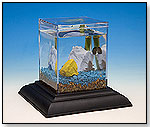 This balanced ecosystem offers a low-maintenance way for children or adults to enjoy an aquarium environment. It comes complete with water, a snail, two little frogs, food and care pack. The water in the aquarium only has to be changed every five or six months.
— ''We sold about 660 during the year," Marc Holcomb, owner of Toys & Co. in Greensboro, S.C., said in autumn 2010. Dave Campbell of Amazing Toys in Great Falls, Mont., sells approximately 12 per month.
— "I brought in 20, and in two weeks it sold out. I brought in 20 more and it sold out," Gage Brownell, manager of Belmont Toys in Belmont, Mass., told TDmonthly in March 2009 about the EcoAquariums he discovered at Toy Fair the month before. Molly McMullin of Twirl in Taos, N.M., reported sales of about 70 a month in March 2009.
— "Everyone was excited about them," Jeanne McCullough, owner of Children's Store Inc., said following ASTRA Marketplace in June 2009.
— In late summer/early fall 2009, three of 38 retailers named EcoAquariums as a best-selling science and nature product, noting sales of 18 to 60 a month. "We were hesitant to bring them in. We didn't want to be a pet store. But it's a neat idea. It's low maintenance. It's something the parents and kids can agree on," Gary Green of Toy Box of Asheville in Asheville, N.C., told TDmonthly.
Awards: 2010 Tillywig Top Fun; Parent's Choice Award 2010
Past Videos: Toy Fair 2009 (

Watch Video) 2/16/2009 (MSRP: $30.00)



Snap Caps® Rock Star by m3 girl designs LLC



Snap Caps® are the original, interchangeable, magnetic bottle cap necklace. This collection of Snap Caps offer designs for the girl rock star, from images of zebra stripes to hot pink iPods. (

Watch Video) 3/4/2009



Pumponator Balloon Pumping Station by PUMPONATOR INC.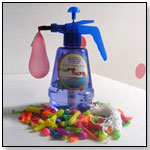 The Pumponator Balloon Pumping Station is designed to make filling balloons with water or air easily. The Pumponator Balloon Pumping Station is filled with 500 balloons and strings for tying. Just fill the container with water, pump, press and fill the balloon. Leave out the water for indoor balloon fun.
— Two of 43 specialty retailers named Pumponator as a top seller in late spring 2010. Four of 40 surveyed retailers claimed Pumponator as an overall top seller in June 2010.
— "I order 144 at a time (and am on my) fourth order since May," Barbara Fineblum, owner of Barston's Child's Play in Baltimore, Md., told TDmonthly in early summer 2010.
— In a summer 2010 survey, seven of 38 toy and gift retailers named Pumponator an overall top seller. Terri Bracken, owner of Earth Explorer Toys in Zionsville, Ind., told TDmonthly in July 2010 that her store sold 120 Pumponator stations in less than two months. The same month, Kathy Burns, manager of My Favorite Toy Store in Downers Grove, Ill., called Pumponator "a neat, neat item, and very price-appropriate."
— ''We sell about 500 per year at all 3 stores,'' Marc Holcomb, owner of owner of Toys & Co. in Greensboro, S.C., told TDmonthly in autumn 2010.
AWARDS: 2010 TDmonthly Top Seller (

Watch Video) 10/16/2009 (MSRP: $19.95)



Rue, The Monster of Insecurity by THE MONSTERS IN MY HEAD LLC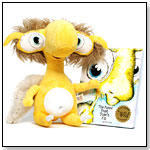 Rue, the irresistible Monster of Insecurity hides behind flowers because he thinks he's different. He doesn't realize that his unusual features make him interesting. He thinks that his nose just doesn't "fit" with his shaggy hair, cheese curl ears and fluffy wings. How silly! What he needs is a little encouragement. Won't you tell him he is perfect just the way he is? Rue is a part of the The WorryWoo Monsters series that tackles complicated feelings and transforms them into quirky, loveable characters. Rue and "The Nose That Didn't Fit" won a 2009 Excellent Product Award from iParenting Media and the 2009 Toy of the Year Award (category: storybook and plush) from Creative Child Magazine, as well as a TDmonthly Top Toy Award 2009.
Where to Buy: My Toy Smart (

Watch Video) 8/1/2008 (MSRP: $21.50; Age: 3 and Up)



---
---


Copyright © 2020 TDmonthly®, a division of TOYDIRECTORY.com®, Inc.