September 19, 2020

May 2012 | Vol. XI - No. 5


Travel Toys
These travel toys and travel games will keep kids occupied during summer vacation.
Family vacations can be a blast — but getting there is another story entirely! Keep kids occupied and happy while traveling with these mass-market and specialty travel toys and games, both recently added and classic:
Artist on the Go by BEGINAGAIN


A complete art kit for families on the go. This natural cotton carry case with built in crayon holster, pencil holders and pockets is fully equipped with a 6"x9" recycled paper notepad, 10 soy crayons, 5 drawing stencils including a 6" ruler (metric and inches), 2 wood pencils, and plenty of storage! Perfect for restaurants when waiting for your food, airports, and road trips. This 8"x10"carry case fits in a baby bag and has built in handles for the little ones to carry proudly. Made from Plants - primarily natural cotton, soy, paper. 4/11/2012 (MSRP: $25.00; Age: 3 and Up)



Rubik's Void Puzzle by WINNING MOVES GAMES



The Void is puzzling to comprehend because there's a hole right in the middle of it. Consumers can literally put their finger right through the center of the Void. The object is to solve each side, much like one would a standard Rubik's Cube, but that's where the similarities end. The Void has different colors, rounded edges, and requires a different solution. Launch date: February 2012.
Awards: 2012 ASTRA Best Toys For Kids Nominee 3/19/2012 (MSRP: $14.95; Age: 8 and Up)



Farkle Flip by PATCH PRODUCTS INC.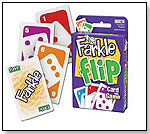 There's no dice to roll in Patch's new version of Farkle. In Farkle Flip™ The Quick-Grabbing, Risk-Taking Card Game™, Patch puts a new spin on the popular family game by turning it into a card game. Players flip cards over, hoping to make combinations to help them win using their own cards or another player's cards. If a player draws a Farkle, they lose their points for that round. But they can score those Farkle cards later – definitely a new twist on Farkle. Launch date: 2012. 1/4/2012



Perplexus Original by PATCH PRODUCTS INC.



The first member of the Perplexus family, this see-through sphere houses a 3-D labyrinth game with 100 barriers, turns, twists and cliffhangers that serve as obstacles to getting a small steel ball to the end. Invented in 1970 by Michael McGinnis, a design teacher, Perplexus helps develop motor and dexterity skills, along with hand-eye coordination.
― As of 12/17/2012 this product had 4.4 out of 5 stars from 393 reviews on Amazon.com and was No. 12 on the top 100 bestselling toys and games.
— At Izilla Toys in Seattle, "Perplexus is selling really, really well for us," Co-owner Jude Larene told TDmonthly in late fall 2009.
— In summer 2010 this game was a top-10 best seller at Dancing Bear Toys in Asheville and Hendersonville, N.C..
Awards: 2012 Parents' Choice Awards - Silver, 2011 Time Magazine – 15 Smartest Toys for Young Geniuses, 2011 Parent Tested Parent Approved – Seal of Approval, 2011 Grand Prix Kidexpo – Elu par les Parents (Parents'Choice), 2011 Children of Museum of Indianapolis – Top 10 Toys of 2011, 2011 Canadian Toy Testing Council – Children's Choice, 2011 Babble List – Best Kids Toys, 2010 Toy Insider – Hot 20, 2010 The National Parenting Center – Seal of Approval, 2010 Prémio Brazil – Award of Excellence, 2010 Parents' Magazine – Top Toys, 2010 NAPPA – Gold, 2010 ASTRA – Best Toy for Kids 12/2/2009 (MSRP: $24.99; Age: 6 and Up)



Spot It! On The Road by BLUE ORANGE GAMES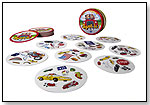 Everyone's favorite travel-size game has officially hit the open road. Each colorful symbol is something one would see on a typical road trip. This edition has a new way to play: One card is turned over, and all players scan the scenery for things that match the symbols from the card. Spot it to win.
— Karl Steinbach, owner of Rainbow Toys in Falmouth, Maine, told TDmonthly in an April 2013 survey that this version of Spot It! is a best-selling travel toy. 12/16/2011 (MSRP: $12.99; Age: 7 and Up)



BANANAGRAMS® by BANANAGRAMS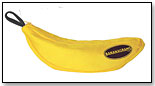 The fast-moving word game consists of 144 ivory-like letter tiles in a zippered banana pouch. Players place the tiles face down on the table and randomly select 21 tiles. They turn their letters right-side up simultaneously and proceed to form as many intersecting and interconnecting words as possible, rearranging their own letters as many times as desired throughout the game. Awards: TDmonthly Top Seller 2007; 2009 TOTY Game of the YEAR, 2006 Oppenheim Toy Portfolio Gold Seal; 2007 iParenting; 2007 Parents' Choice Recommended; 2007 Dr. Toy Best Products. (Read Review)
— This product has been making the TDmonthly Best-sellers lists since 2007.
— As of 05/13/2011 this product had 4.8 out of 5 stars from 456 reviews on Amazon.com.
— Eight of 66 retailers vouched for its best-selling status in May 2008; seven of 63 did in Sept. 2008. Shani Watmough of Planet Toys in Rockland, Maine, said her store sells 60 per month. Fifteen of 38 named it a top-selling game in Feb. 2010.
— As of April 5, 2010, Bananagrams had spent 570 days in the top-100 best-selling toys and games on Amazon.com.
— According to owner Brett Sommer of Figpickels Toy Emporium in Coeur d'Alene, Idaho, "It was the 2009 game of the year. The brilliant packaging definitely helps this product." (

Watch Video) 6/19/2006 (MSRP: $14.99; Age: 7 and Up)



Newspaper Dot-to-Dot Vol. 8 by MONKEYING AROUND


The Greatest Newspaper Dot-to-Dot Puzzles volume 8 is a new 5.5" by 5.5" pocket-sized collection of weekly dot-to-dots that have been published in various USA and international newspapers. Includes difficult dot-to-dot puzzles with no clues as to the final form. The images slowly emerge as the puzzler connects the dots. In addition to traditional connect-the-dots, it includes unique innovations such as connecting odd/even numbers and multiple line variations. 40 pages long with 36 puzzles. (

Watch Video) 1/12/2011 (MSRP: $5.95; Age: 8 and Up)



My Friendship Bracelet Maker Traveler by CROREY CREATIONS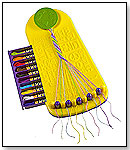 Great for backpacks and carry-ons, this fun and friendly, go-anywhere travel buddy puts an international twist on the message of friendship. Globe Clip keeps bracelet in place during knotting. Numbered slots keep threads organized for written and video instructions featured online. Slide-out drawer features 20 pre-cut Prism® threads in 10 different colors. Easy instructions included. Launch date: February 12, 2012. 2/10/2012 (MSRP: $16.99; Age: 6 and Up)



Travel Tangoes — NEW by SMART TOYS AND GAMES INC

Magnetic Travel Tangoes® delivers all the fun of traditional Tangrams in a compact form. Includes seven magnetic puzzle pieces, an integrated play surface, two wire-bound puzzle booklets with 24 puzzles and a snap closure. Choose the puzzle you want to solve. Magnetic pieces stay in place on play surface. If you get stumped, just flip the page to see the solution. Great for short trips, long journeys or even staying at home. Available in three themes: Animals, People and Objects. 5/29/2007 (MSRP: $9.99; Age: 5 and Up)



Travel Buddies - Horse by NOODLE HEAD INC.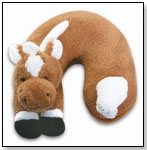 Travel Buddies™ neck pillows are designed to comfortably support sleepy heads on planes, trains, and automobiles. 11/1/2010 (MSRP: $14.50; Age: 1 and Up)



Paper Dolls - Baker & Painter " A Day in Paris" by eeBoo corp.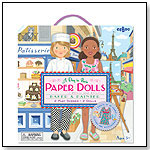 "A Day in Paris" is the latest in eeBoo's award-winning Paper Dolls' series. The set comes two 8 1/4" tall dolls - one is a baker, the other a painter - and a colorful 2-sided stand-up scene featuring a bake shop on one side and a Parisian street on the other. Two sheets of re-usable electro-static sticker clothes and accessories suit up the dolls to bake, paint, or stroll cobble-stoned city. Launch date: January 2012. 12/29/2011 (MSRP: $15.00; Age: 5 and Up)



Find It At the Beach by FIND IT GAMES



Ever lose something on a sandy beach? Find it at the Beach was released in the summer of 2006 featuring dozens of different sea creatures as well as different items you might find on a beach. With attractive blue ends and the same outstanding quality, Find it At the Beach will be a must have addition to your Find it collection. Now you can enjoy the beach all year round! 9/22/2006 (MSRP: $20.00; Age: 8 and Up)



---
---


Copyright © 2020 TDmonthly®, a division of TOYDIRECTORY.com®, Inc.