November 30, 2021

January 2013 | Vol. XII - No. 1

---
TDmonthly Seal of Approval - Educational / Science
See the TDmonthly Seal of Approval winners for the Educational / Science Toys category below:

Go back to the main article
Snap Circuits XP by ELENCO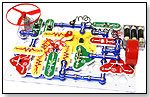 Kids can build and program their own computer. As easy as snapping together the circuits and downloading Elenco's programs. Kids can write their own programs using Basic commands or flowcharts. Includes over 100 projects and over 50 parts. A great introduction to microcontrollers and how they are used in the world around us. Requires 3 "AA" batteries.
Awards: 2013 TDmonthly Seal of Approval 4/24/2012 (MSRP: $99.99)



Rocks by SCIENCE WIZ / NORMAN & GLOBUS INC.



Relate rocks to the history of the planet. Uses exciting eruptive experiments to foster comprehension. Mold and slice open a model of the earth, Create a lava fountain to explore density, Spew a volcano, Make pyroclastic eruptions, Discover which rocks will float and which will burn, Identify, break & display volcanic rocks, Sediment sedimentary rocks, Acid test rocks, Explore metamorphic rocks, and Form fossils.
Awards: 2013 TDmonthly Seal of Approval
— John Blair, owner of Science Safari in Cary, N.C., told TDmonthly in a late Summer 2012 survey that Norman & Globus products "are perennial. I continuously do well with these." 4/18/2012 (MSRP: $19.95; Age: 8 and Up)



Match It! - First Words Memory by THE LEARNING JOURNEY INTERNATIONAL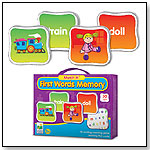 Match It! First Words Memory is a fun memory game that will challenge problem solving and develop memory skills of young children as they try to find a pair of matching cards. Bright, colorful illustrations help children learn first words through images and reading.
Awards: 2013 TDmonthly Seal of Approval 6/8/2012 (MSRP: $11.99; Age: 3 and Up)



Snap Circuits LIGHT by ELENCO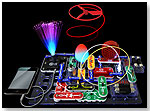 Snap parts together to build different circuits, and watch the different pieces light up. Includes fiber optics over a light organ that can be connected to an iPod; the lights will flash to the beat of the music. Includes strobe lights with different plates so kids can experiment with strobe patterns, white LED lights, glow in the dark and lighted fan blades, a light up egg, and more.
Awards: 2013 TDmonthly Seal of Approval

Where to buy:
NORTH EAST
SOUTH 5/25/2012 (MSRP: $75.00)



Ultimate Volcano Science Kit by DISCOVER WITH DR. COOL



Discover with Dr. Cool turned this classic science experiment into the ultimate hands-on volcano experience. First you'll decorate the 7" ceramic volcano with the brush and paints included in the kit. Then kids'll make the volcano erupt over and over with the eruption powder and red lava coloring also included. Plus they'll get to examine 3 genuine volcanic specimens including: a real geode, an obsidian arrowhead, and a floating piece of volcanic rock called pumice. The information guide will teach kids all about their specimens as well as how volcanoes form and why they erupt. Also included is an activity booklet with 10 fun games, puzzles, and challenges to complete. Because everything is included in the kit, kids won't need to run to the store for additional supplies. If they're doing this project for the science fair, they'll love how nice the ceramic volcano looks-it's way better than the paper mache volcanoes. This is the perfect science kit for anyone interested in geology, earth science, or volcanoes. Launch date: August 2012.
Awards: 2013 TDmonthly Seal of Approval, 2012 Kids Product of the Year, Creative Child Magazine; 2012 Gold Award, Family Review Center;2012 Seal of Approval, Family Review Center. 10/16/2012 (MSRP: $19.95; Age: 6 to 12)



---
---


Copyright © 2021 TDmonthly®, a division of TOYDIRECTORY.com®, Inc.