---
TDmonthly Top Toy: Seal of Approval Winners
High-quality, Innovative Products with High Play Value Honored
TDmonthly Magazine is excited to announce our new recognition program for outstanding toys, the TDmonthly Top Toy: Seal of Approval. Over the course of each year our staff researches thousands of toys. We've selected our favorites from 2012 to be honored in our very first TDmonthly Top Toy: Seal of Approval awards, to share with our 31,700+ unique monthly visitors. We hope the TDmonthly Top Toy: Seal of Approval will help retailers and consumers alike make the best possible choices when deciding which toys to buy.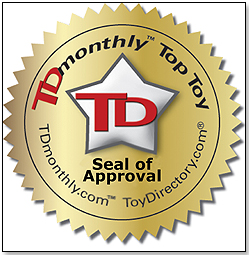 Check out the award-winning products by clicking on the different categories below. Scroll down to learn more about our selection process and how you can submit your products for the TDmonthly Top Toy: Seal of Approval.





No nominees or winners paid a submission fee to be considered or chosen, and we strictly limited the number of award winners, evaluating products based on the above criteria, as well as favorable review from retailers, consumers, experts or TDmonthly staff.

How can your toy get a chance to win a TDmonthly award?

TDmonthly considers the following criteria when evaluating product submissions:


Safety. The product meets existing toy safety standards and has been tested and certified accordingly.
Age-appropriateness. The product is tested, marketed and labeled for the appropriate age range.
Developmental and/or Educational Value. The product contributes to a child's emotional, physical, social and/or academic development.
Quality and Durability. The product is well made of quality materials and has a long lifespan.
Innovation. The product exhibits unique qualities and/or new manufacturing processes, concepts or materials that set it apart from existing options.
Specialty Focus. The product is at least 80% devoted to the specialty market. This means that 80% of the product's distribution is through independent channels (i.e. not mass-market stores).
Best-seller Status. Based on TDmonthly's surveys of independent toy retailers, the product or line has shown itself to be a solid seller in the specialty market.
Presentation. The product is nicely packaged with appropriate on-pack claims and/or interior instructions, and features a safe, attractive design.
Eco-friendliness. Whether through the product's construction, packaging, utility or educational motive, it exhibits environmentally friendly initiatives in support of a greener earth.
Social Awareness. The product carries with it a charitable aspect and/or helps children better understand the world in which they live.

Product Submission
There is no fee to submit for TDmonthly Magazine's awards program. Simply send a (non-returnable) product sample to:

TDmonthly Top Toy: Seal of Approval
12340 Santa Monica Blvd. #226
Los Angeles, CA 90025

If your product is not already on our site (search for it here), please enter it into our system via our online product submission survey. When you complete the online submission form for each product, it will ask that you send an image of the product via email. Images must be 300 dpi JPEG; at least 500 x 500 pixels in size and JPEG ONLY. Images MUST be received for all submitted products in order to be considered for an award.

Writer's Bio:
Justina Huddleston graduated Magna Cum Laude from Emerson College with a BA in Writing, Literature, and Publishing in 2009. After graduating she was the on-site director of the Boston Children's Museum gift store for a year, selling educational, developmental, and creative activity toys that tied in with the museum's exhibits. Justina also interned at children's book publisher Candlewick Press before moving from Boston to Los Angeles, where she is now Editorial Director of
TDmonthly Magazine
.
Read more articles by this author
THIS BANNER IS AN AD:
---
---