May 8, 2021

January 2013 | Vol. XII - No. 1

---
Donated Games Help Santa Teach
Last Educational Giveaway Brings Holiday Cheer to Arizona Kids
TDmonthly's "2012: A Year of Charity" educational giveaways sleighed straight into the holiday season as the last winning retailer wound up her charity events. Kate Tanner, owner of Kidstop Toys in Scottsdale, Arizona, had a busy autumn because she opened a new Baby store, so she used the generosity of the ten donors to make Christmas extra special for her local kids in need.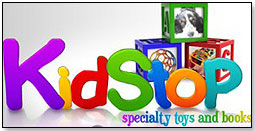 Broadcast-Worthy Toys

Kate matched the $5,000 in donations from Crossen Creations, FindIt Games, b. dazzle inc., PlayMais Canada Inc., Amazing Science!, Moving Picture Books, Education Outdoors, We R Fun Games, Uncle Skunkle and The Spelling Bee Game, with another $5,000 of donations from her store and other donors. She then partnered with OPAC office supply, which used its truck to deliver toys to a Sanderson Ford Lincoln dealership that sponsors a toy drive every year and to the Fire Chief's office. Local channels 3 and 15 (an ABC affiliate) showed up to cover the giveaway at the firehouse.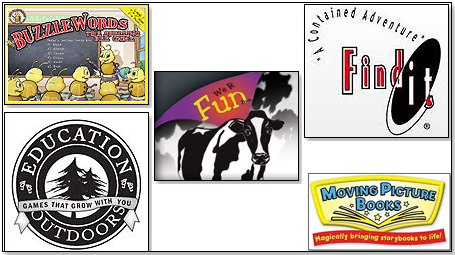 "[Our employee] Tim shouted out the vendor's names while the cameras were running," said Kate. She hasn't had a chance to watch the news reports yet, but will be sending TDmonthly the links shortly (check back soon)!

"The Fire Department really liked Education Outdoor's S'Mores game," she said. They told her they are thinking of using it as part of an education program.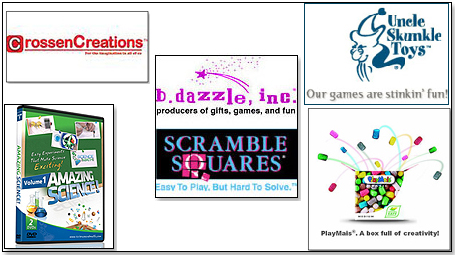 Kate is especially excited about coverage from Channel 15, which often forwards stories to its other affiliates.

"I once got a call from Marcia at Faber-Castell because we'd highlighted her toys during a segment on our store, and it was rebroadcast in Cleveland, where she saw it!" said Kate.

Momentum for the New Year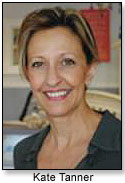 The giveaways added luster to a holiday season that was "decent," said Kate. Though store sales took a dive during the first 8 days of December — part of a 3-year trend that grew out of heavy online shopping during that period — once Amazon.com's free-shipping deals ended the second week of December, in-store sales exploded.

With solid sales, a new store, and great publicity thanks to the generosity of TDmonthly's donors, Kate is looking forward to a fabulous 2013!

Read about the other three winning retailers' educational giveaways here.

Find out more about the wonderful toys that helped thousands of kids this back-to-school and holiday season:
Life on the Farm board game by WE R FUN



Hilarious! Combines fast "moo"-ving action and authentic family-farm mishaps for "udder"-ly unpredictable fun! Teaches basic economics, yet is simple to understand and play. A REAL family game - designed so ages 8 to 108 can easily play together, comfortably! First to "Retire" wins! "Life on the Farm" has won a National Parenting Center "Seal of Approval 2012"; Best Family Fun Tillywig Toy Awards; National Teacher's Choice "For the Family" Award; "Outstanding Product"and "Hot Product" *iParenting Media Awards, among many others. 9/1/2004 (MSRP: $24.95; Age: 8 and Up)



Buzzlewords® The Spelling Bee Game Level 1 - 1st & 2nd grade by THE SPELLING BEE GAME INC.


This is a fast-paced, fun Spelling Board Game that teaches spelling, vocabulary and reading as it's played using spelling words taken directly from any child's grade-appropriate spelling list. Also available in challenging Adult level for those who think they can spell but might find out otherwise.The fast-paced game teaches spelling, reading and vocabulary. "There are no other board games on the market which allow each player to spell words selected from their own grade level and which combine elements of chance, strategy and spelling knowledge in a way that makes learning to spell fun and easy," Richard J. Sullivan, president of The Spelling Bee Game, Inc., told TDmonthly. Launch date: July, 2009.
Awards: 2010 Creative Child Magazine Game of the Year, Children's Educational Board Game Category; 2011 Creative Child Magazine, Game of the Year, Children's Educational Board Game Category. (

Watch Video) 6/29/2009 (MSRP: $14.95; Age: 6 to 8)



Circus Theme Boxes by PLAYMAIS CANADA INC.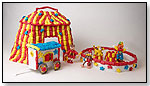 PlayMais is a biodegradable crafting material made from corn and colored with food coloring. It is manufactured in Germany, 100% safe, and biodegradable. PlayMais stimulates children's imagination and creativity, trains fine motor skills, and develops social group skills. PlayMais can be shaped, squeezed, cut and all it takes is a little bit water to create unlimited fun. Children can build in 2 or 3 dimensions, or wherever their imagination takes them. 6/14/2012 (MSRP: $21.99)



Serengeti Scramble Squares by b. dazzle, inc.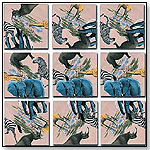 The sophisticated colors of the realistic Serengeti Scramble Squares puzzle make it among the best selling styles of Scramble Squares overall, appreciated by enthusiasts of African art and nature, naturalists and conservationists. This puzzle is also especially popular with children.
Awards— Dr. Toy's Best Classic Toys for 2011 3/7/2011 (MSRP: $9.95; Age: 4 to 12)



Fishing Camp the Game by EDUCATION OUTDOORS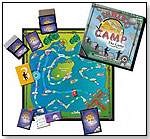 Fishing Camp is a game where both children & adults can play & learn fun facts about Fishing. The game is designed to grow with the player, starting at level one questions, which are primarily identification of fish and fishing tackle. As the players increase in their knowledge about Fishing, they grow into the higher level questions. A fun & educational game where parents & children can play to see who catches the first fish and gets back to the docks. Game includes: 1 game board, 200 game cards(400 questions, and 100 fun facts), 1 decoder, 8 game characters, 1 die, 16 level cards, and 1 GPS card. Launch date: 2012. (

Watch Video) 2/15/2012 (MSRP: $24.99; Age: 4 and Up)



Find It® Deluxe Edition by FIND IT GAMES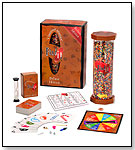 Now the whole family can play a fast paced hidden object game with the Deluxe Find It Game containing over 70 hidden items. The Deluxe Find It hidden object game includes a deck of cards, a spinner, a timer, the check off pad, and instructions for 6 ways to play and variations to adapt to younger players. The basic play starts with each player being dealt seven cards that vary in point value. At the beginning of each turn use the spinner to determine the action required prior to play (add points, miss a turn, trade hands etc.) Look fast! Players will have 30 seconds to try to find a many items as possible. Play continues until someone finds all of their items and runs out of cards.
Awards: 2010 Creative Child Magazine Seal of Excellence; Tillywig Sterling Fun Award Winner 5/30/2012 (MSRP: $32.00; Age: 8 and Up)



Eight Silly Monkeys by MOVING PICTURE BOOKS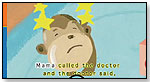 By combining high quality animation, rich narration, sound effects and music, Moving Picture Books provide a fun and educational digital reading experience for children ages 0-7. There are 38 titles — both classic stories and new favorites — each available in English, Spanish and English Read-Along-Text versions. Our books can be purchased as digital downloads, or DVDs. (

Watch Video) 1/27/2010



Amazing Science! - Volume 1 by MATH TUTOR DVD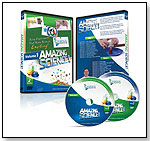 Learn fundamental principles of science through Amazing Science Experiments. Viewers learn about electricity, magnetism, heat, temperature, pressure, surface tension, buoyancy, and much more. For every demonstration, a complete materials list is given, and each experiment features multiple camera views so kids can see exactly what happens. Most importantly, every concept is explained in a step-by-step fashion. Viewers not only be amazed - they'll understand the science behind every experiment. 2/6/2012 (Age: 7 to Adult)



Magical Rainbow Boardgame and Playset by CROSSEN CREATIONS



The Magical Rainbow is a magnetized game that takes children on a special adventure through its lands. Players race to a pot of gold, watching out for Paddy the Leprechaun, who on every turn travels from land to land protecting his gold. Throughout the journey players will try to collect gold coins, avoid the Leprechaun and his lucky trinkets, and use strategy to win the game. This game is designed to teach children color recognition, sequencing, patterns, counting, strategy and sharing. "It's more than a board game, it's a tool for releasing the imagination in every child," Crossen Creations President Frank Crossen told TDmonthly.
Awards: 2009 Family Choice Award 6/9/2009 (MSRP: $24.99; Age: 4 and Up)



Bambooga® - The Human Puzzle Game by UNCLE SKUNKLE TOYS, INC.



In this human-puzzle game, players use color wristbands to bind their hands and feet to one another, leading to a sticky mess of people. The goal of the game is to crawl, walk, scoot or jump one's way towards the finish line, all the while maintaining the connections determined by a shake of the Bambooga Shaker. Bambooga is safe and eco-friendly, adhering to "green-" manufacturing practices with second-generation, sustainable bamboo construction. "Bambooga is the result of a social-entrepreneurship project sponsored by Kids Ark Foundation of Thailand,...an organization that hopes to find a solution to the AIDS epidemic in Thailand," Uncle Skunkle Toys Inc. Marketing and Communications Director Maya Cardoso told TDmonthly. A portion of "the proceeds from the manufacturing of Bambooga [is] recycled back to Kids Ark and [goes] towards projects to raise education and standards of living." Launch date: April 2008.
Awards: Bambooga is a winner of "Dr. Toy's 100 Best Picks Children's Products for 2009" and also won Creative Child Magazine's "Toy of the Year Award" for 2008. Bambooga has also been recognized with a favorable review by The Old Schoolhouse, a magazine for homeschooling families. (

Watch Video) 11/30/2007 (MSRP: $34.99; Age: 8 and Up)



---
---


Copyright © 2021 TDmonthly®, a division of TOYDIRECTORY.com®, Inc.