---
Educational Giveaways Impact Thousands
Ten Companies Spread Knowledge Throughout Country
Part II of TDmonthly's "2012: A Year of Charity" got more than 1,000 unique educational toys into the hands of teachers and students across the country, thanks to generous donations from Crossen Creations, FindIt Games, b. dazzle inc., PlayMais Canada Inc., Amazing Science!, Moving Picture Books, Education Outdoors, We R Fun Games, Uncle Skunkle and The Spelling Bee Game. The donations were facilitated by the hard work of four specialty toy store owners who won the chance to give the toys to their local schools and charities.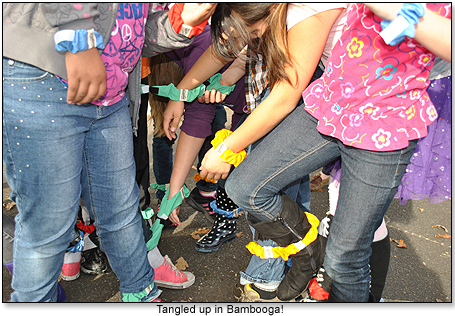 No One Left Out

Phil Wrzesinski of Toy House & Baby Too, a Jackson, Michigan favorite since 1949, split the toys into 25 boxes. One went to each of the 20 school districts in Jackson County and five were won in a drawing by customers who donated them to Big Brothers/Big Sisters, Toys for Tots, and two local children's camps.

"The coolest thing about it was just the way in general people responded," Phil told TDmonthly. "The schools were thrilled and tickled pink. Students sent us thank-you cards. But really neat was the response from customers and people saying they love Toy House, so it was a big plus for us."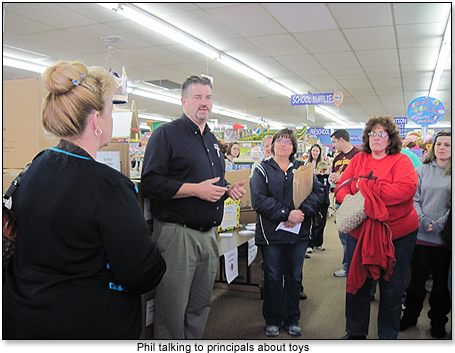 Phil linked the giveaways to Toy House's celebration of Neighborhood Toy Store Day to maximize exposure for the donating manufacturers. One photo of all the principals gathering toys from the giveaway has attracted 2,400 views on the store's Facebook page, and plenty of comments from customers. The giveaways were mentioned in a local newspaper article from M-Live on the store's numerous events and in a broadcast report by the local NBC affiliate.

Watch a a video of the schools collecting their toys from Toy House

Thinking Outside the 10 Boxes

Kate Tanner, longtime owner of Kidstop Toys in Scottsdale, Ariz., used her PR firm to come up with an extra spin for the giveaways. She had to delay her donations until after she closed a furniture store and opened a new Baby store, so they'll take place during the holidays – when many other companies are donating toys. So they're looking for a corporate sponsor to partner with to get the maximum amount of media coverage possible.

"We're not looking for photos out of this," Kate told TDmonthly. "We're looking for a video that will go viral."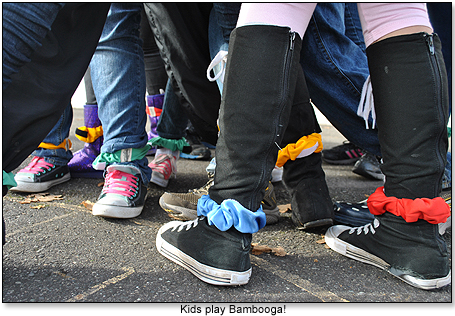 The giveaways will take place the second week of December, so check back here to see whom Kate partnered up with to promote the ten donating manufacturers and the charities who receive the toys.

Both Tina Schwindt of Fairhaven Toy Garden in Bellingham, Wash., and Denise Teague of Fun Things Etc. in Waynesville, NC, held their giveaway events in October (Read the article here).

Feedback on Toys

Phil said he and his customers have been intrigued by Bambooga by Uncle Skunkle and the Deluxe Find It! – neither of which he has carried before, even though he sells other Find It versions. He already carries the Education Outdoors games and Life on the Farm by We R Fun – all of which are good sellers for him.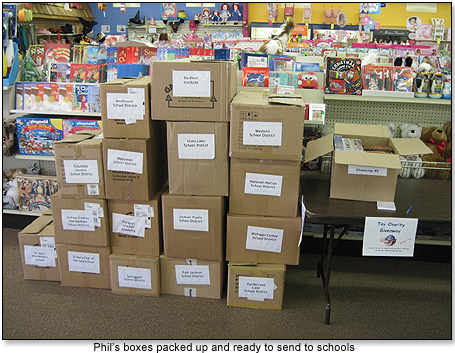 Tina, who is teaching educators and kids to play all of the donated games, provided this article's photos of kids at Carl Cozier Elementary playing Bambooga and students from the Life Skills class at Sehome High School enjoying Deluxe Find It and the Magical Rainbow boardgame.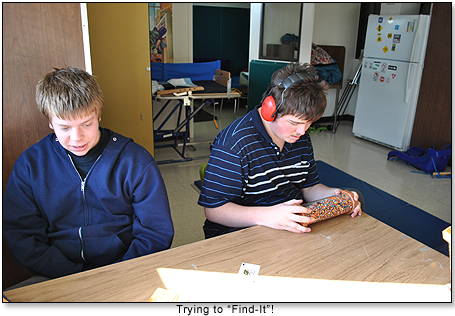 Denise's customers loved the toys, too. Her window display of the donations attracted so much attention that customers came in specifically requesting those products.

She got glowing feedback on Crossen Creations' Magical Rainbow:
"[A] speech teacher said it was great for kids because it gave them conversation interactions to work on the words," said Denise.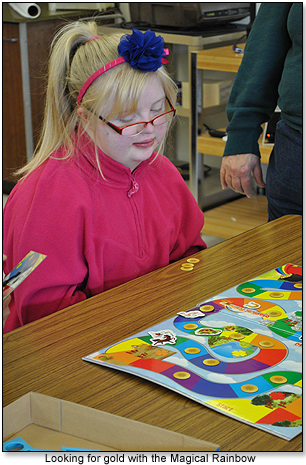 Stay tuned for details on the other games and DVDs, too!

Here are all of the generously donated products:







Hilarious! Combines fast "moo"-ving action and authentic family-farm mishaps for "udder"-ly unpredictable fun! Teaches basic economics, yet is simple to understand and play. A REAL family game - designed so ages 8 to 108 can easily play together, comfortably! First to "Retire" wins! "Life on the Farm" has won a National Parenting Center "Seal of Approval 2012"; Best Family Fun Tillywig Toy Awards; National Teacher's Choice "For the Family" Award; "Outstanding Product"and "Hot Product" *iParenting Media Awards, among many others.

.

AD
---






.

AD
---






PlayMais is a biodegradable crafting material made from corn and colored with food coloring. It is manufactured in Germany, 100% safe, and biodegradable. PlayMais stimulates children's imagination and creativity, trains fine motor skills, and develops social group skills. PlayMais can be shaped, squeezed, cut and all it takes is a little bit water to create unlimited fun. Children can build in 2 or 3 dimensions, or wherever their imagination takes them.

.

AD
---






.

AD
---






Fishing Camp is a game where both children & adults can play & learn fun facts about Fishing. The game is designed to grow with the player, starting at level one questions, which are primarily identification of fish and fishing tackle. As the players increase in their knowledge about Fishing, they grow into the higher level questions. A fun & educational game where parents & children can play to see who catches the first fish and gets back to the docks. Game includes: 1 game board, 200 game cards(400 questions, and 100 fun facts), 1 decoder, 8 game characters, 1 die, 16 level cards, and 1 GPS card. Launch date: 2012.

.

AD
---






.

AD
---






By combining high quality animation, rich narration, sound effects and music, Moving Picture Books provide a fun and educational digital reading experience for children ages 0-7. There are 38 titles — both classic stories and new favorites — each available in English, Spanish and English Read-Along-Text versions. Our books can be purchased as digital downloads, or DVDs.

.

AD
---






Learn fundamental principles of science through Amazing Science Experiments. Viewers learn about electricity, magnetism, heat, temperature, pressure, surface tension, buoyancy, and much more. For every demonstration, a complete materials list is given, and each experiment features multiple camera views so kids can see exactly what happens. Most importantly, every concept is explained in a step-by-step fashion. Viewers not only be amazed - they'll understand the science behind every experiment.

.

AD
---






.

AD
---






.

AD
---
THIS BANNER IS AN AD:
---
---