October 25, 2021

November 2015 | Vol. XIV - No. 11

---
Top-10 Most-Wanted Tween Toys
With additional reporting by Brenda Ruggiero

As kids get older, it's harder to keep them interested in your store. That's where these best-selling tween toys come in!

*No manufacturer paid to be included in this list. All products listed were designated by editorial staff without regard to the company's relationship with TOYDIRECTORY.com/TDmonthly Magazine.
Style Me Up 2-in-1 Perfect Nail Markers by WOOKY ENTERTAINMENT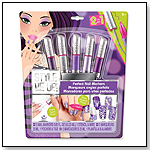 Create stylish, detailed designs for nails with Wooky Entertainment Style Me Up! Perfect Nail Markers! Includes: 5 colors of nail polish, color instructions and ideas. 4/29/2014



Style Me Up! Friendship Bracelets by WOOKY ENTERTAINMENT

Make your own friendship bracelets using the double-sided pattern wheel and up to 8 colors of thread and a variety of beads. Up to 14 different possible styles. 11/21/2008



LEGO Creator Treehouse 31010 by LEGO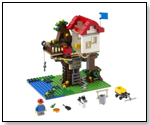 Create your very own treetop hideaway with the 3-in-1 LEGO Creator Tree house. Open the secret trapdoor and climb up the fold-down ladder. Use the gray bucket to lift supplies up with the winch. Fill the red bucket with water and tow it up to keep unwanted guests away. This detailed playhouse includes a yellow wagon for transporting all your favorite things to your treetop hideaway, a hollow tree for storing your secret treasure map and a dog. Remove the roof for easy access to the storage area and sleeping bag, or detach the entire Tree house. Rebuild into a cute lakeside hut with a jetty and pizza oven or a 2-story farmyard barn with a garden and wheelbarrow using the supplied alternate building instructions. Includes a child minifigure. 10/26/2015 (MSRP: $29.99)



4M Tin Can Robot by TOYSMITH



Kids can recycle a soda can into a silly, walking, wobbling robot. The kit includes all the parts needed, right down to the googly eyes, except for the two AAA batteries that are required. Launch date: 2008.
— "The Tin Can Robot is a huge hit. It's from their Green Science series, which has been doing great," Jennifer Schneeweis, owner of Izilla Toys in Seattle, told TDmonthly in late August 2009. Two of 40 retailers mentioned the brand when discussing best-selling educational items in fall 2009.
― "Right now we have the Tin Can Robot for 8- to 10-year-olds and that's doing well," said Marlene, manager of Kits & Kaboodle in Carmel, Ind., when asked about her best-selling item for tween boys. Seven of 39 retailers surveyed in October 2009 said science kits are their top sellers for tween boys.
― "It's a good price point and an excellent product. It sells all the time," Priscilla Moore, owner of Mr. Fub's Party, Toys and More in Yellow Springs, Ohio, said of the Tin Can Robot and other 4M science kits in spring 2010.
— In August 2010, seven of 43 retailers told TDmonthly that Toysmith is a best-selling science and nature brand. Two retailers named Tin Can Robot as a top product.
AWARDS: 2010 TDmonthly Top Seller 5/19/2009 (MSRP: $15.00; Age: 8 and Up)



Chemistry by SCIENCE WIZ / NORMAN & GLOBUS INC.



40 page science book with materials. Candle making, water squirting, freezing thawing, glop, and mud pie experiments -- things every child should do to explore the matter of matter. 35 activities include: Capture a CO2 explosion; Squeeze an egg into a bottle; Grow crystals and more. Authors Note: When my children were small they tested the experiments that are in this book. We sorted through many, many projects and picked our favorites. In high school and college both my son and daughter loved chemistry. I took a lot of chemistry, but I never loved the field the way my children do. I think this kit and their early experiences with chemistry had a lot to do with this difference.
Awards: Creative Child Magazine Award 4/4/2014 (MSRP: $19.95; Age: 5 to 10)



PlushCraft® Owl Pal Pillow by THE ORB FACTORY LIMITED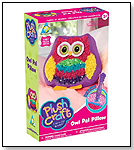 Create an Owl Pal Pillow with special glittering fabric pieces. Use the stylus to punch pretty fabric pieces and create this beautiful no-sew craft.
Awards: 2014 TDmonthly Top Toy Debut Award
— Debbie Gray, owner of Bear and Friends in Johnson City, Tenn., told TDmonthly in a July 2014 survey that Orb Factory Plush Craft Pillows are one of their store's best-selling toys.
— Barbara Fineblum, owner of Barston's Child's Play in Baltimore, Md., told TDmonthly in October 2014 that this was one of her store's best-selling jewelry and accessories items.

11/27/2013 (MSRP: $16.99; Age: 5 and Up)



Smithsonian Human Skeleton Casting Kit by SKULLDUGGERY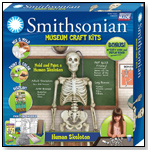 First, mix the PerfectCast mold mix in the 'mix and pour' bag and pour it into the molds. While it sets enjoy the fun, games and learning in the activity book! Unmold your creation, paint the parts and set them onto the display background - now it's ready to show off on the easel! Children will have a hands on learning adventure they can share with everyone! The Smithsonian Museum Craft Kits by Skullduggery combine creativity, discovery, and learning in one exciting artistic journey. Each kit includes everything needed to create an educational masterpiece. 8/31/2015



Foxfire Thinking Putty by CRAZY AARON ENTERPRISES, INC.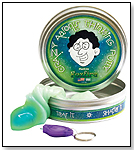 Foxfire is a shimmery glitter Thinking Putty that reveals its true colors with the included blacklight keychain (in the tin). In a flash, mint green becomes dark blue with an eerie glowing edge. In the dark it glows brightly for over 12 hours.
Best played with under regular room lighting so you can see both the daytime and nighttime colors simultaneously! Hold the blacklight keychain close to the putty to draw a dark line, and move it farther away for a blurry line. 5/29/2014 (MSRP: $14.95; Age: 8 and Up)



Squishable Fox by SQUISHABLE.COM INC.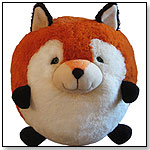 This fox is 15 inches tall and is soft and squishy. Squishables comply with U.S. ASTM F963 safety standards. They're made out of all new materials (100% polyester fiber). Squishables can be spot-cleaned. Also available in a miniature size.
Awards: TDmonthly Top Toy Award, June 2011
— Why it won: These extra soft and plush animal/pillows include a variety of characters we don't usually see in children's toys, such as narwhals. They come in several sizes, too, which make them fun for decorating a kid's or tween's room. With a range of characters from the Google Android to a T Rex, they'll appeal to boys, too.
— "Squishables are selling really well. It's a big ball pillow in the shape of animals. We sold 20 last month," Joe Berardoni, owner of Pun's Toys in Bryn Mawr, Pa., told TDmonthly in late Spring 2011.
— In a May 2012 survey, Elmer Carranza, manager of Doodlehopper 4 Kids in Springfield, Va., told TDmonthly that they sell six Squishables each month, making them the best seller in the plush category. (

Watch Video) 5/27/2011 (MSRP: $39.00; Age: 3 and Up)



Shopkins S3 Mega Pack Of Shopkin by Moose Enterprise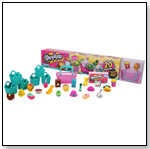 The Shopkins Mega Pack makes it easy for girls to stock up on their favorite characters! Featuring multiple characters and shopping bags, shopping basket and a collector's guide, this pack gives girls everything they need to complete their Shopkins world. Girls should be on the lookout for Ultra Rare or Limited Edition characters. Shopkins fans should shop to it now and avoid the rush at the check-out! 9/30/2015 (MSRP: $19.99; Age: 4 and Up)



---
---


Copyright © 2021 TDmonthly®, a division of TOYDIRECTORY.com®, Inc.