About Good Gifts, Inc.
Product most recently added to TOYDIRECTORY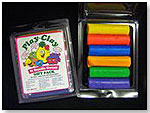 ---
Product added on: 7/5/2012
---
The Play Clay Factory began as a serious home-based business in 1989 for the Clark family. Play Clay was sold only at craft fairs and holiday markets until retail stores began requesting the product. In 1992, Linda Clark, the founder of Play Clay, moved the company to a larger facility and incorporated as Good Gifts, Inc. New packaging, more product development, and word-of-mouth helped launch Play Clay into a lucritive business for the Clark family. Within six months, the Play Clay factory's square footage doubled.

Play Clay is a soft, scented dough that isn't crumbly, doesn't stain, and comes out of carpet easily. It comes in seven wonderful fruity scents; Blueberry Blast, Cherryberry, Sour Green Apple, Pineapple Punch, Grape Bubblegum, Orange Sherbet, and Pink Lemonade. The sense of smell is our strongest memory sense, and therefore, Play Clay has been effective in helping develop children's attention spans, plus motor skills and hand-eye coordination. It is also made from all organic ingredients, but the yucky taste discourages children from eating it. Parents, teachers, and therapists recommend this wonderful product.

Our retail website is www.playclayfactory.com. If you are a retail store, please call and request a brochure and price sheet. We ship UPS to every state in the U.S.A.
No minimum is required.

Products include:
Play Clay Create-a-Critt'r: Four scented Play Clay rolls & a variety of Critt'r pieces: eyes,noses, teeth, horns, and sunglasses.

Play Clay Play Kit: Three scented Play Clay rolls, a nonstick Clay Roller, and four Clay Cutters. Color Choices: Red,Blue,Yellow or Pink,Purple,Green.

For Schools & Daycares: 5 pound Play Clay Tubs.

To View Complete Gift Line: www.playclayfactory.com
Play Clay Factory for Sale!
We make the best play dough in the world because of our unique formula. There is an unlimited market for a quality product made in the U.S.A. such as Play Clay. Please contact us if you may be interesed in taking this amazing product to the next level.
Good Gifts, Inc. 719-336-3526
Linda Clark 719-691-1987
email: PlayClayFactory@yahoo.com
You can also find Good Gifts, Inc. listed in the following categories:
Gifts
Arts & Crafts
Creative Activities
---
If you would like to request wholesale pricing, please include the following information with your request:
Your name
Your company name
Mailing address
E-mail address and phone number
Mention TOYDIRECTORY.com
---
AD