XOS
About XOS
Product most recently added to TOYDIRECTORY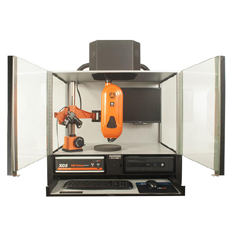 ---
Product added on: 2/6/2014
---
XOS HDXRF® analyzers offer unprecedented levels of detection of lead, cadmium, and other potentially toxic heavy metals in toys, apparel, electronics and other consumer goods. Available in stationary or portable units. Accurate. Non-destructive. Comply with ASTM F2853 and F2617.
Don't be the weak link in the supply chain. Use what the experts use—HDXRF, the next generation of XRF technology.
High Definition XRF (HDXRF) offers a quantum leap in consumer product safety compliance, delivering levels of accuracy and detection that far exceed traditional XRF analysis.
Confidently screen and quantify lead and other restricted elements at levels well below CPSIA mandates. Compliant with ASTM F2853-10. Multi-element detection for compliance with ASTM F963, EN 71, Prop 65, and RoHS.
HDXRF analyzers offer:
Multi-element detection compliant with ASTM F2853-10, the CPSIA-approved method for the quantification of lead in substrates and coatings
Limits of detection well below CPSIA mandates, so you can be confident in the results
An analysis area of 1-mm for testing of small features and irregular shapes
Separate and simultaneous analysis of coating and substrate
Rapid, precise screening to allow for more testing in less time
Sensitivity and accuracy of "wet chemistry" without destroying the product

Versatile functionality for use across the supply chain from the manufacturer to warehouses and retailers
Applications include:
Lead testing in toys
Lead paint testing
Cadmium and lead testing in jewelry
Precious metals testing
Apparel testing
RoHS compliance
QA/QC manufacturer testing
Available in Lab and Portable Handheld Units!
Now deploy HDXRF wherever you need dependable analysis:
HD Prime™
continues to set the standard for precision analysis as the only HDXRF analyzer for the compliance laboratory.
HD Mobile™
brings the unprecedented precision of HDXRF to product and component analysis anywhere in the consumer supply chain.
You can also find XOS listed in the following categories:
Services & Supplies
Safety
Inventors' Resources
Developers' Resources
General Toys
Wooden Toys
Packaging
---
If you would like to request wholesale pricing, please include the following information with your request:
Your name
Your company name
Mailing address
E-mail address and phone number
Mention TOYDIRECTORY.com
---
AD