TOY
DIRECTORY member Since 2015

Turbospoke – The Bicycle Exhaust System
About Turbospoke – The Bicycle Exhaust System
Product most recently added to TOYDIRECTORY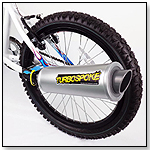 ---
Product added on: 3/4/2010
---
Turbospoke 'The Bicycle Exhaust System' is exactly what it sounds like. It's a complete motorcycle styled exhaust system for a kid's bike. It's based on the simple idea that many will be familiar with of putting a baseball card into the spokes of your rear wheel to make that engine sound.
Well we've used that simple idea and developed it to the max! The cards are now made of thin and really durable plastic material that are waterproof and last for ages. The other awesome feature is the realistic looking exhaust pipe – but this is not just for show, it actually amplifies the sound!! So it looks like the real thing and it sounds like the real thing.
What's more is that the sound can be tuned because it comes with 3 different cards which each make a different sound. It requires no batteries to make it work and the whole thing is 100% waterproof. It fits to 95% of all bikes and everything to fit it is included inside. Check out all the details and see it in action here:
www.turbospoke.com
Turbospoke 'The Bicycle Exhaust System' has been designed and developed by Tomax Ltd. Tomax Ltd is an Irish based design and manufacturing company which is owned and run by brothers Tom and Andrew Maxwell. Tomax Ltd is a young and dynamic company with a real passion for what it does; producing custom accessories for the ultimate upgrading of kids bikes. The Bicycle Exhaust System is just the first in a range of unique and cool accessories which put the fun back into cycling and provide a platform for kid's imaginations to run wild.
Turbospoke is sold in a pack of 6 and is distributed in the USA and Canada by Schylling Associates Inc, of Rowley Massachusetts. They're sales office can be contacted by phone: 1-800-541-2929.
You can also find Turbospoke – The Bicycle Exhaust System listed in the following categories:
Bicycles & Tricycles
Vehicles - Riding
---
If you would like to request wholesale pricing, please include the following information with your request:
Your name
Your company name
Mailing address
E-mail address and phone number
Mention TOYDIRECTORY.com
---
AD