TOY
DIRECTORY member Since 2000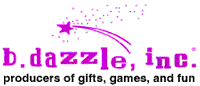 b. dazzle, inc.
Contact b. dazzle, inc.:
500 MEYER LANE
REDONDO BEACH, CA 90278
Phone: 310-374-3000
Fax: 310-318-6692
Toll free phone: 800-809-4242
E-mail wholesale inquiries to:
info@b-dazzle.com
For additional information visit:
http://www.b-dazzle.com/
About b. dazzle, inc.
Product most recently added to TOYDIRECTORY
---
Product added on: 10/5/2011
---
Our new
Candy Scramble Squares®
puzzle was chosen as "Dr. Toy's 10 Best Children's 2013 Products," and our
Elk Scramble Squares®
as a "Dr. Toy's 100 Best Children's Products for 2013."
Scramble Squares®
puzzles are among the most honored products in the gift, games and educational products industries: The
Black Capped Chickadees Scramble Squares®
puzzle was honored as among "Dr. Toy's 100 Best Products" and "10 Best Socially Responsible Products of 2012" by the Institute For Childhood Resources in San Francisco. Two
Scramble Squares®
puzzles,
"Ice Cream, You Scream"
and
"Sea Shells"
were honored as Dr. Toy's Best Vacation Children's Products of 2012.
"Bald Eagles"
and
"Salmon,"
were among only 17 recipients worldwide of Dr. Toy's Best GREEN Product Award for 2012!
Adults and seniors love award-winning
Scramble Squares®
puzzles at least as much as do children, teenagers and college students. Although each
Scramble Squares®
puzzle has only nine pieces,
Scramble Squares®
puzzles are
Perhaps The
World's Most Challenging Puzzle!®
They make inexpensive, but highly valued gifts for both men and women alike for Mother's Day, Father's Day, Graduation, Travel, Birthdays and Holidays.
Scramble Squares®
puzzles are
Easy To Play, But Hard Solve!
™ Dozens of exquisite styles of original art are available on nature, sports, history, culture, geography, science, technology, occupations, fantasy, hobbies and activities, and more new styles are introduced every six months.
Scramble Squares®
puzzles teach patience, perseverance and critical thinking skills and help maintain mental agility in older persons, while providing stimulating entertainment as a either a solitaire game or a cooperative activity. Each puzzle package includes a panel of fascinating facts on the subject of the puzzle, as well as a trivia question and hidden answer, all packaged in a unique and handy resealable clear vinyl pouch which can be collected and stored easily in a standard 3-ring binder.
The fabulous "Scramble Squares®
5-MINUTE CHALLENGE
®
:"
Retailers using
Scramble Squares®
displays can offer consumers a
free
Scramble Squares®
puzzle if the consumer can solve the demonstration puzzle within 5 minutes.
b. dazzle, inc.
provides a free electronic timer (a $16 value) and 5-MINUTE CHALLENGE® Kit, including a 24" X 36" full color "WIN A FREE PUZZLE" promotional poster, with every display to support this very effective promotion. Once a consumer tries to solve a
Scramble Squares®
puzzle, he/she usually "hooked" and wants to buy at least one to take home and prove that he/she can solve it (or to torment friends and family)! Often consumers who have taken The 5-MINUTE CHALLENGE® buy two or three or more puzzles at a time!!
b. dazzle, inc.
will replace for the retailer
at no charge
any puzzles won by a consumer in its 5-MINUTE CHALLENGE® promotion.
b. dazzle, inc.
of Redondo Beach, California, has announced that four of its mind stimulating products have been honored by
The Institute for Childhood Resources
in San Francisco as among only one hundred sixteen (116) products world wide selected as
"Dr. Toy's Best Children's Vacation Products for summer 2010."
The four honored products include three (3)
Scramble Squares® 9-Piece Puzzles: "Cows," "Guitars" and "Fall Festival"
and one of its two poster sets of
Color 'n Seek® Hidden Pictures Coloring Activities: "Ponies and Music."
You can also find b. dazzle, inc. listed in the following categories:
Arts & Crafts
Collectibles
Creative Activities
Educational
Family Games
Adult Games
Board Games
Card Games
American-Made
General Toys
Gifts
Interactive
Kits
Special Needs
Novelties
Promotional
Puzzles & Skill
Religious
School Supplies
Science & Nature
---
If you would like to request wholesale pricing, please include the following information with your request:
Your name
Your company name
Mailing address
E-mail address and phone number
Mention TOYDIRECTORY.com
---
AD