Toy Fair Seminar
Special Toys for Special Kids: An Untouched Market
By Beth Michaels
January 1, 2003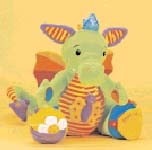 Sneezy Activity Dragon
With three out of every 100 children in the United States being born with a birth defect, about 150,000 each year*, there is a great need for toys that are not only appropriate but educational for children with special needs. However, few manufacturers or retailers have tapped into this necessary market.
Lekotek, the leading source on toys and play for children with special needs, is paving the way for retailers and manufacturers to enter this untouched niche. Through 40 sites around the nation, the company's core objective is to provide direct services to children and families that have disabilities, says Diana Nielander, Director of Business Development at the National Lekotek Center in Evanston, Illinois.
"We feel that we have a good sense of what's being done well and where there can be improvements, so that people buying toys for children with disabilities have good products to choose from," Nielander says.

Baby Cakes Sasha
Maybe surprisingly, Nielander explains that Lekotek does not suggest that companies develop special toys for children with disabilities. Instead, they encourage adapting existing toys to make them more "universally designed for a greater number of children."
For example, Lekotek collaborated with Mattel to develop a Cabbage Patch Playtime Friends doll, which has crutches and leg braces, and helped launch the first Barbie line to have a disability, Share a Smile Becky. Lekotek also worked with Fisher Price to create Aidan Assist, a wheelchair bound hero in a line of rescue figures (cont.)
*The Nemours Foundation
---
RELATED LINKS:
Product Summary: PRODUCT SPOTLIGHT: INVENTIVE TOYS

Toy Fair Events: TIA Announces Revised TOY FAIR™ Closing Date And Show Hours For 2003

Toy of the Year Awards: Cast Your Vote for 2002 "People's Choice Toy of the Year"

For more information visit TIA's website: Click Here

Want to see a showcase of toys? Click Here...

Return to ToyDirectory Monthly front page: Click Here

Send comments about this article to: comms@toydirectory.com