"Cool Companies" is a monthly feature where we recount the odd beginnings, interesting permutations, or otherwise unique and noteworthy circumstances of a toy or hobby manufacturer. If you think you know of a Cool Company that you'd like to see featured here, please contact comments@toydirectory.com.

Beyond the Boundaries of Business as Usual
By Kris Decker
January 1, 2003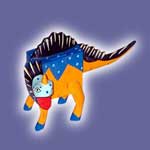 Cool Kid Dino
Each year, Kent Blackford and Daniel Coffman of Cool Stuff for Kids from Far Away (coolkidstoys.com) travel to Bali to acquire the unique handcrafted toys sold on their website. Next year, their destinations will also include Tibet, Russia, Germany and Sweden. But for these San Francisco-based Internet entrepreneurs, doing business on a global level extends beyond the boundaries of cyberspace or geography.

"We want to find toys that are unique for both adults and kids from all over the world," says Coffman. "But most importantly, we want to promote fair labor practices--no child labor. And support of local artisans too."

And the journey doesn't end there.

"All of the toys Cool Stuff sells are ecologically sound—all paints are lead free; all toys made from found woods. The idea is not to abuse system and people and ecology as we move along," says Coffman emphatically.

With a delightful, constantly changing website, Cool Stuff currently offers 67 whimsical toys that reflect the vibrant Bali culture. Each one is either hand-carved or handcrafted by native Bali artisans. E-patrons may find it difficult to choose what to buy (bamboo kites? a banana leaf notebook?); the colorful photos and lyrical descriptions of each item make it hard to decide where to even begin looking (the balancing elephant or the parachuting frog?). Virtual visitors also receive a mini e-tour of the island of Bali itself through lively pictures and descriptive captions about its people, customs and culture.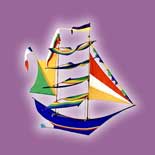 Cool kid Sail boat
Cool Stuff began as a hobby for Blackford three years ago. Now, fueled with fervor for their environmental and economic ideals and having a five-year marketing plan firmly in place, Cool Stuff is looking toward a major expansion. Beginning in January 2003, the company will start selling wholesale, offering exotic kids' products to more than 100 stores who share their beliefs. Blackford and Coffman expect this strategy to grow their business by as much as 200%.

"We're committed to being a successful e-business," says Coffman. "But our first business goal is to provide good jobs for good people."

Helping kids is a big priority too. On January 5, 2003, they're going online to share a different kind of treasure--the donation of 10% of their profits to a children's charity.

"The money will go to a camp in Zaire that helps kids with AIDS and cancer," explains Coffman. "It's a place where the kids can get medical help and treatment when their families are no longer able to care for them." Blackford and Coffman plan to spend next summer there as volunteers.

No question about it, Cool Stuff for Kids is just that: unusual toys from across the globe. Though the coolest thing about the company--two businessmen who care as much about people as profits--started right here at home.

---
RELATED LINKS:

Want to see showcase of Toy Products? Click Here...

Return to ToyDirectory Monthly front page: Click Here

Send comments about this article to: comms@toydirectory.com