Lunch Box Chic: Kids and their Parents are Packing Their Own
By Paul A. Paterson
April 1, 2003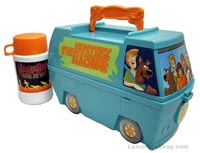 Scooby Doo Lunch Box
Lunch Boxes are as much a part of Back to School as a new pencil case and a ring binder. Everybody remembers at least one lunch box from childhood—usually a tin box, maybe even sporting the faces of The Jetsons or The Dukes of Hazard. Today, revolutions in material and design have given kids as many style choices in lunch kits as they have in clothes.
Some of today's lunch kits come with molded plastic components designed to hold sandwiches, salad, fruit and utensils. Others are made of soft nylon and fold flat for easy storage. Designs have also incorporated the reality of today's young students, and many kits are suitable for stuffing into already heavily laden backpacks.
"That consolidation has definitely been taking place," said Peter Cobb, co-founder and vice president of marketing for the Web-based luggage retailer, ebags.com. "We have a line of backpacks with detachable lunch boxes that's selling very well now. It's the convenience of whether it's insulated or a sealing agent to prevent spillage. These are features that will continue to be built in. Some of them are integrating water bottles."
For years, Thermos has been the brand name most associated with the school lunch, and Julie Ryan, Licensing Manager for the company, believes children enjoyed the multi-purpose nature of the traditional square lunch box, a fact that sustains a demand for the product.
"There's always going to be that need for the hard kits for younger kids," she said. "It's a lunch holder, but also it's a crayon holder and a toy car holder, and it's also dishwasher safe."
The wider selection has expanded the market as well, making it socially acceptable for Tweens to carry a lunch box to school. New material and space age designs have made the kits more convenient to transport, and Baby Boomer nostalgia may be playing a role in expanding the market.
"I would say lunch boxes are enjoying something of a revival," observed Michael Dobbs, vice president of the Web retailer lunchboxes.com, which sells more than 150 varieties of lunch boxes through its website. "I think it's in part because of the variety and improvements in designs, but also as the 50s and 60s get farther away, there has developed a nostalgia about those lunch boxes. You're getting more collectors. It's more like a part of pop culture history."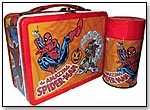 Spiderman Lunch Box
Dobbs says young girls are more likely to continue using lunch boxes longer than boys, noting some groups use the vintage metal lunch boxes as a fashion accessory, as well as a way to transport a PB & J. He's also noticed a slight reduction in both the use of licensed characters and the inclusion of a thermos in the design.
Cobb and Ryan agree that other forces, including environmental awareness and health consciousness, have worked to develop a market among even older consumers. Lunch in many companies involves meeting in a park or concourse over a bagged lunch made at home.
"I do that every day," said Cobb. "I figure I save an hour a day. Rather than driving an hour to a restaurant, I eat at my desk and get more work done. I'm also in control of what I eat as well, so it's a healthy choice. More people are deciding to stay in and eat."


Want to see a showcase of toys? Click Here...

Send comments about this article to: comms@toydirectory.com

Return to ToyDirectory Monthly front page


Top Licensed Toys Sellers: 2002's Hottest Properties and Where They Made the Biggest Splash

Interview: Read an Interview with Lucasfilm's President of Licensing, Howard Roffman

Trains Product Spotlight: The Fast Track for Model Train Technology

Trains Industry Overview: Model Kits for the Computer Generation

Construction Toys : Building New Markets

Product Summary: Construction Toys Stack Up

Cool Company: When Worlds Collide Neurosmith Tunes into Learning

Real Retailer: Model Expo

ToyDirectory Mom: Even Tough Guys Like Toys