Dolls Reflecting Our World
By Orly Minazad

People Holding Hands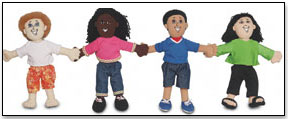 Meet the faces of America, with People Holding Hands' new line of ethnic dolls. Featuring a Caucasian boy, African American girl, Hispanic boy and Asian American girl, People Holding Hands is bringing these tiny personalities to the education industry "to be used as an extension of the story characters, for puppet play, and many other classroom activities" says Nan Ray, president and founder of You're On!, Inc.
The four original collector's series dolls are, Trace, a Caucasian Boy; Gail, an African American Girl: Jesse, a Hispanic Boy; and Connie, an Asian American Girl. They were designed to represent real people from the four most populated ethnic groups in the United States.
Because they offer excellent opportunities for visual learning, People Holding Hands has been initiated as the official "Book Buddies" to aid in the promotion with Workshop 102: A Travel Guide Through Children's Literature.
"People Holding Hands is thrilled to be selected as the official tangible aspect of this exciting online learning program and educational opportunity for teachers and educators," says Ray.
Courage to Run
Inspired by her first book, Courage to Run, Wendy Lawton crafted a portrait of the well-known heroine Harriet Tubman. Courage to Run expresses Harriet Tubman as the strong willed child she was, and the memorable woman she is in American history.
"As I researched her life for this book, I fell in love with Harriet Tubman," stated Lawton, "Her faith framed everything she achieved. By the time I finished writing the book, I couldn't wait to take clay and sculpt a portrait of Harriet as a child."
Lawton's book Courage to Run is the story of Harriet Tubman's girlhood, when her faith was born and courage discovered. The book is from Lawton's Daughters of the Faith, a juvenile fiction series for Moody Press of Chicago.
Now nominated for the coveted Award of Excellence, the portrayal of Harriet Tubman is among many of Lawton Dolls award winning masterpieces.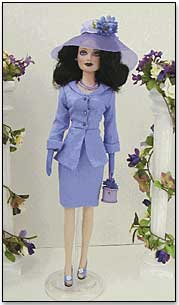 Christina St. Clair
If you have a craving for fashion, then meet Fashion Boulevard's newest creation, Christina St. Clair. She's a 16" vinyl doll pampered with the finest fabrics and accessories to meet the needs of doll fanatics with a flare for fashion.
Christina is the epitome of the Beverly Hills woman, her head held high while the top designers of the doll world prep her to look her best. From makeup, to body, to clothes and accessories, she'll be ready when she hits the doll market in July 2002.
Christina's many fashions include the "April Violets" edition where she is sporting a two- piece suit, matching shoes, gloves and purse. "Shopping Elegance Christina" lives up to her title in a form hugging wool and animal print dress with a matching shawl, hat and purse. "California Sun Christina" makes her debut in an animal print bathing suit with matching beach accessories such as a tote bag large hat and necessities such as sun tan lotion and sparking water.
Five more designs are to be released, along with a wig gift set.
Volga River
Russian Village Dolls are the authentic portrayal of turn-of-the-century peasant life in Russia, as fashioned by Galina Maslennikova of Moscow. Imported by Volga River Trading Company, Russian Village Dolls make realistic recollections of the Russian life, from the ribbons in their hair to the buckles on their belts.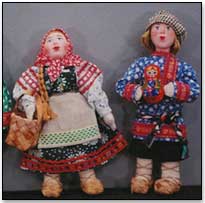 The sources used to create these Russian Village dolls are from the Ivanova region, Yaroslavi, and Pavlova Posad among other places. The realistic way the dolls portray the old Russian villages have helped make this product so unique and revered. The quality and fashion are a bonus to the structure and poise of the dolls.
And engineer turned doll artist, Maslennikova turned her hobby into a successful cottage industry in 1992. Russian Village Dolls are now among the 750 handcrafted products carried by Volga River Trading Company. Since 1992, the company has specialized in supplying only the best and most unique Russian products to retailers and collectors.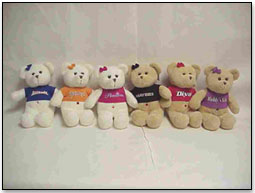 Fiesta OG Girls
Okay, it's more of a plush product, but Fiesta has recently given a new doll-like twist to their traditional teddy bear style with a new line called OG Girls. This 13-inch seated teddy bear made of buttery chamois-like fabric is the new teddy bear with a cool attitude, and apparel to match.
OG girls are a 'tween product mostly targeted to and appealing to young girls. Each teddy bear sports a cropped t-shirt with different popular phrases such as Princess, Boys Lie, Girls Rule, Foxy, Hottie and 98% Angel. To further accessorize her hip style, the OG Girl also has her belly button pierced and her own rhinestone belly ring.
"There has always been a void for unique 'tween products for girls," says Fiesta's Marketing VP, Jim Inano. "We felt there was a place for a product which would empower young women and celebrate their femininity."
Fiesta has been producing unique and fun plush toys for 30 years, stating an emphasis on quality, service and value.
Want to see more Dolls? Click Here...