Will A New Breed of Pet Toys Find a Home In Human Toy Stores?
by Timothy Dickey

The SpongeBob Squarepants Bikini Bottom Aquarium® is not intended for the hard core fish enthusiast, but is a fun accent for kids' or college students' rooms that actually has a living purpose. Sort of like a grown up--and more visible-Sea-Monkeys®.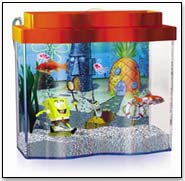 SpongeBob Squarepants Bikini Bottom Aquarium®

It's easy to imagine the Bikini Bottom Aquarium (by Happy Dog Toys) in your average toy store next to its briny cousin. But what of the Bubble Buddy? Does it belong only in a pet shop, just because there's a dog chomping the bacon-flavored bubbles that come out?

Why not a regular toy store, for the human at the other end?

"It makes total sense for people to buy toys for their pets in the same place that they buy toys for people," says Happy Dog Toys co-president and co-founder John Florance, makers of the Bikini Bottom Aquarium and Bubble Buddy.

"Toys are toys, whether for boys, girls, adults or animals."

A recent visit to a major, online toy store found over twenty products that somehow made or blew bubbles, but no Bubble Buddy. A search with the word "pet" did yield five products with "pet" in the name, but all they were all puzzles and such; things clearly not for use with animals.



Bubble Buddy
That's the old thinking. "We know that a large percentage of toy buyers also have pets," says Happy Dog's Neil Werde, VP of Sales and Marketing. "We know that they treat their pets as a member of the family and spend a great deal of money on pet toys."

Yea, like $28 billion dollars yearly.

"Pet toys are a natural extension for toy retail," continues Werde. "If merchandised properly, it is an incremental sale with a higher margin than traditional toy products."

Currently, the ratio of pet stores to toy stores where Happy Dog Toys' products are sold is less than 20:1. Admittedly, until now pet toy offerings like knotted ropes and cheap plastic hot dogs have not offered much for the human in the equation. Or the animal, as Happy Dog likes to point out.

Some innovative thinking on the part of newer manufacturers--and creative retailers--may soon change this market. And just in case you were wondering, Bubble Buddy bubbles also come in Peanut Butter and BBQ Chicken refill flavors.

Want to see more Animal Toys Products? Click Here...