Boys with Dolls? Not Anytime Soon
By Paul A. Paterson
March 1, 2003

Walk down the doll aisle in any toy store and you will see a wide range of almost-human features--they walk, talk, eat, drink, pee, burp and use the potty—but rarely will you find one that appeals to little boys.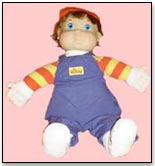 My Buddy
Attempting to fill that void was My Buddy, a 21-inch ball-cap wearing boy doll released in 1985. Featuring a catchy jingle, My Buddy, with its overalls, sneakers and freckles, was designed to appeal to young boys. But after an initial flurry of success, Hasbro discontinued the line before the start of the 1990's. This marked the last real effort by toy companies to market a doll that would appeal to boys.

While toy industry observers don't preclude another attempt to develop a boys' doll, most think the attempts are denying nature.

"The politically correct, socially acceptable dolls for boys are action figures," noted Pam Danziger, President of Unity Marketing. "It is also socially acceptably for boys and girls to play with plush, so teddy bears fit in there. It's not cultural conditioning, it's what they are drawn to."

However, Sandie Paradiso, a buyer for online retailer Learning Express, believes young boys might just have their own dolls in the form of the enormously popular Rescue Hero figures. These blocky characters take the form of firefighters, police officers, and lifeguards, and have sold exceptionally well.

"That was his version of a doll," said Paradiso of her own son's attraction to Rescue Heroes. "It wasn't the same play, but it was the same thing. You generally don't see a three-year-old without something in their hand."
---

Babies & Toddlers: Teething Fangs Anyone? Babies and Toddlers Join the Halloween Party

Want to see a showcase of toys? Click Here...

Send comments about this article to: comms@toydirectory.com

Return to ToyDirectory Monthly front page


Flying Toys: The View From Up There: Kites Just Keep Getting Cooler

Industry Overview: The Spin on Flying Toys

Product Spotlight: Toys that Take Flight Without a Kite

Ask The Expert: The History of Kites

Cool Company: DraganFly: Bringing the Wild Blue Indoors

Real Retailer: It's a Dolly-Doll World

ToyDirectory Mom: A Tomboy Mom with Barbie-Doll Daughters