Toys, Technology and the Brave New World
By Scott Ferguson
October 1, 2002
As the frenetic pace of modern life races forward, parents are more likely than ever before to seek out activities for their children that nurture the mind and discipline the senses. Educational toys and learning accessories have always been popular alternatives to fad activities. But advancements in computer technology, learning theory application and the related changes in work, school and social environs are reflected in the mushrooming range and sophistication of this category of children's products.
Here are a few standout items:


Safari Gym
Safari Gym. By Vtech Smart Sensations

The Safari Gym provides baby with an interactive play experience where little hands or feet activate lights and calypso music via proximity sensors. The soft, colorful swinging parrot, butterfly and monkey encourage reaching and touching. The plush animals teach cause and effect by rewarding babies with music and nature sounds. Naptime gets soothing soundtrack when Mom or Dad selects soft classical melodies set to calypso rhythms. By Vtech Smart Sensations.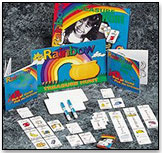 Rainbow Treasure Hunt
Rainbow Treasure Hunt. By Write-To-Read Treasure Hunt, Inc.

Write-To-Read Treasure Hunt, Inc. helps young children learn to read and write (in French as well as English versions) via the Rainbow Treasure Hunt. The game can be played for 10 minutes or two hours with pictorial cards identifying letters and words along with hunt clues that lead to the next letter of the alphabet. The game can be played in a number of ways and does not involve winning or losing, with each child getting to the "Pot of Gold" while practicing how to read and write. Dr. Toy recently rated this item as one of the "Best Vacation Children's Products for 2002".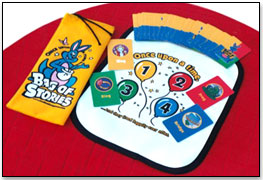 Bag of Stories
Bag of Stories. By The Blue Kangaroo

The Blue Kangaroo is a company where designer Susan McManus believes "active participation helps children learn faster, retain information longer and increases attention span". The Bag of Stories includes a deck of colorful character cards to use as story prompts, along with a cloth board game and a carrying case. Players randomly draw four cards and make up their own fairytales or action adventures incorporating the items on the cards. Ideal for vacation travel activity, developing creativity, language skills and spontaneous thinking as Dad puts the pedal to the metal.




Want to see more Educational Toy Products? Click Here...