"Just Plush Play"
By Timothy Dickey
October 1, 2002



Jaguar Jill

Southern California-based Planet Rascals has developed plush products that, if nothing else, "represent" for their community. Cuddly animals are offered in six varieties ranging from Jill the Jaguar to Timbo the Elephant, and actually correspond to real animal counterparts in zoos. Not only do the products offer the popular "adoption" feature that children seem to enjoy, but proceeds from the purchase go to the organization where the real-life version lives.

How could it get any better? Well, the new furry friend comes with a CD-ROM that features three hours of activities, games, a junior zookeeper quiz, and actual video footage of the animals. One of the buyers on Amazon.com commented that their child was having such a great time with the CD-ROM materials, she didn't even realize she was learning something.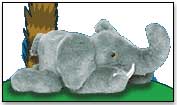 Elephant Timbo
Planet Rascals clearly devotes considerable resources to maintaining a website that fits the product offerings and is continuously updated with new games and activities. Dually impressive are the product's retail price--in the medium range for plush--and the extensive network of zoos and sanctuaries that benefit from the company's cooperative programs.