"Real Retailer" is a monthly feature where we discuss industry strategies, trends, happenings, or just about anything relevant with toy and hobby retailers across the country. If you have something interesting to say and would like to be featured here, by all means tell us! Please contact press@toydirectory.com

Real Retailer
By Timothy Dickey
October 1, 2002









Store Name: Silomark House
Store Location: www.silomarkhouse.com
Owner: Tina Collins

Some stores and companies offer a philosophy that becomes part of the reason you patronize them. On-line merchant Silomark House (www.silomarkhouse.com) offers an inventory that would appeal to moms and families especially, like baby seat accessories, unique jewelry and candles.

But besides being our first on-line Real Retailer, we think Tina Collins' affiliation with a network of moms who work out of their homes makes Silomark House unique. Much of her product and business network comes from (or has passed the muster with) these business savvy stay-at-home mothers, and that seems to have made all the difference.

(For more information on this network of "Moms On a Mission", contact Collins through her website, or the organization Little Did I Know at littledidIknow.com.)


Tina Collins
Toy Directory Monthly: How long have you been in business?
Tina Collins: Since February, 1998
TDM: Can you tell us a little bit about what your store offers?
TC: After inventing Stroller Shade, an umbrella that attaches to the handle of a baby stroller to protect the adult from sun and rain, I needed a way to produce a sales track record before attempting to sell my product to catalogs and retailers. The Internet was the obvious answer. About 18 months ago I was contacted by the owner of Loving Arms™ baby carrier to see if I would be interested in marketing her product for her. Today, Silomark House is an Internet connection for unique, high-quality products and services made, invented or provided by entrepreneurial women. Our ever-expanding product line includes gifts for the whole family, specialty baby accessories, collectibles, and decorator items.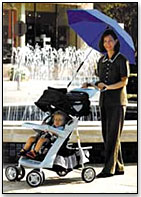 Stroller Shade
TDM: Who is your typical customer?
TC: Savvy shoppers who are looking for truly unique items of exceptional quality at affordable prices.
TDM: How do you let the public know who you are and what you carry?
TC: The majority of our advertising is Internet based: Direct e-mail campaigns, high visibility with search engines, targeted press releases. Visitors and customers can "Tell a friend about this site" from every page by simply entering the email address of the friend. This option sends a direct link to our site and provides space for personal comments. We maximize our exposure via involvement in networking, word of mouth and advertising in family oriented publications.
TDM: Please describe any special promotions for your store or your products.

The Blue Kangaroo

TC: Contests have proven to be very effective. They are easy to do at little or no cost and email addresses are captured in a database for future product announcements, sales, contests, newsletters and more. All participants have the option to 'opt out' of follow-up emails from us. We participate in trade and craft shows distributing product and company information to the public. This allows us positive one on one contact with potential customers.

TDM: Which self-promotion or marketing efforts have been worth the cost or effort?

TC: Press releases distributed via fax by online services give us the maximum exposure at the lowest cost. We can target these releases to specific media, interest groups, and readers. The time involved on our end is minimal less than an hour. Approximate cost for 400 faxed press releases, $100. A major benefit of this method of marketing our company and product is: Press releases have an indeterminate life span. It is not unusual to be contacted for further information as much as 6 to 18 months after the date of the release. And, there is no cost when the release is published!

TDM: Why do you think customers shop with you instead of going to another store?

TC: Our web site is very easy to navigate. We've made every effort to provide thorough, accurate information about each product or service and the person who makes, invented or provides them. Our site is more than a store; it is an information resource. We pride ourselves on personal service. Every page of our site offers a one-click way to contact us. Each inquiry is personally answered in less than 24 hours from the time it is received. Our mission statement is: Quality is our commitment; excellence our standard.

TDM: Have you run a bricks and mortar store before, and if so, how would you compare the two?

TC: Not a retail store. I come from a long line of entrepreneurs and had been in business for myself several years before jumping into the Internet as a retailer.

TDM: Better, worse, different?

TC: I have to say better and different. Better in that my Internet store can be managed right from my personal computer at home. Customers evaluate my company on the professional look and functionality and level of customer service, not on the physical location, size, or appearance of a store. And, I'm not limited by location, virtually anyone, anywhere can come to my store to shop. I have more control and many more resources and tools to make my business run smoothly and grow.

TDM: What warnings or advice would you give someone about to start a web-business?

TC: Do not expect instant results! Building an Internet business is a process…an ever-changing process. As the Internet and its users change, so must your website. There is more to a web-business than putting up a site. The way the site is constructed determines how search engines find and rank the site. There's more behind the scenes to a successful Internet business than meets the eye. Maintaining a web site is very time consuming. I quickly learned in order for me to be successful in this new arena, I had to have experienced help. There are web designers and search engine placement consultants. There are multitudes of Internet marketing companies eager to promise top ranking in all search engines and phenomenal results. Beware. Basically, any start-up business takes three to five years to turn a profit. An Internet business is no quick fix to profitability. Understanding and accepting this is key. The most positive thing about tackling the Internet is the dynamics and potential of doing business worldwide.

TDM: Do you plan to expand your web offerings?

TC: Absolutely!

TDM: Could you explain your involvement with www.littledidIknow.com ?

TC: I've been a member for two years and served on the Advisory Board for a year and a half. I credit much of the growth and success of my business to LittleDidIKnow.com.


To view September's Real Retailer, click here.

Want to see more Collectibles Products? Click Here...