"Real Retailer" is a monthly feature where we discuss industry strategies, trends, happenings, or just about anything relevant with toy and hobby retailers across the country. If you have something interesting to say and would like to be featured here, by all means tell us! Please contact
tsullivan@toydirectory.com

Real Retailer: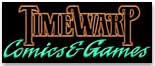 Time Warp Comics and Games
Getting customers, keeping them happy, making a profit. Seem like hard work? It is. Seem like a headache? It doesn't have to be. Dave Bower, owner of Time Warp Comics and Games, stays successful and has fun doing it. From hosting game tournaments to getting in the movies, Dave shares some insight on staying afloat…
ToyDirectory Monthly (TDM): Who is your typical customer?
Dave Bower (DB): For the most part, we have the typical comics and games store bunch - mostly men between 18 and 35. But you can forget the stereotypical lives-in-his-parent's-basement-and-can't-get-a-date profile: Our customers' have a high 'regular guy' factor. The popularity of Pokemon, Harry Potter and Spider-Man has helped younger customers find us. We maintain a mom-friendly environment. More women are finding comics worth reading. We are seeing a steady change to a more general audience.
TDM: How long have you been in business?
DB: Since March 1, 1987. That's 15 years! I'm still a teenager!
TDM: What type of products do you sell?
DB: We strive to be the best full line comics and games specialty retailer. We carry comic books, trade paperbacks, magazines, hardcover collections, toys, statues, t-shirts, posters, card games, board games, role-playing games, hobby games, strategy games, family games, party games, miniatures, figure storage, paint, glue, brushes, tools, video, dvd, books, novels, collecting supplies and a lot of other stuff.
TDM: Other than your stock, which is the obvious draw, how do you keep your customers coming back?
DB: I have learned that an advertising budget is as essential to business as the rent. Cable television advertising is by far the most effective advertising we have done. Our experience is that a commercial is a great way for new customers to discover your store. A commercial also keeps your store on the minds of your current customers and reminds them to pay you a visit to see what is new. Television commercials are expensive, but are totally worth the cost.
We have new comic book and game releases every week. We also restock as much as three times a week. Our customers know there is always something new to see. We also have a broad selection. A chain retailer will carry Montgolfiere and Formula De, but we will carry all the accessories and all other products from that publisher.
TDM: I know you have special programs after store hours (painting models, etc.) Can you talk about this a little? Have you found that offering these types of programs increases sales, or attain customer loyalty?
DB: Gaming leagues, learning classes and clinics promote involvement in the gaming pastime. We have hobby game, card game and board game leagues. We have classes for card games and hobby games. We have clinics for painting miniatures and building game scenery. And we host many, many tournaments. A game league often requires weekly involvement because it is sequential and competitive. Classes and clinics keep a new customer involved while they learn the rules and skills required for their game. A new player may find the learning curve of a game too steep to handle on their own and could drop out of the hobby. Involved players get entertainment value from their purchases and are more likely to buy additional items for their game. This obviously helps sales, but also increases customer loyalty and satisfaction with their purchases.
TDM: I noticed your banner in the movie Chasing Amy, has this type of exposure been beneficial for your business?
DB: We completely lucked into that exposure. Kevin Smith and I share a love of Mike Allred's artwork. Kevin just happened to be filming the comic convention scenes for Chasing Amy in Asbury Park the same weekend as we had Mike at the store for a comic book signing. Kevin found out Mike was on the east coast and a bunch of phone calls later, we were all making a movie. To be honest, I don't think most people realize that the banner is from a real store. Our customers that notice it get a real charge out of it. It was fun following the cameramen around and placing my favorite comics (like Hellboy, Concrete and The Tale of One Bad Rat) in the shots. I still have the Madman comics you see Ben Affleck and Jason Lee holding in the beginning of the movie. Any exposure for comics is going to be beneficial in a general sense. It was a blast to do.
TDM: How do you decide which items to stock?
DB: This is by far the most important and difficult part of my job. There is no substitute for product knowledge. I consider the publisher's track record, the talent involved, product support, production values, shipping schedules and many other factors. Will it be fun? Will it look good? Is it a good read? We usually stock all products relating to a core product. We also try lots of new stuff. We want to have lots of cool stuff, but we don't want to drown in unsalable product either. Product selection is the most anxiety producing work that I do. But it is also the most immersive and fun too!
TDM: If you could remove one headache from your job, what would it be?
DB: Publishers and manufacturers that can't keep a schedule or print a sufficient quantity of product really hurt us. As a retailer, we work too hard to get our customers to be put in a position where we say 'I don't have that' and 'I can't get that' and 'I don't know when we will have that'
TDM: Do you have a time or money saving tip that you would like to pass on to your fellow retailers?
DB: Many games manufacturers provide excellent product support - for free! DC Comics, Games Workshop, Wizards of the Coast, Wizkids and Decipher all have staff who are only there to help you, so use them! Many other game and comic publishers are good with promo materials and event support.
Time Warp Comics and Games is located at:
555 Pompton Ave.
Cedar Grove, NJ 07009
973-857-9788
http://www.timewarpcomics.com/