The Flip n Flyer: It's all That
By Tim Connolly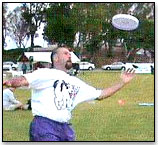 Gyroscopic Action
What looks like a psychedelic pie-pan, and acts like a yo-yo mated with a Frisbee®? It's Stellar Toys' Flip n Flyer-Gyroscopic Flying Disc. A bungee cord looped through the center of the disc gives it the yo-yo action, but its movement is side-to-side. So for those of us who never mastered "walking the dog," the Flip n Flyer makes hovering tricks much easier to pull-off.


Fun For All Ages
When thrown as a flying disc, the Flyer can be caught by its "Gyro-Cord" and made to do all kinds of between-the-legs/behind-the-back maneuvers. Stellar Toys claims "increased hand-eye coordination" and a better understanding of "gyroscopic principles" as secondary benefits of Flip n Flyer play, but making for a fun family picnic would seem reason enough to have this toy around the house. Don't get any ideas about getting Fido in on the action. Stellar Toys disclaimer makes it clear: "Not a Dog Toy." I'm guessing dogs will have ideas of their own.

Want to see more New Products? Click Here...