Atollo Sports New Packaging, New Awards
By Timothy Dickey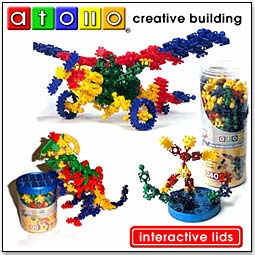 Atollo Designs and New Packaging
Designed by a Scottish father and son team, the highly compatible construction toy known as Atollo has been earning accolades since its launch this year at Toy Fair. The big news now was supposed to be new interactive packaging. But then it went and won a Parent's Choice Award this summer, including a Parent's Choice "Fun Stuff" recommendation.
Atollo's earns a lot of marks for versatility. The system is extremely flexible and dynamic, allowing the builder to create moveable models of innumerable designs. Universality comes in, too, considering that Atollo is LEGO® and K'NEX® compatible. The new packaging design will allow for LEGO® and Atollo construction on top of screw top lids. Units with the new packaging will be available in September 2002.
Co-creator Euan MacDonald's father Donald is an architect from Edinburgh, Scotland. Euan's background is in digital effects for movies in California, so the family effort has been global from the beginning. Atollo is manufactured in Scotland, China and South Africa. Among its international credits is a cover story in Toy and Family Games in the UK, where it was called the "Best Construction Toy Ever" by editor Neil Armstrong.