What makes a Model Train Retailer ?
By Hollie Bethany


Marty Cozad II "Seasons Of Nebraska"

When looking ahead to this month's focus, I thought of my personal involvement with model trains. Walking into the Roundhouse Train and Hobby store with credit card out, I thought, "What am I buying this year? You know your father is going to be here any minute for lunch," an employee told me. I was sure he wasn't, so I began to browse the store—when who should come driving up. The employees grabbed the miniature houses we had picked out, shoving my son Hunter and I into the back office, where they rang up the sale and helped sneak us out the back door.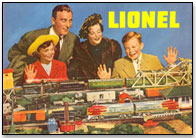 1949 catalog



This is what model train stores are about: family, tradition and the old corner store. The most important investment a model train retailer can make is the long-term relationship he establishes with each of his customers. A trip to the local train store is more than just a shopping excursion for the die-hard train-buff; it's a getaway. Most of the smaller shops set up group meetings one night a week, when customers like my Dad can share sandwiches and train talk with others who speak their language.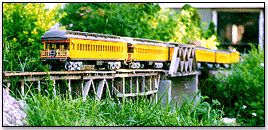 Marty Cozad II "Seasons Of Nebraska"


Retailers should know their regulars' current set-up and wish list, and be ready with a few suggestions to help transform the customer's train room into the one he sees in his imagination. Every Father's Day, birthday and Christmas, the Roundhouse can expect to get a call from me or another family member, frantic to know what special item they've set aside for Dad. On one occasion it was a particular antique engine Dad had his heart set on. The Roundhouse crew knew his birthday was coming up, and decided to up the surprise factor with a playful fib, telling my father they'd sold the engine to someone else. Of course, they clued my mother in on the game, and we were all able to watch Dad's disappointment turned to joy when on his birthday-there it was.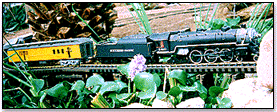 Mary & Ken Karels Doble K ranch and Garden Railway Bed and Breakfast Tucson Arizona


Researching new products is essential. More companies are entering the accessory market, although most are European. The scales are close enough not to cause a conflict in the layout; the main concern being correct voltage adaptation.


If you visit the New York Toy Fair, you will probably be disappointed. It's not a show for model trains. I urge retailers interested in new products to attend the Nuremberg Toy Fair. The hall dedicated to trains is incredible. Every train manufacturer has large, well-detailed set-ups that will open your eyes to possibilities you'd never imagined. Although photography is officially prohibited around the displays, most manufactures are willing to overlook this rule if asked politely.

Model train retailers are the last of a dying breed: those that still do business with a handshake and a smile. Being on a first-name business with your customers not only keeps them coming back, but their whole family as well.




ABOUT THE SCALES!

Z scale: Trains built to a ratio of 1:220. A 75-foot-long locomotive measures 4 inches long. The rails of the track are 6.5 mm apart.

N scale: Trains built to a ratio of 1:160. A 75-foot-long locomotive is 5 1/2 inches long. The rails of the track are spaced 9 mm apart.

HO scale: Trains built to a ratio of 1:87. A 75-foot-long locomotive is 10 1/2 inches long. The rails of the track are 16.5 mm apart. Most popular for beginners.

O scale: Trains built to a ratio of 1:48. A 75-foot-long locomotive is 18 3/4 inches long. The rails of O gauge track are 1 1/4 inches apart. Most popular for the well addicted.

G scale: These trains are built to a ratio of 1:22.5. A 75-foot-long locomotive is 40 inches long. G and other large scale trains run on gauge 1 track with rails 45 mm apart.




Want to see a showcase of Toy Products? Click Here...