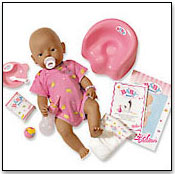 Traditional Dolls with Appeal for Today
Remember when you used to play Mom with your dollies? For today's little girls, it's become a lot more lifelike. Children these days expect a lot more from their toys, and it seems as though that is just what they are getting.
Zapf Creation, a 70 year old company based in Florida, has a number of doll products built for today's little girls. Built to help develop a sense of caring and nurturing in children, the dolls seem to do everything but clean up the playroom.
Jolly Dolly giggles, Rock-A-Bye Chou Chou reacts to the way in which you hold her, and Baby born eats, drinks, wets her diaper, soils her potty, and cries and squeals. The newest addition to the line, Baby Annabell, incorporates sound, and is even motion-sensitive!
In the market today, toys need to be consistently improved upon and made to be more interactive. With their latest updates, Zapf has certainly done that. It seems that if dolls become any more lifelike, your little girl will soon be equipped to take care of you too.
Want to see more dolls? Click Here...