"Cool Companies" is a monthly feature where we recount the odd beginnings, interesting permutations, or otherwise unique and noteworthy circumstances of a toy or hobby manufacturer. If you think you know of a Cool Company that you'd like to see featured here, please contact ToyDirectory at 310-979-4330.
Deja Zobmondo!!™ All Over Again
By Timothy Dickey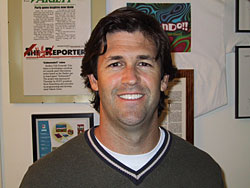 Here's the story of the young entrepreneur who came up with a great idea for a board game and began building an entire franchise around it. The meteoric success of Randy Horn's Zobmondo!!™ industry has already been well chronicled, including a smashing Wall Street Journal article that ran the day he graduated from The Anderson Business School at UCLA.
With very little advertising, "The Crazy 'Would You Rather' Game" now only continues to build in popularity and market share, and already a quick-selling book and TV pilot have spun off of its success. There's even a Zobmondo!!™ game for cell phones.
So where's the story? What could possibly be amiss in Randy Horn's fledgling empire?
In a word, licensing, licensing, licensing….
It All Started On a Blind Date
The heat was on: Grad student Randy Horn was overtired from burning the business school candle at both ends, but he'd committed to a blind date plan that included two other couples. When the conversation became a bit stilted during dinner, Horn instinctively reached for his foolproof technique for livening up any social situation.
"Would you rather have to pull your boss to work in a rickshaw every day for a week, OR, give your boss a foot massage everyday for two weeks?"
Whatever the specific question was doesn't matter so much. Maybe it was:
"Would you rather have frequent encounters with aliens and not have any proof, OR, have your best friend be invisible?"
Story goes, there was conversation aplenty after that. Walking out of the restaurant later on, Horn turned and said to his friend Jeff, "This needs to become a board game."
Only From the Mind of Horn: What began as a parlor gag...
Want to see more Games? Click Here...