CHICCO USA INC
Shop
Contact CHICCO USA INC:
50 Cragwood Road, Suite 304
South Plainfield, NJ 07080
Phone: (908) 756-1110
Fax: (908) 756-8820
Toll free phone: (877) 4-CHICCO
E-mail wholesale inquiries to:
custsvc@chiccousa.com
Search Amazon: CHICCO USA INC
Suggest a Correction
Email: emailtoydirectory@gmail.com
---
About CHICCO USA INC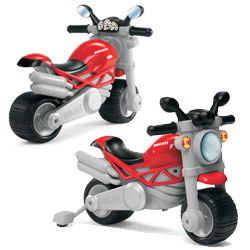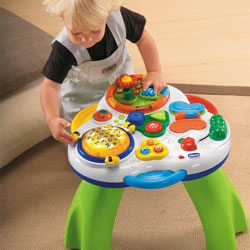 BUY Them on Amazon
Product Archives added to TOYDIRECTORY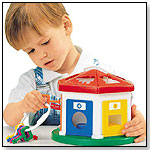 ---
Product added on: 3/7/2011
---
Shop For Products
Search Amazon: CHICCO USA INC
Makers of the award-winning Chicco Mamma Highchair and the Gazoobo-Shape Sorter, Chicco's focus on providing children and parents with high-quality, classic products have made it a household name among the more than 300 million children in 135 countries who have grown up with Chicco.
Chicco USA, Inc. is a wholly-owned subsidiary of Artsana S.p.A. in Italy. Chicco is the largest manufacturer of children's products throughout Europe. Established in 1946 in Como, Italy by the Catelli family, Chicco has become a trusted landmark of parents the world over. Its expertly-designed product range fulfills the needs of children from the moment they become part of the family – all the way through their preschool years.
Pictured here are:
Radio Control Ducati 999 Superbike:
Chicco's Ducati 999 Superbike is intended to be a child's first remote-controlled motorcycle. The Superbike moves in four directions and features motorcycle sounds and flashing lights that add to the realism of the bike. Separate handlebars act as the remote control moving the bike with ease while controlling its speed. Little bike enthusiasts will enjoy controlling the Ducati 999 Superbike while developing their creativity and coordination skills. The Ducati 999 Superbike is available at leading retailers for the suggested retail price of (U.S.) $29.99 and is recommended for children 2 years old and up.
Bilingual Smart Driver:
Children will develop fine motor, visual, auditory and gross motor skills while playing with Chicco's Smart Driver, an interactive dashboard that a child can "drive" to five different destinations while pushing the buttons to hear sound effects, words and short sentences in both English and Spanish. The Smart Driver will also help the child learn to count from one to ten by shifting the gear stick. Two upbeat melodies along with features such as an ignition key, accelerator gear, brake, horn, left and right directional arrows and fuel button – all with sound effects – add to the playing fun by making the child feel like they are behind the wheel of their own car.
To hear the toy "speak" in English and Spanish, the child has to just easily flip a switch in order to learn a new language using the words they already know in their native tongue. This playful approach to a foreign language will help children to adjust more quickly to a new language in school and beyond. The Smart Driver is available at leading retailers for the suggested retail price of (U.S.) $29.99 and is recommended for children 9 months old and up.
Chicco does not ship internationally. There is a minimum order of at least one case pack.
You can also find CHICCO USA INC listed in the following categories on ToyDirectory.com:
---
If you would like to request wholesale pricing, please include the following information with your request:
Your name
Your company name
Mailing address
E-mail address and phone number
Mention TOYDIRECTORY.com
---
Correction Needed? Please email: emailtoydirectory@gmail.com
AD
Suggest a Correction!
Email: emailtoydirectory@gmail.com