Cogno Products
Shop
Contact Cogno Products:
222 S. Central Ave. Ste 1006
St. Louis, MO 63105
Phone: 314-721-9199
Fax: 314-721-9299
Toll free phone: 866-442-6466 (HI-COGNO)
E-mail wholesale inquiries to:
montaldo@cogno.com
For additional information visit:
http://www.cogno.com
Search Amazon: Cogno Products
Suggest a Correction
Email: emailtoydirectory@gmail.com
---
About Cogno Products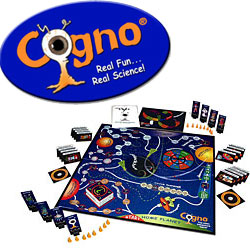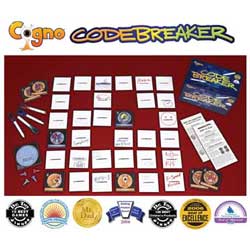 BUY Them on Amazon
Product Archives added to TOYDIRECTORY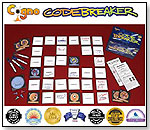 ---
Product added on: 2/1/2006
---
Shop For Products
Search Amazon: Cogno Products
Cogno products inspire children to think critically and imaginatively as they learn about space and science. 13 national awards so far, and featured by PBS affiliate KETC! For ages 7 and up, Cogno games and books are designed are made to be as much fun as Star Wars® but as educational as Magic Schoolbus®!
Board Games
Race into space. Visit graphically stunning, mysterious environments. Win fuel by answering simply worded yet thought-provoking questions about space and science—beyond trivia! The "Book of Y" (included) explains all 260 answers in each game. Choose the classic "Alien Adventure Game," (set in space) or the challenge version, "Deep Worlds," (set in an ocean on another planet)…with slightly more difficult questions.
Our board games won Dr. Toy's 10 Best Games, Top 100 Children's Products, as well as recommendations by The Parenting Center, NAPPA, and others. Kids love the double game boards, cool characters, strategy and thought-provoking questions. Parents like the fact that Cogno encourages critical thinking and learning as they play! See sample game questions and more info at our web site below.
Book Series
Cogno and the other board game characters come alive in our young adult book series, Cogno: The Legends! Fact and fiction meet as Cogno's detective dream team solves mysteries. See our web site for more information.
Shipping/Ordering
Free freight on orders prior to 10/01/05! Call your Cogno rep or contact us directly. Minimum order: Case of six. Ship to continental U.S.
You can also find Cogno Products listed in the following categories on ToyDirectory.com:
---
If you would like to request wholesale pricing, please include the following information with your request:
Your name
Your company name
Mailing address
E-mail address and phone number
Mention TOYDIRECTORY.com
---
Correction Needed? Please email: emailtoydirectory@gmail.com
Suggest a Correction!
Email: emailtoydirectory@gmail.com
---
Custom Search
In TOYDIRECTORY®
---
Correction Needed? Please email: emailtoydirectory@gmail.com
Home | Contact Us| Get Listed | Search By Name | Search By Category | TDmonthly Magazine | Privacy Policy

©1996-2023
TOY
DIRECTORY.com®, Inc. All rights reserved.
Use of this online service is subject to the
Disclaimer
and the
Terms of Use
.