TOY
DIRECTORY member Since 2008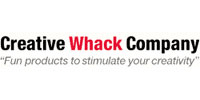 CREATIVE WHACK COMPANY
Shop
Contact CREATIVE WHACK COMPANY:
179 Ludlow Street
Stamford, CT 06902
Phone: 203-353-8400
Fax: 203-504-6257
Toll free phone: 877-423-7984
E-mail wholesale inquiries to:
sales@creativewhack.com
For additional information visit:
http://www.creativewhack.com/
Search Amazon: CREATIVE WHACK COMPANY
Suggest a Correction
Email: emailtoydirectory@gmail.com
---
About CREATIVE WHACK COMPANY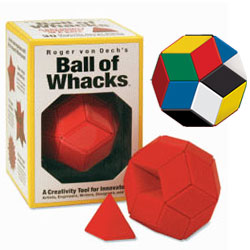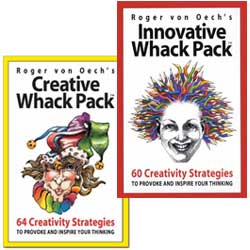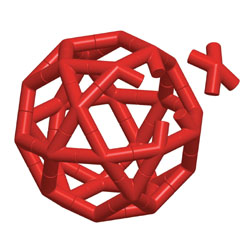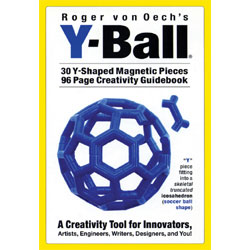 BUY Them on Amazon
Product Archives added to TOYDIRECTORY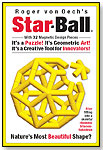 ---
Product added on: 1/25/2011
---
Shop For Products
Search Amazon: CREATIVE WHACK COMPANY
Creative Whack Company LLC is a joint partnership of Roger von Oech and Stuart R. Kaplan. We're delighted to offer Roger von Oech's newest creativity tool: the amazing Ball of Whacks. It's perfect for innovators, artists, engineers, writers, students, educators, and you!
The
Ball of Whacks
is made up of 30 magnetic design blocks that can be taken apart and rearranged in endless ways. More versatile than a puzzle and lots more fun than a brain teaser, there's no wrong way to play and work with it. It gets your creative juice flowing! Held in place by 180 rare earth magnets, the design blocks fit together to form a perfect 30-sided rhombic triacontahedron.The
Ball of Whacks
comes with a 96-page illustrated book that provides exercises for creative brainstorming and problem-solving.
Another popular release is the X-Ball, a n outstanding creativity tool. Comprised of 30 X-shaped magnetic pieces, it is held together by 120 rare earth magnets that form an icosidodecahedron. Complete with 96-page creativity guidebook.
Following the popular X-Ball comes the Y-Ball. A great companion product to the popular X-Ball® and Ball of Whacks®, the inspiration for the Y-Ball is the skeletal truncated icosahedron, an orb-like geometric figure long admired for its beauty, more commonly referred to as a soccer ball.
You can also find CREATIVE WHACK COMPANY listed in the following categories on ToyDirectory.com:
Creative Activities
Gifts
Puzzles & Skill
General Toys
Construction
Novelties
---
If you would like to request wholesale pricing, please include the following information with your request:
Your name
Your company name
Mailing address
E-mail address and phone number
Mention TOYDIRECTORY.com
---
Correction Needed? Please email: emailtoydirectory@gmail.com
Suggest a Correction!
Email: emailtoydirectory@gmail.com
---
Custom Search
In TOYDIRECTORY®
---
Correction Needed? Please email: emailtoydirectory@gmail.com
Home | Contact Us| Get Listed | Search By Name | Search By Category | TDmonthly Magazine | Privacy Policy

©1996-2023
TOY
DIRECTORY.com®, Inc. All rights reserved.
Use of this online service is subject to the
Disclaimer
and the
Terms of Use
.